Netflix (NASDAQ:NFLX) will report earnings on Wednesday, January 25, 2012 after the close. The company stock was a spectacular performer in 2009-2010. It had changed of course in 2011, as we can see in the NFLX 3-year chart.
click to enlarge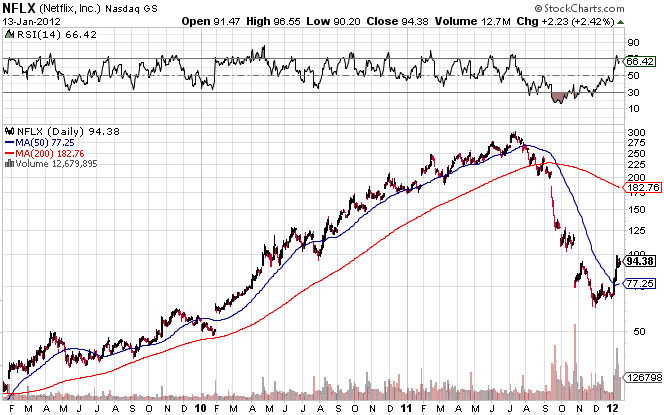 One of the safest bets to play Netflix earnings in 2009-2010 was just buying a call option ahead of earnings. Of course this wouldn't be a good strategy in 2011 (except for the January 2011 report). The following table presents a one day return of the ATM (At The Money) call option purchased at the close before the earnings and sold at the close the next day. If the stock was between strikes, the next OTM (Out of The Money) option was chosen.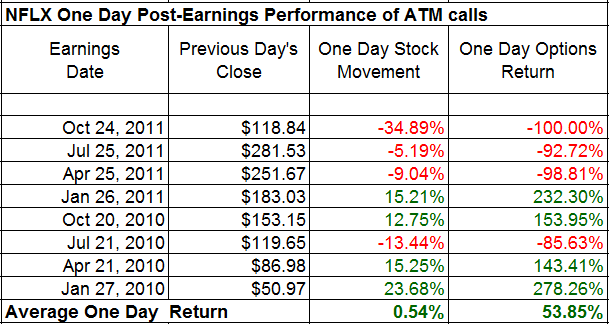 Of course purchasing puts became much better bet starting from April 2011 earnings report: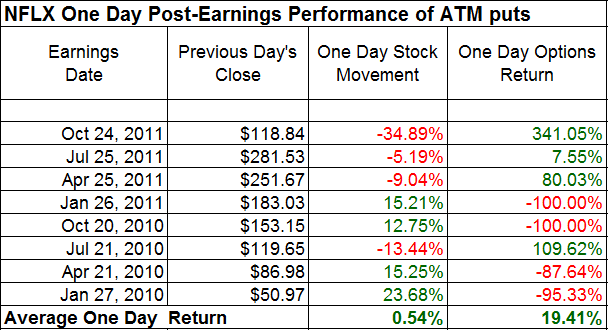 As we can see, the earnings have been 50/50 in the last two years. If you didn't want to bet on direction, you could purchase both (calls and puts) using a strategy called a straddle. This strategy would actually perform very well as we can see from the following table: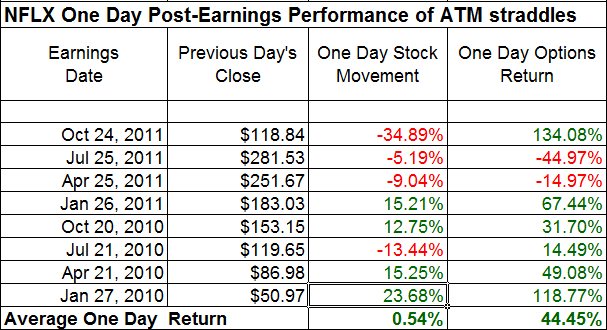 So what we can learn from those numbers?
If the history repeats itself, purchasing a straddle just before earnings and selling it the next day would be a good bet.
Personally, I'm not a fan of holding those trades through earnings, as I explained in one of my previous articles. I think that in general, options tend to be overpriced before earnings. I prefer to buy few days before earnings and sell before the announcement, as I explained in my "Exploiting Earnings Associated Rising Volatility" article. The idea is to take advantage of the rising IV (Implied Volatility) of the options before the earnings. Those options experience huge volatility drop the day after the earnings are announced. In most cases, this drop erases most of the gains, even if the stock had a substantial move.
I still think that this is true for most companies and Netflix is one the exceptions. Google (NASDAQ:GOOG) is another exception, as I showed in my article "Should You Buy Google Straddle Ahead Of Earnings?". Google one day straddle would perform very well, resulting a healthy 35.4% average return. But Apple (NASDAQ:AAPL) one day pre-earnings straddle would result an average loss of 28.0% in the last eight cycles as I showed here. I believe that Apple case is more typical.
Going back to Netflix, I think that options are going to be extremely expensive this time, since the market will remember the last 35% move and expect a huge move once again. Anything less than 20-25% move will cause the straddle to lose money. And this is the main problem with this strategy - it lacks consistency and predictability. You can get over 100% return in one cycle and lose 50-70% in the next one.
Disclosure: I have no positions in any stocks mentioned, and no plans to initiate any positions within the next 72 hours.