With earnings season underway and the anticipated downgrade of several European sovereigns formalized, the second week of the new year brought plenty for investors to consider. U.S. markets appeared to take it all in good stride. Let's look at the details.
Perspective
Stocks: The positive tone in the markets extended into another week as all of the major U.S. equity indexes posted gains. In a departure from the recent pattern, the small cap Russell 2000 led with a nearly 2% gain, and at last has joined the Dow, S&P 500 and NASDAQ in closing above its 200 day moving average. S&P sector action was interesting. Leading the way again were the materials stocks, with a gain of nearly 4%, for a total of 7.8% in the first two weeks of 2012. Also recording good gains were the financials and industrials with advances of more than 3% and 2.5% respectively. The lagging sector was energy, on the pullback in oil prices, with a loss of 1.24%
Global markets were generally positive as well. With the exception of the energy heavy Brazilian and Canadian markets, and a fractional loss for the FTSE, the major foreign indexes we monitor finished with gains. The most positive trading was in Asian markets, where the Shanghai Composite broke a nine week losing streak with a 3.75% gain, even after falling back more than 1% on Friday.
Bonds: U.S. Treasury bond yields fell sharply; we're back to a 1 handle on the ten year and a 2 handle on the thirty, with the five year closing at the lowest yield since September. Corporate bond yields also generally fell for the higher grades, while lower grades ticked up slightly, indicating a measure of risk aversion in the fixed income market. TIPS yields were flat, and haven't moved much since the end of October. Municipal yields moved up early in the week, but retraced most of the move by Friday's close. They remain in a long downtrend which has pushed the bond prices up substantially. Global bond yields were broadly higher on the week amid the highly anticipated S&P downgrade of nine European nations, however the weakness extended beyond Europe to include emerging markets.
Commodities: The CRB index, which had been staging a modest rally over the last few weeks, sold off on renewed global growth worries and an advance in the U.S. dollar. WTI crude oil retreated from near term highs near $104 to come back under $100. Natural gas prices continued to collapse, falling more than 13% on the week. However copper and the industrial metals moved up in what looks like a fourth month of basing action. Agricultural commodities went in different directions – livestock up and grains down. Gold posted a second week of gains after ending 2011 with a 16% correction, and the other precious metals followed suit.
Currencies: The U.S. Dollar index advanced again, reaching its highest level since the summer of 2010, as the euro fell below $1.27. This move came in spite of reports that the Fed is considering further easing to boost a still struggling economy. The Swiss Franc, still officially capped against the euro, also ticked down, increasing pressure on the SNB. Yen was relatively flat on the week while Sterling followed the euro down.
Outlook
U.S. economic data released last week cast some doubt on the weak recovery, as both initial and continuing unemployment claims were up, and retail sales fell short of expectations – despite a large jump in consumer credit. Earnings season got off to a slow start with misses from Alcoa (NYSE:AA) and JP Morgan (NYSE:JPM), but both blue chip firms expressed positive views on future business, although JPM CEO Jamie Dimon described himself as "increasingly worried" about the European debt crisis.
Stocks: Looking back on the last week of trading in U.S. equity markets, I see a few positives and a few negatives. On the most basic level, prices are still advancing and that is the most important indicator. Small caps joined the party, and a handful of growth stocks such as Chipotle (NYSE:CMG), Panera (NASDAQ:PNRA), Grainger (NYSE:GWW) and Fastenal (NASDAQ:FAST) made new 52 week highs. However volume isn't very impressive and this move is beginning to look a little tired after reaching the October highs. We're just not seeing the signs of institutional buying that power a strong market rally. The VIX has stopped falling and the McClellan Oscillator has reached a high level and turned down on the NYSE, so technically the market looks vulnerable to a short term pullback. In last weekend's article I mentioned that I was looking for a re-test of the 200 day moving average on the SPX as a setup for a possible swing trade back up to 1350. That remains my short term outlook. With earnings season underway we should get a move soon.
click on all charts to enlarge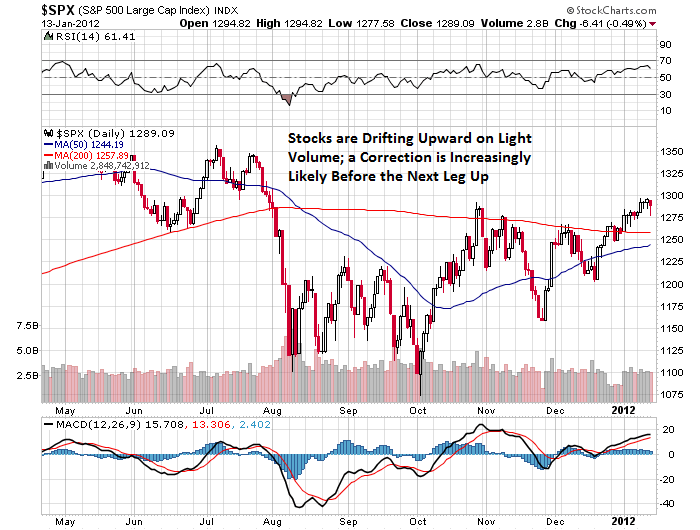 For longer term positions, the emerging trends I wrote about last week still look to be in place: regional banks were not thrown off by the JPM earnings miss – US Bancorp (NYSE:USB) reached a new 52 week high, while Regions Financial (NYSE:RF) continued to move higher. Tech stocks like Microsoft (NASDAQ:MSFT), Seagate (NASDAQ:STX), and several chip makers also continue to show strength. As with the broader markets, some of these are looking rather extended in the short term, so investors need to be careful about entry points, but constructive action in financials, tech, and growth stocks generally is a positive for our market outlook going forward. There are some worries with bond yields falling and Europe still in serious trouble, so the outlook is not unreservedly bullish, but we're maintaining a cautious optimism and holding longer term positions with an eye toward adding to them on a pullback.
Bonds: There isn't much action in U.S. Treasuries, other than a little bit of renewed safe haven buying after the S&P downgrades, and lowered inflation (read: growth) expectations. Foreign purchases have been contracting but rates just keep slipping, and everywhere I look bonds either seem too expensive…or too risky. Any scenario in which investment grade bonds turn out to be a good buy at urrent prices is troubling. Enough said.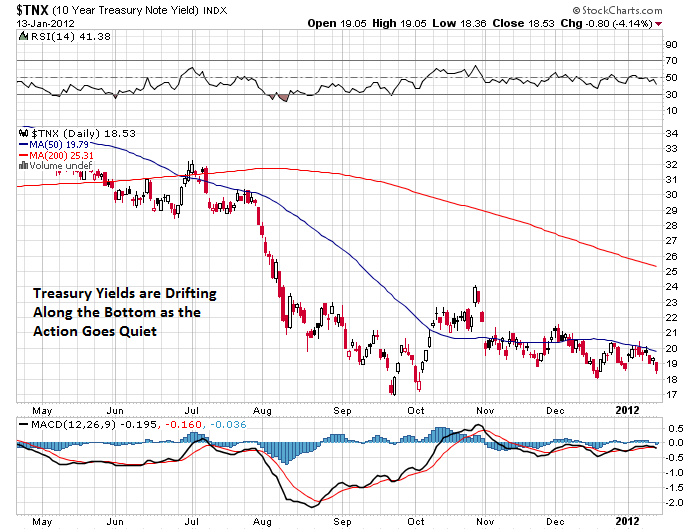 Commodities: We're getting mixed signals from the commodity markets. Energy prices are falling but industrial metals seem to have found support and are coming off the lows. The CRB index appeared to be breaking an intermediate term downtrend, but is slipping back again with the U.S. dollar rising – again, except for the metals, both precious and industrial. Gold has made a countertrend bounce and regained the 200 day moving average last week, but it still looks like sellers have the upper hand. If gold does remain above the 200 day we would look at opening a position.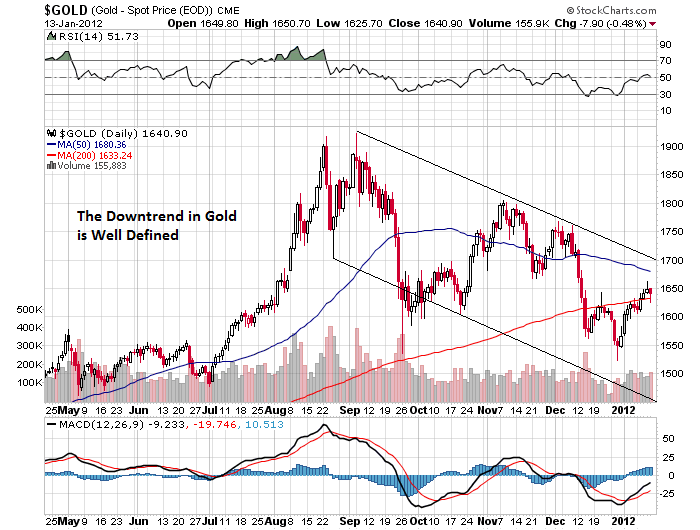 Currencies: The dollar is still rising, and the euro still falling, but we will have to see how last week's disappointing economic data impacts the currencies. On Friday the dollar posted a strong advance in spite of the data. The fact remains that the United States, even with all of the negatives, is among the strongest developed nations in terms of economic fundamentals. We should expect these trends continue for the foreseeable future, as it appears that central banks the world over share the Fed's concern about stalling growth and we are likely to see easing on a global basis – almost certainly in Europe and China. The question then becomes what effect this might have on financial asset markets. Recently we have seen U.S. equities, and some commodities, move in the same direction as the dollar, which is a reversal of the intermediate term trend. If the dollar begins to move on fundamentals rather than risk aversion, there is no reason why stocks and the dollar cannot advance together, as they have so often in the past.