This week is the start of the earnings season, and we ended the week on a pretty sour note with JPMorgan Chase (NYSE:JPM) earnings. The earnings were quite weak, missing expectations. Additionally, the investment banking side of the business was not as strong as had been expected. While we do not believe that the company's earnings are indicative of the entire season, JPM is a bellwether financial firm and this week has a lot of financial companies. It will be a long week if the other financial earnings are similar to JPM. Besides financial firms, we have a number of tech companies and one large conglomerate that are very important to where this market goes from here.
Here are the four most important earnings reports for this week:
Citigroup (NYSE:C) - Citigroup is reporting earnings on Tuesday that should be very intriguing for the market. The company is another large money center financial firm. We are intrigued to see if they have some of the same issues as JPM or are able to be more positive in their earnings and outlook. One difference is that C is making a better move to profits than JPM was. The company is expected to report EPS at 0.61 vs. consensus estimates at 0.04. The jump in earnings is definitely good for the company, and it should help their 8 PE. Their 0.57 jump in PE will bring the total FY EPS to 4.23, which should help improve their earnings further. A positive report from them will reverse the Friday issue JPM presented and give the market upside.
click all charts to enlarge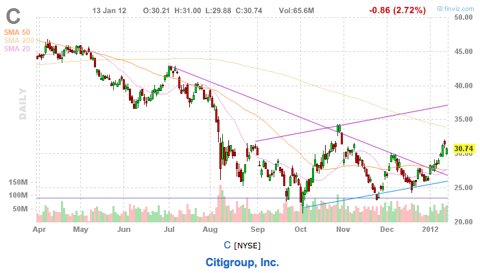 Click to enlarge
Goldman Sachs (NYSE:GS) - Goldman Sachs is leading earnings on Wednesday. The company has had a rough year and past three months since their last earnings report came in very poorly at a more than -400% miss from their earnings. Their past two quarters have been a disaster, and if the company could get back on track...it would do wonders for the financial sector. The company, though, is expected to see yet another decrease in YoY earnings. They are seeing a decrease from 3.79 EPS to 1.48. The investment banking side of JPM's earnings were very weak, which does not bode well for GS. The company, though, does have a very strong trading floor, which we believe may have done quite well in the bull market in Q4. Better than expected earnings from GS would go a long way to help the market move to the upside in Wednesday.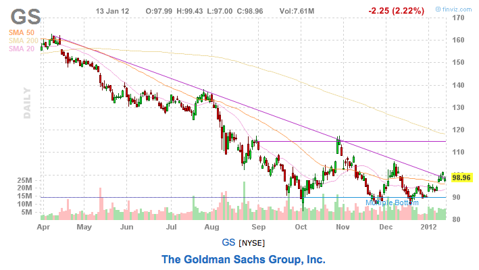 Click to enlarge
International Business Machines (NYSE:IBM) - Leading the tech industry for the week will be IBM on Thursday. The company has been struggling since Oracle's (NASDAQ:ORCL) earnings. The company will definitely set the pace for the Nasdaq on Thursday along with Intel (NASDAQ:INTC) and Microsoft (NASDAQ:MSFT) who report Thursday evening as well. We believe IBM is the most important as they are the most bellwether of the three and will say the most for the tech industry as a whole whereas INTC is mainly chips and MSFT is mainly consumer tech. IBM is expected to report EPS of 4.62 vs. 4.16 EPS from one year ago. Good earnings from them will go a long way to reversing the ORCL fortunes and helping the tech industry continue.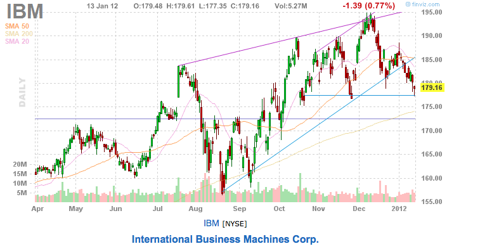 Click to enlarge
General Electric (NYSE:GE) - General Electric is the first major conglomerate to report earnings on Friday, and their earnings will be a major market mover on Friday. The company is expected to report a slight uptick in EPS from 0.35 to 0.38 from one year ago. The company is expected to see a 3% drop in sales for the quarter, but we are excited to see their 2012 outlook. We believe they could have some solid outlook with their aviation department looking good as well as GE Capital may be making a turnaround this year. The company has a major impact on the market as they have a lot of different industries that they can report on. Their outlook is very key to Friday's earnings.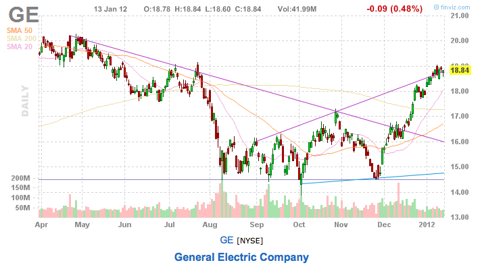 Click to enlarge
Disclosure: I am long IBM.