by Brendan Gilmartin
Overview
Cree (CREE) is scheduled to report 2Q 2012 earnings after the close of trading on Tuesday, January 17. The maker of LED lighting and semiconductor solutions typically reports earnings near the closing bell and will follow with a conference call at 5:00 a.m. EST.

Outliers & Strategy
Cree provided the following outlook for the 2Q 2012 period back in October:
Non-GAAP net income is targeted in a range of $29 million to $33 million, or $0.25 to $0.28 per diluted share. The current Street estimate is $0.26. (Source: Yahoo! Finance)
Cree targets revenue in a range of $300 million to $320 million. The consensus is $309.58 million.
Given that the market has already absorbed the guidance provided for the 2Q 2012 period, much of the focus will center on the company's outlook for the 3Q 2012 period. Estimates are as follows:
Non-GAAP Earnings Per Share (EPS): $0.30.
Revenues: $321.37 mln.
Cree shares are off more than 20% over the past three months and now trade at a mere 12.9x forward earnings, bringing the PEG ratio down to just 1.04, implying the shares are trading in-line with the growth rate. With valuation at depressed levels, short interest has also increased over the past few months, now representing approximately 13.4% of the float.
Recent News
01/12: Kaufman Bros. upgraded Cree from Sell to Hold and raised the price target form $19 to $24, according to a post on StreetInsider.com. The firm reportedly believes pricing has improved and volume is better than expected.
12/16: Maxim Group initiated coverage on Cree with a Buy rating and a $45 price target, asserting margins and the stock have bottomed, according to a post on Barron's. The firm sees strong growth in the LED lighting market for 2012 - 2018.
12/08: Morgan Stanley downgraded Cree to Equal Weight from Overweight, according to a post on Barron's, citing declining utilization rates and weaker margins based on lower LED chip sales.
Technical Review
Cree shares recently sunk to the lowest level since March, 2009 but are up more than 9% from the December nadir close to $21. The recent momentum carried the shares to the $24 resistance-level where it since failed. That will be a key level to watch if the guidance for the 3Q 2012 period comes in ahead of expectations. Above $24, the next hurdle is the 50-Day SMA at $24.50, followed by $26 and trend-line resistance at $27. Should the forward outlook disappoint, the first area of support is $22, coinciding with the 20-Day SMA, with further downside risk to the 52-week low of $20.25. (Chart courtesy of StockCharts.com)
click to enlarge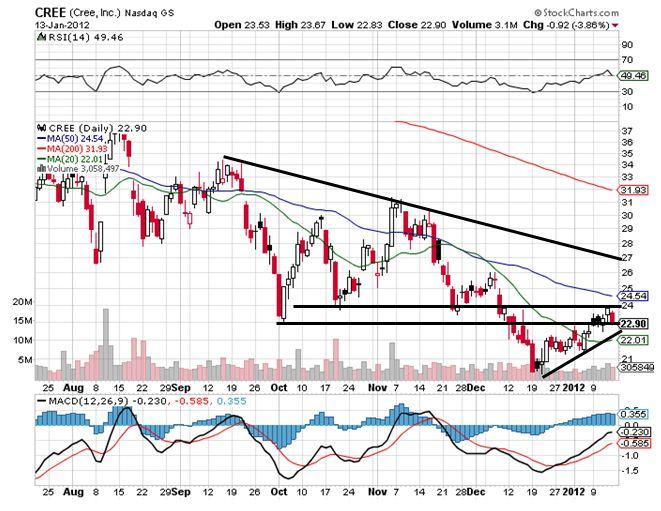 Click to enlarge
Summary
Cree shares have been hit hard in recent months, due to a litany of factors, including tighter margins, lower LED chip sales, declining utilization rates, and the macro headwinds facing the semiconductor space. Concurrent with the pullback in the share price, short interest is on the rise, given the aforementioned factors and increased competition. Against this cautious backdrop, however, valuation is compelling with the stock trading in-line with its long-term growth rate (FWD PEG = 1.04). Expectations for a pickup and wider adoption of LED lighting and evidence of improved volumes have helped stem the recent slide in the share price. Against this mixed backdrop, much of the attention will center on the outlook for the 3Q 2012 period, given that a weak 2Q period appears priced in at these depressed levels.
Disclaimer: By using this report, you acknowledge that Selerity, Inc. is in no way liable for losses or gains arising out of commentary, analysis, and or data in this report. Your investment decisions and recommendations are made entirely at your discretion. Selerity does not own securities in companies that they write about, is not an investment adviser, and the content contained herein is not an endorsement to buy or sell any securities. No content published as part of this report constitutes a recommendation that any particular investment, security, portfolio of securities, transaction or investment strategy is suitable for any specific person.
Disclosure: I have no positions in any stocks mentioned, and no plans to initiate any positions within the next 72 hours.