by Brendan Gilmartin
Overview
F5 Networks (FFIV) is scheduled to report 1Q 2012 earnings after the closing bell on Wednesday, January 18. A conference call will follow at 4:30 p.m. EST. F5 shares are up more than 18% since the October earnings release amid optimism over new products, increasing web traffic, and widespread adoption of cloud-based services. A refined sales strategy and increased adoption of enterprise customers also have many on the Street thinking F-5 is due to report a strong quarter.

Outliers & Strategy
F-5 provided guidance for the 1Q 2012 period back in October:
Non-GAAP Earnings Per Share (EPS): The Non-GAAP earnings target is $0.99 to $1.01 per diluted share. The consensus is $1.01 (Source: Yahoo! Finance).
Revenues: For the 1Q 2012 period, F5 said its revenue target is $315 million to $320 million. The current consensus is at the high end of that range at $319.3 million.
Given that F5 has communicated its forward outlook, the results are largely priced in. Therefore, much of the focus and expected reaction in the stock will be based on the outlook for the upcoming period. Estimates for the 2Q 2012 period are as follows:
Non-GAAP Earnings Per Share : $1.05
Revenues: $330.41 million.
Past sell-offs in F5 shares was the result of guidance below analyst estimates.
Valuation is among the knocks against F5. The shares 36x trailing earnings and more than 7x sales and book value. However, on a Forward PE basis, the shares are trading at a mere 20.5x earnings, bringing the FWD PEG ratio down to just 1.13.
Recent News
01/06: Morgan Keegan initiated coverage on F5 with an Outperform rating and a price target of $126, according to a post on StreetInsider.com.
12/21: Oppenheimer upgraded F5 to an Outperform from Perform with a price target of $125. Factors cited for the update include ADC market share gains, initiatives in the security market, and more opportunities at carriers, according to WallSreeetProfits.com.
Technical Review
Since its previous earnings release this past October, F5 shares have climbed more than 18%. However, the recent uptick is showing some signs of fatigue following the lower high near $112 last week, failing to overcome the December peak near $115, while the MACD is flat and the Relative Strength Index is pointed downward.
F5 also has an Average True Range of 3.94, making it one of the more volatile members of the S&P 500 and tends to see wide price swings off earnings. In fact, the shares have moved an average 13.5% after each of the previous four releases.
Given this backdrop, the first level of overhead resistance is the recent December high just above $115, followed by $120 and $130. Support resides at the 20-Day & 50-Day SMA crossover near $106, with further downside risk to $100 (200-Day SMA is near $98). (Chart courtesy of StockCharts.com)
click to enlarge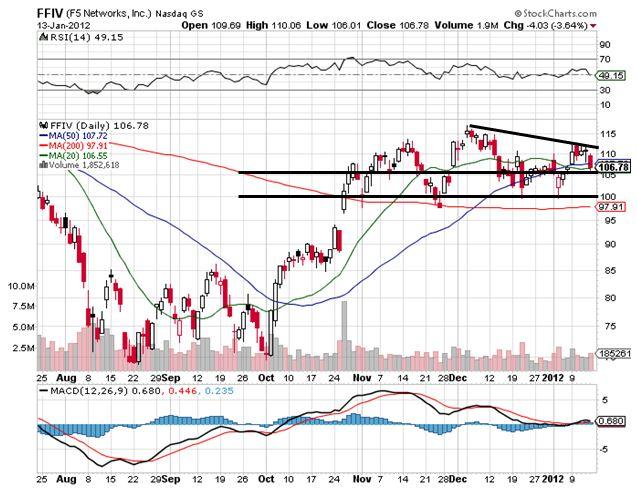 Summary
F5 is benefiting from the release of new products, increasing web traffic, and widespread adoption of cloud-based services, lifting the shares more than 18% since mid-October. Coming into the 1Q 2012 release, analyst estimates are at the high end of the guidance the company provided last quarter and sentiment is rising quite high. With that being said, the focus will be on the outlook for the 2Q period.
Disclaimer: By using this report, you acknowledge that Selerity, Inc. is in no way liable for losses or gains arising out of commentary, analysis, and or data in this report. Your investment decisions and recommendations are made entirely at your discretion. Selerity does not own securities in companies that they write about, is not an investment adviser, and the content contained herein is not an endorsement to buy or sell any securities. No content published as part of this report constitutes a recommendation that any particular investment, security, portfolio of securities, transaction or investment strategy is suitable for any specific person.
Disclosure: I have no positions in any stocks mentioned, and no plans to initiate any positions within the next 72 hours.