by Brendan Gilmartin
Bank of America (NYSE:BAC) is scheduled to report Q4 2011 earnings before the bell on Thursday, January 19. The results are typically released at 7:00 a.m. EST with a conference call scheduled to follow at 8:30 a.m. Bank of America is a Dow component with broad market influence and therefore could have a heavy impact on the index futures and other key market gauges.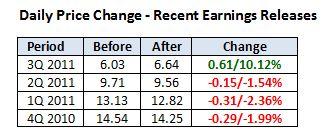 Outliers & Strategy
Key measures:

Earnings Per Share (EPS) Excluding Items: In past releases, Bank of America provided a value for EPS Ex-Items that compares with consensus estimates.

Earnings Per Share: In the absence of an EPS Ex-Items value, net EPS would be comparable to consensus estimates.

Revenues: Revenues are the next critical measure after EPS.

Bank of America is expected to post EPS of $0.23 in the Q4 2011 period (range is $0.03 - $0.48). Revenues are seen rising 7.50% to $24.08 billion (Source: Yahoo! Finance).

At a recent $6.61, Bank of America shares are trading at a steep discount to Tangible Book Value of $12.65 (as of 9/30/2011).

Results follow a tepid earnings report from JP Morgan Chase (NYSE:JPM) on January 13. Takeaways from the JP Morgan release include:
Returns on tangible common equity in the Q4 2011 period were "disappointing."

Firm is operating in a "challenging economy and a new, complex regulatory environment."

Recent News
01/11: Bank of America declared a regular quarterly cash dividend of $0.01 per share.

01/11: Sandler O'Neill raised its Q4 2011 EPS estimate on Bank of America from $0.12 to $0.30 to reflect one-time gains, according to a post in Barron's. The firm rates Bank of America a Buy and expects efforts to increase regulatory capital should offset weakness in capital markets and trading. Gains are expected to come from a sale in shares of China Construction Bank and preferred buybacks.

01/10: Barclay's cut its Q4 2011 earnings estimate on Citigroup from $0.19 to $0.14, according to a report on Reuters.com. The firm reportedly cited weak capital markets, mortgage-related costs, and lower net interest income. The price target was cut to $11.

12/06: Bank of America CEO Brian Moynihan told attendees at the Goldman Sachs US Financial Services Conference that the bank is working through housing and legacy mortgage issues and weak capital markets revenues, while accumulating capital, improving its credit quality, and cutting costs.
Technical Review
Bank of America shares recently sunk to as low as $4.92 (December 19), the lowest level since March, 2009. Since then, the shares have rebounded more than 30% before stalling out at resistance near $7.00/share. A rising MACD, Relative Strength Index near 70, and the crossover of the 20-Day SMA above the slower 50-Day SMA all reflect the improved momentum. In the event of a positive earnings release, there is room to run toward $8.00/$8.50. Below $6.50, support is at $6.00, followed by $5.75 and $5.50. (Chart courtesy of StockCharts.com)
Click to enlarge: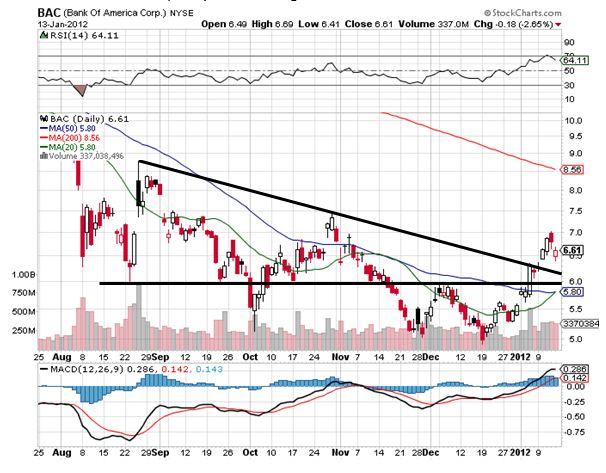 Summary
Bank of America shares have started the year on a positive note after closing out 2011 as the worst performer in the DJIA. The banking giant remains beset by continued litigation in its mortgage-related business, tighter regulations, and recent disruptions from Europe. Despite those ongoing fears, Bank of America shares have climbed more than 30% off the December nadir as the company shores up its capital and cuts expenses. The aforementioned factors may be priced in at these levels as the shares trade at close to 0.5x tangible book value - making Bank of America among the cheaper names in the banking sector.
Disclosure: I have no positions in any stocks mentioned, and no plans to initiate any positions within the next 72 hours.
Disclaimer: By using this report, you acknowledge that Selerity, Inc. is in no way liable for losses or gains arising out of commentary, analysis, and or data in this report. Your investment decisions and recommendations are made entirely at your discretion. Selerity does not own securities in companies that they write about, is not an investment adviser, and the content contained herein is not an endorsement to buy or sell any securities. No content published as part of this report constitutes a recommendation that any particular investment, security, portfolio of securities, transaction or investment strategy is suitable for any specific person.