With all the focus on Europe, investors tend to forget that Japan actually has the world's largest debt/GDP ratio at 220%. Yet, Japanese bonds pay extremely low yields (less than 1% on ten year bonds) and are generally considered safe. Although investors are aware of the demographic and structural economic problems affecting the country, the Yen and Japanese bonds have held up well over the past few years. Due to increased deterioration of the Japanese economy and government finances and a Euro panic induced bond rally, I now believe it is finally time to begin taking short positions on Japanese debt (JGBS).
Economic developments in Japan over the past few weeks hint at the beginning of a sovereign bond breakdown. On January 5th, Japan announced that it recorded its first trade deficit since 1963. With the aging of the Japanese workforce and a strong Yen, trade deficits are likely to continue and make Japanese markets more dependent on foreign capital inflows. The new Japanese government is also proposing severe austerity measures such as doubling the national sales tax which will slow down an already weak Japanese economy and reduce exports. In addition, Japan faces the highest amount of debt rollover of any developed country in 2012 at the amount of three trillion dollars.
Demographic trends will force local Japanese pension funds and individual investors to be net sellers of bonds. As a result, foreign investment or central bank intervention will be needed to support the Japanese bond market. Since foreigners will not be willing to buy Japanese debts at such low yields, Japan will not be able to refinance their debt at less than 1%, without the risk of severe debasement of the Yen. Either the weakening of the Yen or rising debt yield expectations are very bearish for bonds.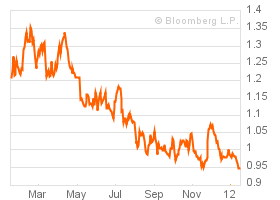 Japanese 10 year bond yield chart
Crisis in Europe will also trigger a Japanese Yen and bond rally that will create an excellent top to enter short positions. Japanese bonds rallied sharply during Monday's Asian session and panic related to a Greek/Portuguese default or future solvency issues of bigger European governments will lead to an extended flight to safety in the Yen and Yen denominated bonds. However, once this fear driven rally subsides, Japan will replace Greece and Italy in the headlines and the speculative attack on Japanese bonds and the Yen will begin. The best way for individual investors to enter this would be to buy the inverse Japanese bond ETFs (JGBS or JGBD for 3X leverage) or through shorting the Yen (FXY).