Questor Pharmaceutical Inc. (QCOR) is a biopharmaceutical company that makes products for difficult to treat medical conditions. The company's efforts are currently focused on significant unmet needs in the fields of neurology and nephrology.
The primary product is H.P. Acthar Gel (repository corticotropin injection), an inject able drug for the treatment of acute exacerbations of multiple sclerosis; infantile spasms in infants and children under two years of age; nephritic syndrome (including diseases beyond the kidney such as diabetes and lupus. QCOR is active in research. This includes all of the above and areas such as Opsoclonus Myoclonus Syndrome (OMS). QCOR sponsors university research. These latter activities should make sure QCOR's pipeline remains full.
QCOR's sales have shown fantastic growth. The company estimates that there is a several billion dollar market for these products, and it has made an excellent start to capturing that market. Acthar is used in Multiple Sclerosis patients who show little or no response to IV steroids or for patients who relapse from such treatment. This means about 57% of the MS market is a potential market for Acthar. QCOR's MS Scripts have grown consistently from 78 in Q1 2009 to 935-950 MS Scripts in Q4 2011.
This is more than a ten fold increase, and it is showing few signs of slowing. As the number of sales representatives has grown, the MS sales have grown. Plus scripts for Nephrotic Syndrome have started to take off in 2011. They rose from 18 in Q1 2011 to 140 to 150 in Q4 2011. Again this has shown a near direct correlation to the number of sales representatives trying to sell the product. Acthar for Infantile Spasms only received FDA approval on 10/15/10. This is a rare condition, but Acthar is already used to treat 40%-50% of IS patients. Paid Rx's for IS were 120-125 in Q4 2011. The table below illustrates the approximate market opportunity for Acthar in the near term.
click to enlarge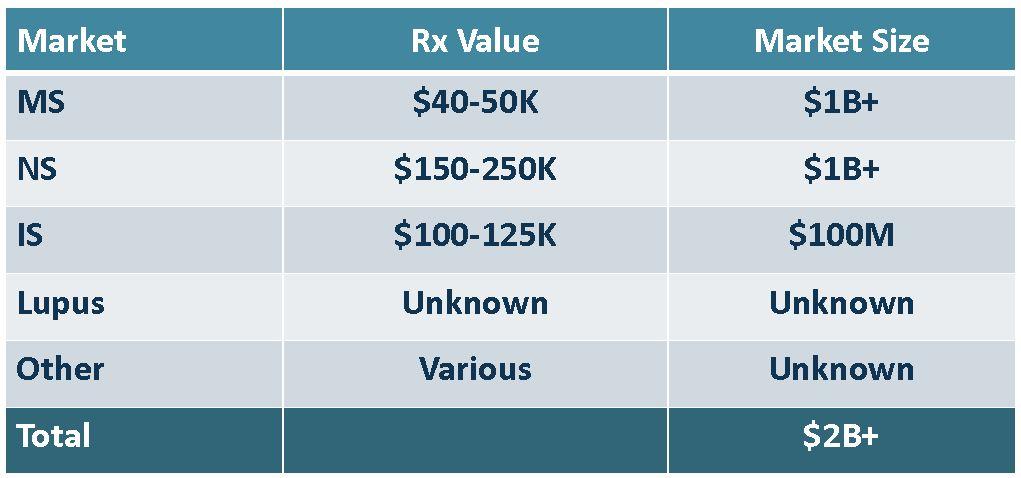 The Lupus Erythematosus (Lupus) portion is listed as unknown as sales haven't started yet. However, there is a high unmet need, and the disease is difficult to treat. There are multiple indications for Acthar for Lupus: for exacerbations, for maintenance therapy, and for Lupus nephritis. There is a large Lupus patient population. There should be a large market here.
For the current markets, the table below shows the approximate sales rates based on quadrupling the Q4 2011 quarterly sales results. Given the rapidly higher trending sales results for all of these indications, especially MS and NS, the numbers shown in the table are likely a huge underestimate of 2012 sales.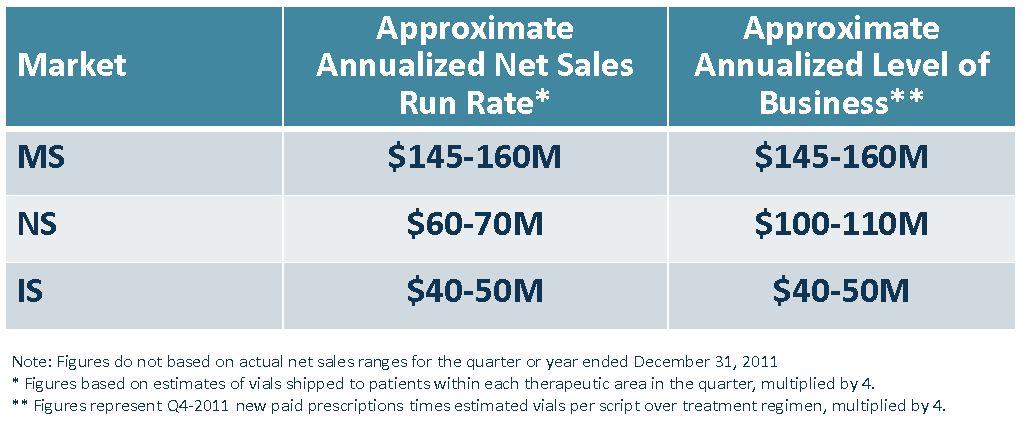 QCOR intends to grow both its MS and NS sales teams during 2012. This should help sales continue to grow rapidly. In addition a possible rheumatology sales pilot is tentatively scheduled for Q4 2012 and beyond. If this happens as planned, it should also help sales. Acthar is approved for 19 indications. Many are in large markets with sizable unmet need. QCOR achieves high margins. It has profitable cash flow with no debt. All current indications say that QCOR is quickly growing into a multi-billion dollar company.
QCOR's fundamental numbers seem high at first. It trades at a PE of 44.43and an FPE of 18.61. However, it has an EPS growth rate for FY2011 of 100% and an EPS growth rate of 63.30% for FY2012. QCOR's next five years EPS growth rate per annum is a dazzling 42.25%. The huge growth in MS sales revenues -- CAGR of about 160% -- (with great margins) substantiates these growth rate forecasts. QCOR has an absolutely fantastic average analysts' recommendation of 1.1 (a strong buy).
QCOR recently fell dramatically as a blogger, streetsweeper.com, said it was preparing to issue a report regarding the company's marketing and business practices. The stock has fallen from its recent high of $45.59 to a closing low on Jan.12, 2012 of $35.27. It rebounded slightly on Friday Jan. 13, 2012 to close at $36.48. In response QCOR issued a statement refuting the blogger's claim. It said it believes its marketing and business practices are consistent with regulatory requirements and industry standard practices. QCOR has been attacked before without success. It seems likely this attack will meet the same fate. This means that now is most likely a buying opportunity.
The two year chart (see below) helps to illustrate some of the technical aspects of a trade in QCOR.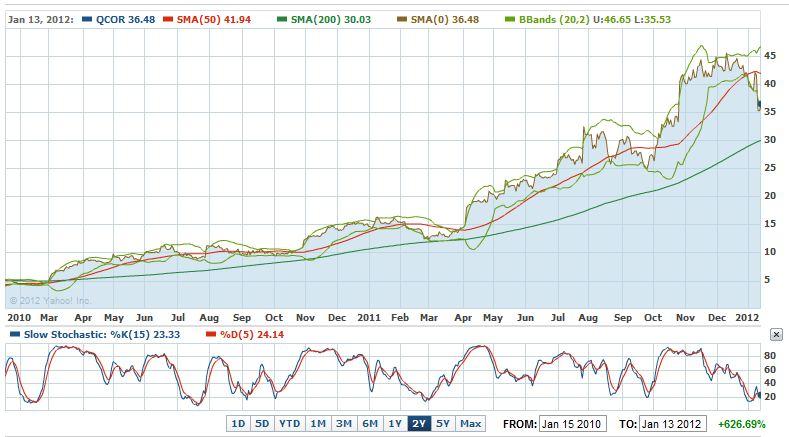 The slow stochastic sub chart shows that QCOR is at or near over sold levels. The main chart shows that the strong uptrend is still in place. It shows that QCOR is as close to its 200-day SMA as it has gotten in the last nine months. It seems likely that QCOR will rally from here. The down move has merely provided a buying opportunity. It might be smart to take advantage of this opportunity. Averaging in may still be a good idea. It is hard to argue with a CAGR of approximately 160% for MS sales, especially when the other recent sales are looking just as impressive.
A few other companies that have treatments for various MS indications are: Biogen Idec Inc. (NASDAQ:BIIB), Teva Pharmaceutical Industries Limited (NYSE:TEVA), GlaxoSmithKline plc (NYSE:GSK), Bristol-Myers Squib Company (NYSE:BMY), Novartis AG (NYSE:NVS), Mylan Inc. (NASDAQ:MYL), Merck & Company Inc. (NYSE:MRK), Pfizer Inc. (NYSE:PFE), Elan Corporation plc (NYSE:ELN), AstraZeneca plc (NYSE:AZN), and Endo Pharmaceuticals Holdings Inc. (NASDAQ:ENDP). Several of these have great charts too: BIIB, BMY, and ELN. Any or all of these may be worth looking at further.
Good Luck Trading.
Disclosure: I have no positions in any stocks mentioned, but may initiate a long position in QCOR over the next 72 hours.