With markets remarkably resilient in the face of continued euro region troubles, an anemic US economic recovery and growing concerns of a crash in China, investors may want to consider deep value stocks for possible investment. While cheap stocks can always get cheaper, true value stocks (as opposed to value traps) will probably fall less than the average equity due to already depressed valuations. But if purchased at low enough prices, the possibility also exists that the stock could go up even if the broader market is struggling. As discussed in my 2011 portfolio performance review, all of my new buys in 2011 posted gains for my portfolio even as they registered losses for the whole year due to my purchases near bottoms.
Hence, I ran Zack's deep value screen, which includes the following criteria:
Zack's rating = Buy or Hold
EPS Growth this quarter >= 0
EPS Growth this year >= 0
P/E this year est <= 14
PEG <= 0.7
P/S <= 1
P/CF <= 7
P/B <= 1.4
Share >= $5
Volume (90d avg) >= 0.05M
Dividend > 0
Zack's screen contained an extensive list of restrictions with the reasoning that by themselves, various value metrics like P/E or P/B can sometimes be misleading but if a stock passed all the criteria, the likelihood is stronger that it is a true value stock possibility and not a trap. 13 stocks met these requirements and readers can view the detailed results of the screen in spreadsheet format here.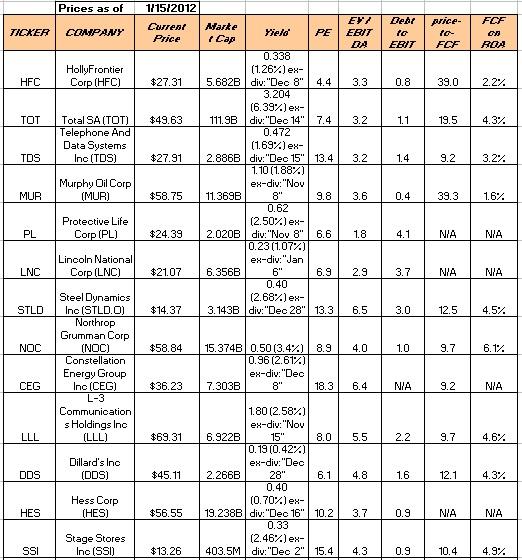 The energy sector filled nearly a quarter of the screen results, and based on my preliminary evaluations, looks to represent the best value here, especially Total SA (NYSE:TOT) and Hess Corp (NYSE:HES), which both look attractive based on rough valuations on their reserves.
The defense industry had two names: Northrop Grumman Corp (NYSE:NOC) and L-3 Communications (NYSE:LLL). Both stocks seem undervalued based on free cash flow [FCF] analysis, but with strained government budgets and wind-downs overseas, investors are worried what the future may look like for the sector.
The insurance sector popped up two smaller size candidates: Protective Life (NYSE:PL) and Lincoln National Corp (NYSE:LNC). Insurance companies, like financials, have somewhat opaque balance sheets, which makes it difficult for me to get comfortable enough to invest in them. As such, I'd prefer to stick to more reputable companies like Berkshire Hathaway (NYSE:BRK.A), (NYSE:BRK.B) or White Mountains Insurance Group (NYSE:WTM).
Two smaller retail names also showed up on the screen: Dillard's Inc (NYSE:DDS) and Stage Stores (NYSE:SSI). Both retailers have posted contracting revenue in recent years, so these two could be value traps. In general, I am leery of retail stocks, as the public's taste can be unpredictably fickle.
The screen was rounded out by Telephone and Data Systems (NYSE:TDS), Constellation Energy (NYSE:CEG) and Steel Dynamics (NASDAQ:STLD). Of these three, only TDS, a regional telecom with a rural focus, looked undervalued based on FCF. Though like all telecoms, TDS has to spend prodigious amounts on capital expenditures to build out capacity.
All in all, an interesting screen with some prospects in the energy field, which is convenient, since I am looking to exit my stake in Penn West Petroleum (NYSE:PWE). Perhaps I can find a replacement from this list. A summary of each stock in the screen follows below.
HollyFrontier Corporation (NYSE:HFC), formerly Holly Corporation, is a refiner that produces light petroleum products. It has two segments: Refining and Holly Energy Partners, L.P.. HFC posted returns of 28% ROE and 20% ROI vs. industry averages of 4% and 2%, respectively.
TOTAL SA is an integrated international oil and gas company based in France. With operations in more than 130 countries, TOTAL engages in all aspects of the petroleum industry, with returns of 20% ROE and 12% ROI, besting its peers averages of 12% and 9%.
Hess Corporation is a global integrated energy company that engages Exploration and Production (E&P), and Marketing and Refining (M&R). Its returns of 11% ROE and 7% ROI bested peers' 4% ROE and 2% ROI.
Murphy Oil Corporation (NYSE:MUR) is an oil and gas exploration and production company with refining and marketing operations in the United States and the United Kingdom. Its operates two segments: Exploration and Production, and Refining. Murphy generated returns of 12% ROE vs peers' 4% and 9% ROI vs. 2%.
Constellation Energy Group, Inc. is an energy utility with three business segments: a generation business (Generation), a customer supply business (NewEnergy), and Baltimore Gas and Electric Company (BGE). Energy utilities are generally low-margin as attested to by CEG's 5% ROE and 3% ROI, which are basically comparable to industry averages.
Protective Life Corporation provides financial services through the production, distribution, and administration of insurance and investment products. The company delivered 9% ROE vs the industry's 7%.
Lincoln National Corporation operates multiple insurance and retirement businesses through subsidiary companies, selling a range of wealth protection, accumulation and retirement income products and solutions. Its returns at 7% are slightly lower than PL and in-line with the industry average.
Northrop Grumman Corporation is an integrated security enterprise that covers the entire spectrum, from undersea to outer space and into cyberspace. NOC operates four segments: Aerospace Systems, Electronic Systems, Information Systems and Technical Services. Its ROE of 14% lagged peers 20% return but its ROI of 9% beat the average of 6%.
L-3 Communications Holdings, Inc. is a prime contractor in Command, Control, Communications, Intelligence, Surveillance and Reconnaissance (C3ISR) systems, aircraft modernization and maintenance, and government services. L-3 also provides a range of electronic systems used on military and commercial platforms. Like Northrop Grumman, L-3 delivered below average ROE (14% vs peers' 20%) but better ROI (8% vs 6%).
Dillard's, Inc. sells apparel and home furnishings via its retail department stores and a general contracting construction company. The Company operates 308 Dillard's stores, including 14 clearance centers, generating impressive returns of 21% ROE and 12% ROI, well above the industry's 5% and 3%, respectively.
Stage Stores, Inc. is a specialty department store retailer that offers brand name and private-label apparel, accessories, cosmetics and footwear. As of January 29, 2011, the Company operated 786 stores located in 39 states. Unlike Dillard's, Stage Stores' returns are underwhelming compared to peers: ROE of 7% vs. 21% and ROI 5% vs. 17%.
Steel Dynamics, Inc. is a steel producer and metals recycler in the United States. The company derives revenue from the manufacture and sale of steel products; processing and sale of recycled ferrous and nonferrous metals, and to a lesser degree, fabrication and sale of steel joist and decking products. Its returns lagged its peers, with ROE of 12% and ROI of 5% trailing the industry's 12% and 9%, respectively.
Telephone and Data Systems, Inc. is a telecommunications service company with wireless operations provided by 83%-owned subsidiary, United States Cellular Corporation (U.S. Cellular), and wireline operations provided by its wholly owned subsidiary, TDS Telecommunications Corporation (TDS Telecom). TDS' returns lagged the industry's 10% ROE and 8% ROI, coming in at 6% and 4%, respectively.
Disclosure: I am long (PWE), and short PWE in-the-money calls.