By Joseph Hogue, CFA
Goldman Sachs (NYSE:GS) reports earnings before market open on the 18th with consensus estimates coming in at $1.27 per share, up dramatically from a loss of $0.84 in the last quarter. This will cap off a rough year for the bank where earnings per share fell by 71.8% from the previous four quarters.
The release comes after Friday's report by JP Morgan where lower investment-banking and trading fees led a 23 percent drop in profits. While CEO Jamie Dimon did admit that fourth quarter results were disappointing, he attributed most of the blame on the general economy and the European debt crisis. Revenues from almost every segment were down over the quarter, from fixed-income and equity trading, to retail banking and credit cards. One of the few bright spots was lower write-offs, from 7.85% in the same quarter a year prior to 4.29%, and a lower effective tax rate paid by the company.
Investors are not expecting anything different from Goldman Sachs. Investment banking and trading revenues at Goldman, and across the sector, will most likely continue under pressure over the first half of the year. Many are predicting a drawback on the relatively positive U.S. economic data seen recently as consumers pull back from their holiday spending. The larger overhang will be the EUR 802 billion that European banks need to cover in maturing debt during the first half of 2012.
Recent debt issues have been fairly well-received but any problems with lighter demand would send asset values downward in an environment of decreased risk appetite. The downgrade of nine regional sovereigns by S&P last week will not help matters as new debt issuance will now cost more than under the previous ratings. Toward the middle of the year, given successful issuances, volatility may decrease and fees may return to Wall Street's big banks.
Though only 18% of corporate executives reported to the annual Bank of America CFO Outlook the expectation of participating in a merger or acquisition next year, corporate cash holdings have swollen to almost $1.5 trillion towards the end of last year. Investors expect this money to be reinvested or returned as dividends. With corporate cost-cutting going into its fourth year, incremental gains may be hard to come by and companies will need to start thinking about revenue growth. As the developed world slugs along economically, this may be possible only through acquisitions later on in the year and would represent increased revenues for investment banking as well.
Fees from debt and equity underwriting were both down significantly on a year ago basis and quarter to quarter for Goldman Sachs. This could also rebound as the U.S. economy picks up and companies look to increase their exposure to leverage.
The company recently won a small victory in the dismissal of its case with Overstock.com (NASDAQ:OSTK) over short-sale manipulation. Overstock alleged that brokerage firms Goldman Sachs and Merrill Lynch, now owned by Bank of America (NYSE:BAC), used naked shorting to artificially depress shares and earn fees. Naked shorting differs from normal short sales in that the seller does not borrow the shares before selling them. This creates additional shares on the market causing supply to increase and can affect price.
The case was dismissed because Overstock could not prove that damages occurred in California, which sets the stage for another court battle in other states. The individual case is not necessarily material to either company but could set a precedent for other cases which would affect stock prices.
click to enlarge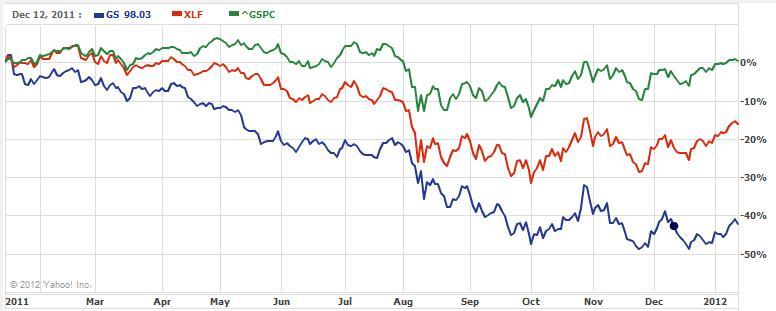 The company's shares have underperformed both the general market and the Select Sector Financial SPDR (NYSEARCA:XLF) over the last year. This is largely due to the bank's focus on corporate and investment banking at the expense of retail business. The company has a long track record of performance and once its core product environment turns around, the shares could rebound aggressively.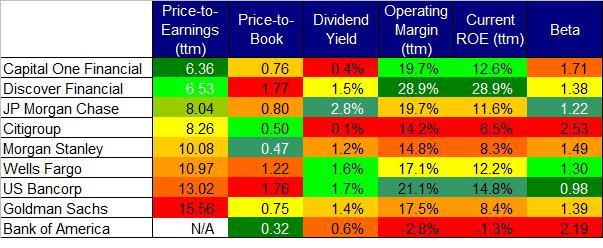 The heat map above shows fundamentals relative to peers within financials. On a relative basis, the bank is weaker than many of its peers. Valuation on an earnings basis is high, reflecting investor sentiment in the bank's quality but may come down further if global risks escalate. Profitability measures like operating margin and return-on-equity are better than other brokerages but significantly weaker than some of the retail banks.
The shares are off their 52-week high by 43.4% and a rebound in core products could see this gap decreased. A 12-month price target of $135 is based on a rebound in earnings per share to $9.00 and relatively stable price valuation. Despite a potentially strong return, much of this may not occur until well into mid-year and would be attributable to a rebound in global appetites for risk. An underweight position may be warranted due to weaker fundamentals relative to peers.
An Investor's Take
Despite Goldman's strong history and good management, I like the valuation and fundamentals at JP Morgan better. GS will still make money, they will always find a way to make money, but I just don't see the case in paying almost double on an earnings basis as with JPM. The bank is not as exposed to retail as some peers, so I want to look at a Wells Fargo (NYSE:WFC) or Discover Financial (NYSE:DFS) for diversification.
I've liked the financials since late last year, but invest in the sector fund rather than any individual names. The fund gives me wide exposure across retail, corporate, and commercial without the litigation and headline risk of any one company. Despite how you may feel about the people that run these banks, their job is to make money and they do a pretty good job at it. The current crisis and uncertainty will eventually pass as they all the ones before have done. Investors with time horizons greater than 3-5 years will be rewarded for their patience. Investors with horizons of three years or less will want to take a less aggressive position, perhaps hedging with options.
Disclosure: I am long XLF.