Apple (NASDAQ:AAPL) was co-founded by the late visionary Steven Paul Jobs and has completely transformed every industry it operates in. The focus on innovation has made Apple one of the largest and best performing companies in the world. I have recommended option strategies on Apple since 2010 with tremendous results. For reference, please view the first and other articles in the series to fully understand the strategy and its strong potential returns. As we enter the post-Jobs era, it is even more important to keep a close eye on your investment and execute care with your trades: Since Jobs has passed the company's performance will be under a magnifying glass.

A brief recap of this week in Apple (Down $5.69 (-1.3%)):
China Telecom (NYSE:CHA) Potentially Getting iPhone (January 9 Wall Street Journal)
Apple Acquires Flash-Memory Company Anobit (January 11 Bloomberg)
Toshiba (OTCPK:TOSBF) Falls Behind Apple in PC Shipments (January 11 Apple Insider)
Apple: Education Announcement in the Big Apple January 19 (January 11 The Loop)
Massive Lines Greet iPhone 4S Launch in Beijing and Shanghai (January 12 AllThingsD)
iPad 3 With Retina Display, A6 Chip, and 4G Rumored To Have Entered Production (January 13 Bloomberg)
Apple Releases List of Suppliers in Working Conditions Report (January 14 Wall Street Journal)
Apple declined modestly throughout the week as the debate rages on regarding how to invest in Apple before earnings. Since only insiders know how good the quarter's earnings will be, everyone else is merely speculating or taking educated guesses based on models. Rocco Pendola has written two articles on the topic and I would like to hopefully simplify the trade into a binary decision ala the popular risk-on/risk-off. Both approaches can work and I have personally used different strategies for different quarters based on Apple's recent stock performance. I firmly believe that Apple will reach $450 this year so it is more a matter of how to position yourself for the next two weeks rather than pick a long/short direction.
I Like To Gamble, Bring the Risk-On!
1. Go long Apple and be optimistic about its upcoming earnings
2. Buy AAPL Mar 2012 430 Calls as a leveraged way to gain exposure to Apple
3. Buy AAPL Feb 2012 OTM (440-460) Calls. This is essentially a lottery ticket type play
I Get My Gambling Rush From Penny Slots, I Want The Risk-Off
1. Go long Apple and sell weekly/monthly covered calls (for details see the end of this article)
2. Write weekly/monthly cash-secured puts that are approximately 5% out-of-the-money
Every year since Steve Jobs launched the iPad the rumor mills turn into high-gear ahead of the latest iPad launch. Bloomberg reports that the iPad 3 is already in production which would lend credence to the February 24th rumored announcement/launch date (Steve Jobs' birthday). An additional wrinkle this year is whether there will be an iPad Mini to compete with the Amazon (NASDAQ:AMZN) Kindle Fire. Personally I do not believe that Apple will release a smaller tablet this year but will instead continue to sell the iPad 2 at a lower price point to compete with the Fire.
From a user experience standpoint, the iPad still blows the Fire out of the water and the difference is not so much the screen size but the price. If Apple is able to knock the iPad 2 down to $400 ($100 price drop) then it will be able to capture more of the budget conscious tablet market. With that said, I stand by my opinion that in the long term the Fire actually helps Apple by expanding the market. Most consumers are not really deciding between a $200 tablet and a $500 tablet just like they do not compare a Toyota Corolla and a BMW 5 Series. They both might be cars but target very different markets.
All signs still point to an updated iPad in the first quarter of 2012 and a revolutionary iPhone 5 in the summer/fall. These catalysts alone should drive Apple to new heights but the perpetual talk of iTV and a potential redesign of the MacBook Pros will be gravy. Apple has the benefit of headwinds and its business in Asia is absolutely booming. Investors might be worried without Steve Jobs as the CEO but business is chugging along at such a clip that the business is on proverbial autopilot for time.
Below I present three possible scenarios and the potential returns for the Apple options. The first scenario represents a negative outlook for Apple while the final two scenarios are more reasonable. These scenarios are just projections and there is no guarantee that they will come to fruition. Even if you are optimistic it is important to generate both positive and negative circumstances in order to stress your assumptions. As a general rule, selling calls with higher strike prices has greater potential return but additional risk of loss due to the lower (or lack of) downside protection. For more information on the fundamentals of covered calls, consult Investopedia.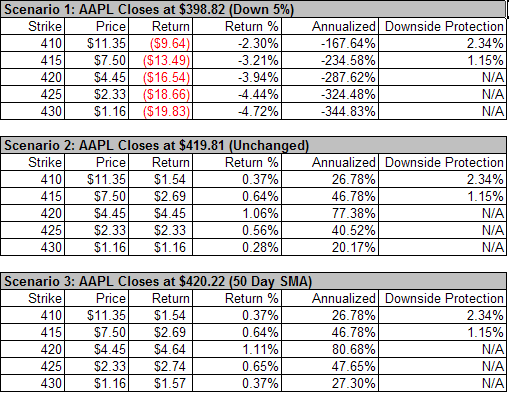 Additionally, if you would like even more information, I have prepared a sensitivity analysis for absolute return and percent returns, respectively. After studying the information above, these two charts make it easy to pick a strike price based on where you believe Apple will close at the end of the week. Estimate where you believe Apple will close and select the strike price with the highest return.
Click to enlarge

With this information, executing a buy-write on AAPL January 20 (Monthly) 425s is the optimal risk-return strategy. If you are uncomfortable with this strategy I suggest a buy-write 420s or 435s. Even if you are extremely bullish you can still profitably sell covered calls. Apple is volatile enough that you will have opportunities to repurchase on dips. An alternative approach is to sell out-of-the-money 415 puts and collect the premium without having to purchase the stock outright. Note that if the stock declines to the strike price, you are obligated to buy the stock (or closeout the position).
Disclosure: Author is long AAPL and MMI.
Disclosure: I have no positions in any stocks mentioned, but may initiate a long position in AAPL, MMI over the next 72 hours.