By John Nyaradi
Silver ETFs may lose their shine this year as Europe holds the key to the future
Silver and Silver ETFs have declined in past weeks, likely due to the gold (NYSERCA:GLD) bust last month and investors' plight to the "fiat currencies" as the safest form of exchange. Silver closed last Friday at $29.42 per ounce, a 1.54% decrease from the day before. Silver ETFs responded in kind, as the iShares Silver Trust (NYSEARCA:SLV) dropped 1.67% and the Global X Silver Miners ETF (NYSEARCA:SIL) dropped 1.52% last Friday.
The future for Silver does not look too bright, with some analysts stating that Silver could be more volatile than ever, potentially reaching its record of $50 per ounce or potentially dropping below $20 per ounce. By looking at the chart of the iShares Silver Trust ETF below, it is easy to see that silver has been on a steady, if not volatile decline for quite some time: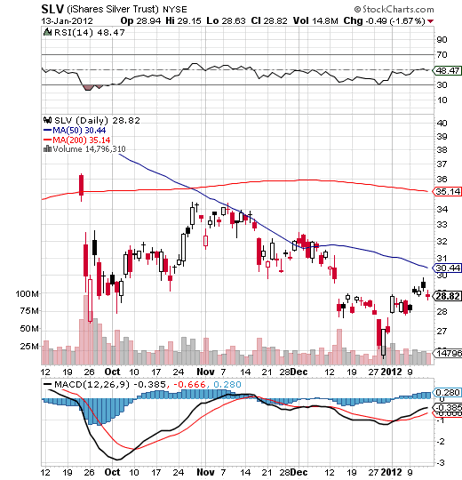 chart courtesy of stockcharts.com
So why all the predicted volatility for Silver? Silver, like its cousin Gold has earned its reputation as a safe haven currency. As we all know, the "fiat" currencies including US Dollars, Euro Dollars, and Japanese Yen are all guaranteed by their respective governments. However, after a slew of downgrades by ratings agencies and a potential global credit crunch in Europe, investors have fled to precious metals to "save" their networth.
All of the drama and trauma surrounding the fiat currencies right now is precisely why precious metals likely remain in a volatile state. Europe holds the key to Silver's future because nobody seems to know where the safe haven is with the recent European Financial crisis. Surprisingly, investors fled from Silver after the S&P's slew of European country downgrades last Friday. As mentioned above, Silver and Gold (NYSERCA:IAU) offer a safe haven to investors when currencies such as the Euro (NYSEARCA:FXE) face such negative draw-downs. However, despite all of the downgrades by S&P in the past and last Friday, countries like France, Italy, and Austria have still managed to raise enough money to fulfill their obligations, and thus the Euro as a "fiat" will remain safe and intact, thus resulting in a precious metal decline.
Bottom Line: Silver (and Gold) is likely to remain volatile in price because as the European drama wages on, investors will likely constantly flip flop between what is perceived as "safe" investments (euros or silver). As long as the Eurozone can hold itself together and continue gaining investors' confidence in the Euro dollar (NSYEARCA:FXE), then silver and gold ETFs such as the iShares Silver Trust, The Global X Silver Miners ETF, The iShares Gold Trust (NYSEARCA:IAU), and the SPDR Gold Trust should be in decline.
Disclosure: Wall Street Sector Selector actively trades a wide range of exchange traded funds and positions can change at any time.