2011 was a crazy year for the stock market.
Between the European Debt Crisis, the tsunami in Japan and Occupy Wall Street, reporters have barely had a chance to keep up with the chaos. These events caused the markets to go into a frenzy, sending volatility to near-2008 levels, and giving heart attacks to many fund managers.
The good news is that 2011 is now over. The bad news is 2012 is here and is dealing with a nasty 2011 hangover.
I'd love to point to 3 books that can act as a quick fix to help you deal with this "different" market environment. But, that's difficult because recessions are often pretty similar. For instance, read this excerpt from a TIME magazine article called "The Long Haul: The U.S. Economy":
"If America's economic landscape seems alien and hostile to many citizens, there is good reason: they have never seen anything like it. Nothing in memory has prepared consumers for such turbulent, epochal change, the sort of upheaval that happens once in 50 years.


The outward sign of the change is an economy that stubbornly refuses to recover from the ... recession. In a normal rebound, Americans would be witnessing a flurry of hiring, new investment and lending, and buoyant growth."
Sounds pretty familiar, right? It definitely applies to our current economic situation, but it wasn't written this year nor in the last decade. It was published in 1992.
The point is, the market goes in cycles. Investors need to stay focused on the fundamentals, rather than some quick fix.
As such, here are 3 books that point you back to the basics, will help you focus on what's important and will help you navigate 2012 successfully:
1. F Wall Street: Joe Ponzio's No-Nonsense Approach to Value Investing for the Rest of Us by Joe Ponzio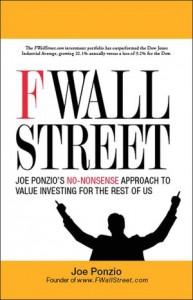 F Wall Street is a great book for one main reason: it takes highly complex financial analysis and puts it into layman's terms anyone can understand. Specifically, it takes the time to explain key concepts around how Wall Street works (and why to avoid it), how to approach valuing a stock and managing your portfolio.
It provides practical tips that help ground investors when things start to get dicey. Joe helps readers focus on the importance of trusting their analysis of the fundamentals, interpret financial statements to understand the quantitative side of a company and as a result, teaches investors how to take advantage of volatile market environments, like the one we're in now.
It's a great read for beginner and intermediate investors and is a strong reminder of key principles for the more advanced.
Bottom line: This book is a must read for those who want to consistently use market volatility to their advantage over the long term.
2. Value Investing: From Graham to Buffett and Beyond by Bruce Greenwald
Bruce is a Columbia professor, Director of Research at FirstEagle Funds, and has been referred to by the New York Times as "a guru to Wall Street's gurus". Suffice to say, he knows his stuff and this alone almost makes this book a must-read.
The thing I like most about this book is its format. Each section builds upon the last to make this a great book to learn from. It also provides a breadth of approaches that give you the option to decide which makes the most sense for you.
The first part breaks down the principles, risks, results and definitions of value investing. It's a great reminder of what's important for the initiated and an excellent introduction for those getting started. With this, he's established how you should be thinking about value investing and then he teaches you how and where to actually find value investing ideas (importantly, he points out the follies of many highly-touted 'value' approaches).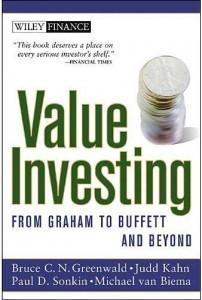 The first part breaks down the principles, risks, results and definitions of value investing. It's a great reminder of what's important for the initiated and an excellent introduction for those getting started. In the second part, Bruce highlights three sources of value and teaches you, step-by-step, how to identify and evaluate potential investments.
Once Bruce has taught you the foundations of value investing and how to apply them in practice, the third and final part to Value Investing takes you through the investment approaches of the best investors in the world, including Warren Buffett. This section shows what has worked for these very successful investors and you can see what makes the most sense for you and your investment style.
Bottom Line: Bruce provides readers a thorough education on how to approach the market with strong principles and techniques and as a result, leaves them with a strong foundation for any market environment.
As Bruce says,
There are no bad days in the market. When the market is down, you've got bargains, and it's lovely to think of what you are buying at low prices. When the market is up, the bargains have gone, but you're rich.
3. Common Stocks and Uncommon Profits and Other Writings by Philip Fisher
Picking stocks is both a quantitative and qualitative exercise. Sure, even in this volatile market, it's tempting to just buy whatever's cheap, but it's not as simple as that. The two books above ensure you have the skills to avoid overpaying for a stock, but they provide little on how to assess the qualitative aspects of a potential investment. This is where Philip Fisher's book comes in.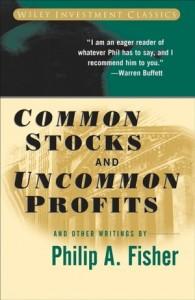 He espouses the benefits of purchasing high quality companies for the long term. With this sort of philosophy, it's easy to put it into impractical terms but Philip avoids this. He provides a 15-point checklist of what to look for in a potential investment, greatly simplifying the process for readers, and which, generally, helps identify where a company fits in the world or how it doesn't. In addition to this vital checklist, it provides a gauntlet of red flags to keep an eye out for.
When the markets are volatile, it creates the opportunity to purchase great companies at attractive prices. By applying much of Philip's principles with that of Joe or Bruce's, investors can snag shares at a bargain and follow in the footsteps of Mr. Warren Buffett himself. Buffett is actually a huge proponent of this book and combining these approaches. He once said:
I'm 15% Fisher and 85% Benjamin Graham.
Bottom Line: Fisher turns the often impractical into useful checklists that investors can leverage. Combine this approach with value investing principles and you'll be positioned to succeed in 2012.
Disclosure: I have no positions in any stocks mentioned, and no plans to initiate any positions within the next 72 hours.