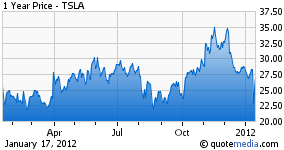 Tesla Motors (NASDAQ:TSLA) had a conference call Tuesday morning before the market open to calm fears following the 19% fall in the company´s stock price last Friday in reaction to the exit from the company of two members of the engineering team.
Key take-aways from the call:
Contrary to early reports, Peter Rawlinson was not the Chief Engineer for Tesla Motors as a whole. Rather he was Chief Engineer for Body and Chassis. Tesla CEO Elon Musk confirmed that Mr. Rawlinson indeed left for personal reasons.
The second employee who departed the company, Nick Sampson, was Supervisor of vehicle and chassis engineering and was simply no longer deemed to be a good fit in the growing Tesla organization.
The company confirmed that neither employee left for a competitor.
Elon Musk also confirmed that these departures will have no operational impact on the timeline for the production of the Model S, which remains on track for a July launch date or better.
He also confirmed that the company remains on track to produce 20k units of the Model S in 2013 - and with a 25% gross margin.
On safety, the company reiterated that with over 2,000 Roadsters on the road in 30 countries, they have not seen one serious injury and have experienced no fires related to the company´s battery packs.
The company will continue to refine the Model S battery pack over the next two to three months. However, no major changes are expected as a result of the fire issues experienced in relation to the Volt. Tesla remains completely confident with regard to the safety of the company´s own battery packs.
All of the above should help to underline the point that the price action in the stock last Friday indeed was heavily exaggerated.
In addition, George Blackenship, the VP of Worldwide Sales and Ownership Experience, outlined the very strong customer response currently being seen to the Model S:
The company´s suix new design stores opened in Q4 saw 299k customers visit the stores in December alone.
By the end of 2011 the company had received 8,000 orders for the Model S.
The strongest week for reservations was the week they announced pricing. The week after they announced pricing was the second strongest week for reservations. Clearly, pricing has not been a problem for customer interest.
The Model S Signature Series is now completely sold out in the US for 2012.
These numbers are very encouraging and suggest that as we move toward the actual launch of the Model S customer activity will continue to build.
We argued over the weekend that Tesla is a buy in the $22 to $24 range into which it fell on Friday. We continue to think that the stock looks heavily oversold and should recover as a degree of calm returns to the market.
Disclosure: I am long TSLA.