Despite a lethargic end to the week for the bulls, the blow they dealt on Tuesday was good enough to translate into modest gain for the week … the second winning week in a row, and the third in the last four. Is more of the same in store for this week? Maybe, though bear in mind the market's inched its way into a bit of a frothy situation while nobody was really paying attention.
We'll dissect the near-term situation in a moment, right after a look at last week's and this week's economic data.
Economic Calendar
Last week got off with a bang thanks to Monday's announcements than consumer credit levels had swelled by $20.4 billion in November; the experts were only looking for a $7.0 billion improvement. It was only the 13th increase in 14 months, and the biggest single-month increase in more than a decade. And what's interesting is a bigger-than-normal chunk of the increase was the result of revolving credit (like credit cards) rather than non-revolving credits (like student loans) ... not coincidentally increasing right before holiday shopping began. Fixed loans were still the biggest piece of the growth, however, and the overall ongoing expansion of credit levels continues to underscore a broad (even if tepid) economic recovery.
Initial claims ramped up to 399K, from 375K. It was a lot more than the anticipated 375K for last week, but one week doesn't make a trend. The overall trend here is still a declining one. The same goes for continuing claims, which held fairly steady at 3.628 million versus 3.609 million from a week earlier.
Retail sales were a bit of a disappointment for December, especially considering the season. They grew at 0.1% including auto sales … under the expected 0.4% growth rate. Take auto sales out of the equation though, and retail spending actually fell 0.2% last month. That was well under the expected 0.3% rise [It forces one to question why consumer revolving credit ramped up so firmly in November]. Nevertheless, retail sales are at record levels, close to record levels when factoring in inflation, and still on the rise.
Retail Sales, with and without autos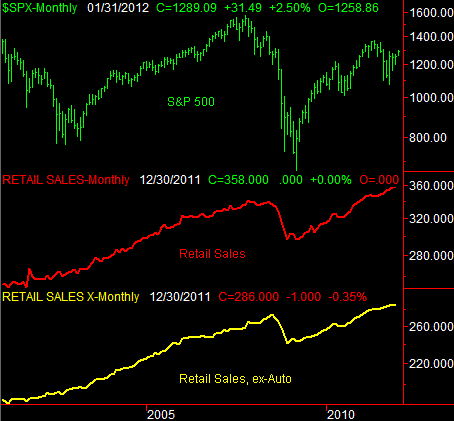 Economic Calendar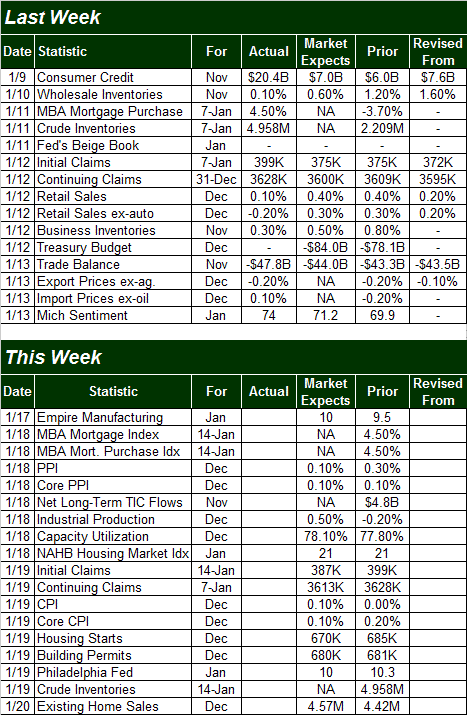 The coming week is going to be even busier, as you can see on the calendar above. It's all pretty important stuff too, beginning with Tuesday's Producer Price Inflation Index. It should be good/mixed news though. On a core as well as a non-core basis, PPI is only forecasted to increase by 0.1% for December.
We'll also get some major – though often overlooked – data about industrial activity on Tuesday ... industrial production and capacity utilization. As we've noted before, the correlation between the LONG-term market trend and the direction of these productivity and utilization data sets is uncanny. Both have been stagnant of late, waving a red flag. But, the upcoming December data is expected to show a real revival for both. Production is expected to have grown by 0.5% after November's 0.2% decline, and capacity utilization is forecasted to grow from 77.8% in November to 78.1% for December.
Later on in the week (Thursday) we'll round out the inflation picture with the consumer price inflation index. On a core and a non-core basis the professionals are looking for a 0.1% rise. The current annualized inflation rate now stands at 3.39% (as of November). That's palatable.
The week ends with a heavy dose of real estate and construction data. Annualized starts are expected to have fallen from 685K to 670K, and permits are expected to have fallen from 681K to 680K last month. Both are still fairly strong(ish) numbers though, compared to levels from a year or more ago. Existing home sales are expected to be on the mend as well, reaching an annualized rate of 4.57 million last month, up from 4.42 million.
The National Board of Realtors nay have botched the last several years worth of existing home sales data, and is still working out the kinks. But, the trend's direction is still a key clue in itself, and that trend still shows modest improvement.
S&P 500
Just to lay some groundwork, let's start with the bigger picture first ... a look at the weekly S&P 500 (NYSEARCA:SPY) chart. What it's going to show us is a combination of a rising market and a falling CBOE Volatility Index (NYSEARCA:VXX) (NYSEARCA:VXZ), both of which are clearly bullish for stocks, in the grand scheme of things. Take a look:
SPX & VIX Weekly Chart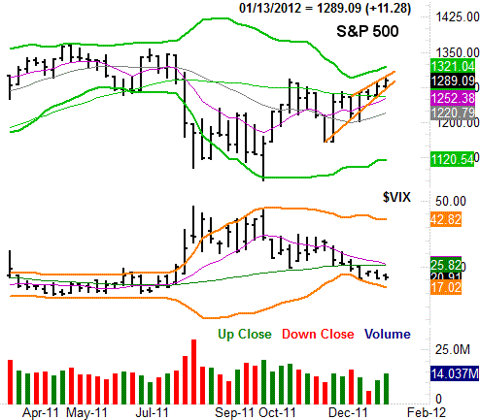 Click to enlarge
(Click to enlarge)
The momentum is encouraging. However, the momentum is also waning as the bullish effort gets stretched thin.
Yes, the market is giving us higher highs and higher lows. Problem is, the higher lows are rising at a faster pace than the higher highs, forming an ascending wedge pattern (orange) that's coming to a close within a couple of weeks. More often than not, an ascending wedge ends with a relatively pronounced breakdown ... after the wedge pattern's confines drop it from a higher height.
The VIX is also in a clear downtrend, being forced lower within a framework established by its falling moving averages and the lower Bollinger band. That's bullish overall, but within that falling trading range there's still room for the VIX to move higher – up and into those key moving averages at 25.8 – which in turn gives the market that room it needs to move lower.
Again (and as we've been saying for a while), that pullback doesn't have to be catastrophic. It just has to be big enough to humble the bulls.
On the flipside, the S&P 500 isn't yet testing its upper Bollinger band at 1321, and the VIX isn't yet testing its lower Bollinger band at 17.0. Given how important both boundaries have been in the recent past, we have to at least acknowledge the market may want/need to test both extreme boundaries before finally deciding to ease back a bit.
Now, with that in the back of your head, a look at the near-term daily chart…
SPX & VIX Daily Chart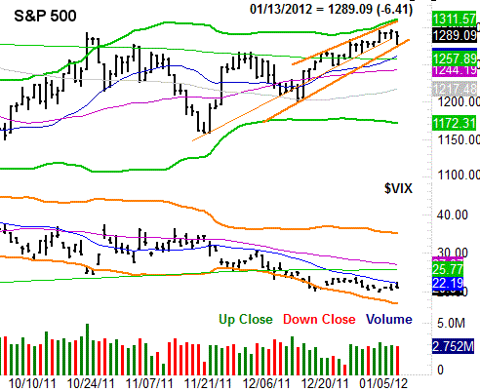 Click to enlarge
(Click to enlarge)
The good/bullish news is, the VIX just bumped into its 20-day moving average line (at 22.2) and started to roll lower after the encounter. Simultaneously, the SPX pushed off one of its recent rising support lines on Friday, closing well off the low and itching to revive the recent uptrend. Until the VIX hits the lower band line ay 17.0 (and falling) and/or the S&P 500 hits its upper Bollinger band around 1311.6 (and rising), there might – and we stress might – be room for bulls to keep rolling.
On the other hand, there's just something a little un-nerving about the 7.0% rally since the December 19th low. The S&P 500 isn't anywhere near support at any key moving averages, and the support at the lower edge of the wedge pattern is tenuous at best.
In the long run, we'd rather go ahead and take our lumps now rather than suffer a bigger pullback later. As it stands right now, however, the vulnerable uptrend is still above and kicking. Just keep an eye on the battle lines.
Disclosure: I have no positions in any stocks mentioned, and no plans to initiate any positions within the next 72 hours.