When I'm not exercising my stock market obsession and pounding away at the keys of my typewriter, I divert attention to some form of hockey media or the excellent Men's Health series (that Yahoo (NASDAQ:YHOO) often syndicates) Eat This, Not That.
In this article, I highlight three seemingly "healthy" stocks to avoid alongside more viable, long-term alternatives.
Tofutti Brands (NYSEMKT:TOF). If the thin volume on this AMEX stock does not scare you away, the focal point of Tofutti Brands' latest quarterly report should:
Net sales for the 13 weeks ended October 1, 2011, were $3,617,000, a decrease of $761,000, or 17%, from the sales level realized for the thirteen weeks ended October 2, 2010. The reduction in sales was primarily due to the determination of Trader Joe's, our largest customer, to cease selling branded goods. During the quarter, sales to Trader Joe's declined to $2,000 from $656,000 in the second quarter of 2011 and $764,000 in the third quarter of 2010 ...

During the nine months ended October 1, 2011, and the fiscal years ended January 1, 2011 and January 2, 2010, Trader Joe's accounted for 12%, 19% and 17% of our net sales, respectively. In third quarter of 2011, we became aware that Trader Joe's would no longer continue to stock branded products, including our Tofutti Cuties. The loss of Trader Joe's as a customer could have a material adverse effect on our company's financial results and we cannot assure you that we will be able make up the loss in sales either through the acquisition of new accounts, increased sales to current accounts, or a combination of the two.
In most spaces, I want to own the companies that hold the cards, so to speak. Therefore I want Apple (NASDAQ:AAPL) over most wireless carriers and want a big content owner and creator like Time Warner (NYSE:TWX) over Netflix (NASDAQ:NFLX). Needless to say, Tofutti Brands hardly enjoys leverage in most of its relationships.
Ask Silk Soymilk about this dynamic. Whole Foods Market (NASDAQ:WFM) trimmed its shelf space in its stores in favor of Earth Balance products and the grocery chain's own private label items. Here's a bit about branded versus private label from WFM co-CEO Walter Robb during the company's last quarterly conference call: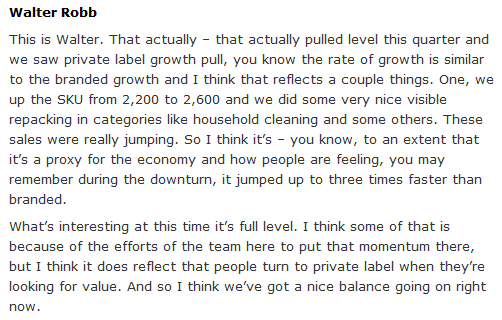 While Robb paints the picture of a level playing field, I can tell you, at least anecdotally, that Whole Foods stopped being Whole Paycheck when it made its private label products more visible throughout the store. That's where "looking for value" comes in. And, if you buy the more expensive branded stuff, you can, generally, get it for less at a Whole Foods or Trader Joe's than at larger, more mainstream chains like Safeway (NYSE:SWY).
Simply put, Whole Foods holds the cards. Buy WFM before you take a flyer on TOF.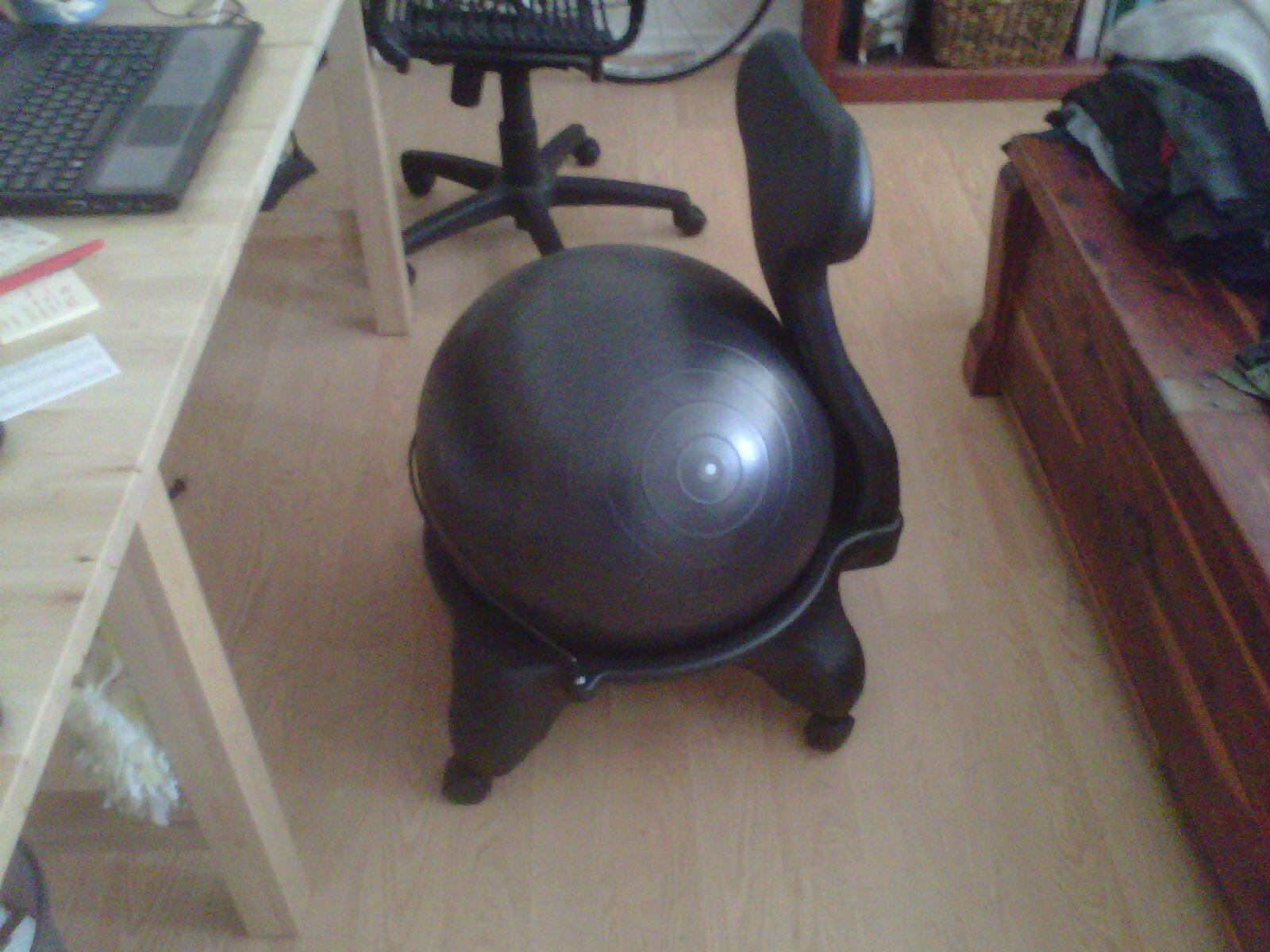 Gaiam (NASDAQ:GAIA). Here's another healthy lifestyle company that has to fight for space on brick-and-mortar shelves at outlets like Target (NYSE:TGT) and e-commerce sites such as Amazon.com (NASDAQ:AMZN). Gaiam puts out good stuff. In fact, I just bought a balance ball chair from them via Amazon. It's great when your work requires you to sit around all day banging out prose on a typewriter or watching vintage Hockey Night in Canada opens.
Gaiam owns a 55.7% stake in publicly-traded Real Goods Solar (RSOL). RSOL, like its highly-publicized peer, First Solar (NASDAQ:FSLR) and the rest of the space, tanked hard in 2011.
I enjoy a Tofutti Cuties snack size sandwich from time-to-time. I dig what Gaiam does and own several of its products. But, just as I do not want to own shares of a thinly-traded "health" foods company, I do not want to stake ownership in a thinly-traded health and lifestyle company with an interest in solar. Instead, give me the companies that call the shots. Ones like Target and Amazon, who need Gaiam less than Gaiam needs them.
Cheesecake Factory (NASDAQ:CAKE). It would be absurd of me to place Cheesecake Factory in the "healthy" category. However, I've got something that tops that. Consider how the company describes itself in its latest quarterly report. It's a paragraph full of delusion and contradiction:
The Cheesecake Factory is an upscale, casual dining concept that offers more than 200 menu items including appetizers, pizza, seafood, steaks, chicken, burgers, pasta, specialty items, salads, sandwiches, omelets and desserts, including approximately 40 varieties of cheesecake and other baked desserts. Grand Lux Cafe and RockSugar Pan Asian Kitchen are also upscale, casual dining concepts offering approximately 200 and 80 menu items, respectively. In contrast to many chain restaurant operations, substantially all of our menu items (except certain desserts manufactured at our bakery production facilities) are prepared on the restaurant premises using high quality, fresh ingredients based on innovative and proprietary recipes. We believe our restaurants are recognized by consumers for offering value with generous food portions at moderate prices. Our restaurants' distinctive, contemporary design and decor create a high-energy ambiance in a casual setting. Our restaurants typically range in size from 7,000 to 15,000 interior square feet, provide full liquor service and are generally open seven days a week for lunch and dinner, as well as Sunday brunch.
Now that I know CAKE owns RockSugar, I'll be sure not to stop there on one of my bike rides along Santa Monica Boulevard in West LA.
Where to begin?
First, if you consider Cheesecake Factory "upscale," I sure as heck will not be asking you for a loan. Second, I hope they're not trying to sell "prepared on ... premises," "high quality, fresh ingredients" or "innovative and proprietary recipes" to educated, and presumably health-conscious, consumers. Sadly, between the composition of CAKE's meals and their "generous" helpings, you'll offset the cost of "moderate prices" when the cardiac specialist you need to bring along to your meal bills you.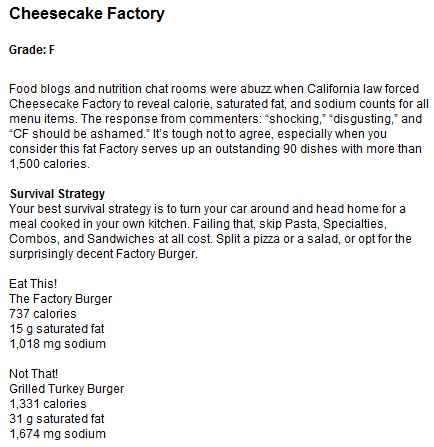 If food "prepared on ... premises" with "high quality, fresh ingredients," derived from "innovative and proprietary recipes" yields over 1,300 calories, 31 grams of saturated fat and almost 1,700 milligrams of salt, you're either using smoke and mirrors in your marketing, the buns that Subway uses, a ton of mayo or all of the above.
I'm just not sure how a restaurant like Cheesecake Factory has a future in a country that's becoming more and more transparent with regards to nutritional information by the day thanks to an obesity epidemic. And I certainly cannot vision how the company's plans to take the concept to the Middle East will succeed.
While that qualitative assessment makes enough of a case for me to stay away from CAKE as an investment, its relatively slow revenue growth in one of the most competitive sectors of the market seals the deal. I'm not sure why anybody would want to buy shares of CAKE in favor of restaurant stocks with zippier growth - Chipotle Mexican Grill (NYSE:CMG) or Panera Bread (NASDAQ:PNRA) - or a company with moderate growth, laser-sharp overseas execution and a nice dividend to boot - McDonald's (NYSE:MCD).
Disclosure: I am long AAPL.
Additional disclosure: I am long NFLX June $40 put options. I intend to initiate a position in TWX this month.