2011 was an interesting year for silver. It started the year with a very strong rally that took the price of silver from about $30 to close to $50, but then made a sharp correction back to its starting point. Although silver has been fluctuating around the $30 level for the last couple of months there are good reasons to believe that we have already bottomed out and should see higher prices in the near future.
The fundamentals for silver are still very strong and even though the futures market has been flat, demand for physical silver is off the chart. There were frequent shortages and delays in delivery of physical metal among many prominent silver dealers last year, especially of the popular 100 oz silver bars and American silver eagles. The chart shows sales of the popular American Silver Eagles sold by the U.S. Mint. Demand has been up since 2007 and last year was no exception.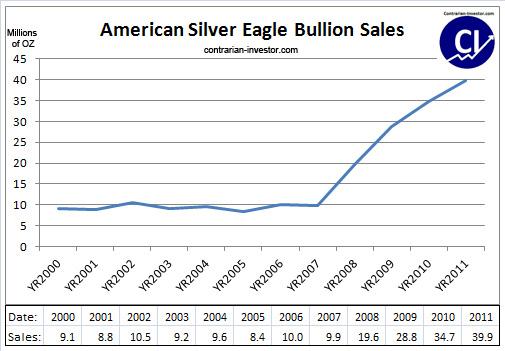 Inventory is still in short supply. Silver from mine production has increased over the last couple of years but it has not kept pace with worldwide demand of physical silver. The gap in supply has come from scrap silver that has been re-melted and entered back into the market.
Although recycled scrap silver is currently able to supply the gap from a shortage in production, many applications that use silver are difficult and expensive to recycle. The vast majority of silver in electronics such as phones, televisions, computers and household appliances end up in landfills without ever being recycled, while other applications such as solar panels are in service for decades before they can be recycled. To put it simply, a large part of the silver that is consumed won't be returning to the market anytime soon. This is the reason why there is more available supply of gold than silver in the world.
The chart shows the shortfall of mine production vs. demand. The gap is mainly made up from scrap metal coming back into the market along with some government sales.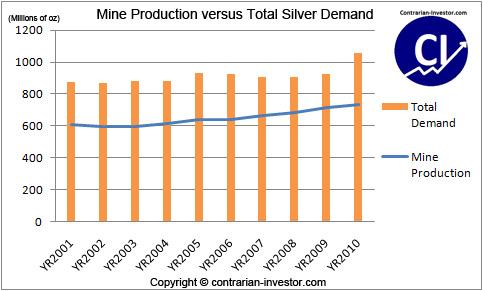 The investor sentiment for silver is down since the highs of last year, which may be a contrarian indicator of strength ahead, and you can also see the creation of a flag formation on the chart, which is a bullish signal. All this is shaping up for something that may look like a spectacular rally in the near future.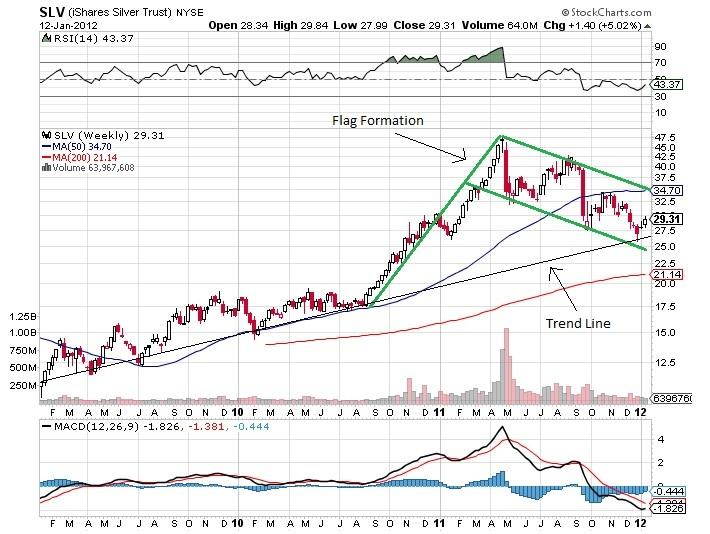 Whether we will test the lows once again still remains to be seen but I see this as an opportunity for investors to buy silver in what looks like to be a pretty good rally in 2012. I recommend retail investors to buy silver (NYSEARCA:SLV), and senior silver mining companies like Silver Wheaton (NYSE:SLW).
Disclosure: I am long SLV.