Over the past five years, both sub-sectors (restaurants & luxury retail) of the retail industry that Ruth's Hospitality Group (NASDAQ:RUTH) is a part of have been incredibly strong performers. While it is said that "a rising tide lifts all boats," RUTH has not rallied like many of its peers. The five-year performance of some luxury retail & restaurant stocks is shown below.
Luxury Retail
Tiffany (NYSE:TIF): +48.87%
Ralph Lauren Corp (NYSE:RL) +73.7%
Coach Inc (NYSE:COH) + 35.36%
Nordstrom (NYSE:JWN) -11.56%
Restaurants
McDonald's (NYSE:MCD) +126.93%
Chesecake Factory (NASDAQ:CAKE) +4.77%
Darden Restaurants (NYSE:DRI) +13.01%
While both luxury retailers and restaurant stocks have done well over the past five years, RUTH has not participated. Shares of RUTH are down 72.72% over the same period.
(Click charts to expand)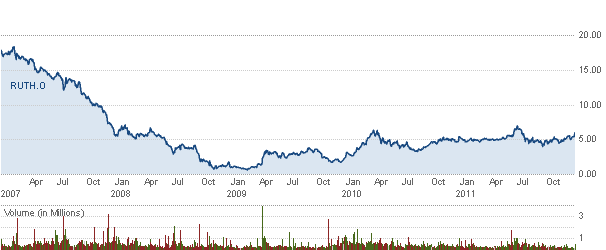 (cnbc)
Considering luxury retailers and restaurants have been doing well, it might be time for RUTH to play catch-up.
Fundamentals
Forward PE Ratio: 13.93
Year-over-year growth rate: 18.8%
RUTH's PE ratio compares well with the previously mentioned companies
RL has a forward PE ratio of 17.63
COH has a forward PE ratio of 15.54
MCD has a forward PE ratio of 17.5
CAKE has a forward PE ratio of 15.67
RUTH's Portfolio of Restaurants
131 Ruth's Chirs Steakhouse restaurants (64 company owned; 67 franchise owned)
14 International Franchises
20 Mitchell's Fish Market restaurants
3 Cameron's Steakhouse restaurants
Takeover Potential
Both McCormick & Schmick (NASDAQ:MSSR) and Morton's (NYSE:MRT-OLD) have recently been bought out by Landry's. RUTH 's market cap is just over 200 million. This means RUTH could easily be taken over by many potential suitors.
Conclusion
RUTH is a stock that offers a good value for investors looking to play luxury retail & restaurants.
Disclosure: I have no positions in any stocks mentioned, and no plans to initiate any positions within the next 72 hours.