Energy stocks were among the strongest movers in the market last week, with many natural gas plays moving sharply to the downside, and a number of other energy stocks moving sharply higher on company-specific news. The following is our analysis of the top movers in the sector (see Table):
Cheniere Energy Inc. (NYSEMKT:LNG): Cheniere operates LNG receiving terminals and natural gas pipelines in the Gulf Coast of the U.S. including the Sabine Pass LNG terminal. The stock was up 8.8% last week, as rumors surfaced that Chevron Corp. (NYSE:CVX) could be interested in acquiring the company. Cheniere shares have been very active since the company announced a landmark $8 billion deal on October 26th for the purchase of 3.5 million tons per annum (mtpa) of liquefied natural gas via its Sabine Pass terminal facility in LA. We wrote about our bullish outlook on the stock in our article that morning of the 26th, just prior to the stock jumping from the $8.30s when the article was published to a high of $12.56 four days later. The stock has been consolidating off of those highs since, and just at the end of December, Stephen Cohen's Connecticut-based $11.2 billion multi-strategy hedge fund SAC Capital Advisors indicated that it increased its position in LNG from 1.0 of 6.2 million shares, most likely when the stock retreated near the $8 range. Furthermore, in our review of the investing activities of legendary or guru fund managers, we found that they as a group were bullish on LNG at the end of the latest quarter Q3 for which all of their filings are available, and prior to the positive news on LNG. In Q3, guru funds together added a net $5 million to their $5 million prior quarter position, with the largest buyer being SAC Capital that initiated a 1.0 million share position in LNG in Q3. We believe that despite the recent collapse in domestic natural gas prices, the long-term outlook continues to be promising for LNG based on the price differential with respect to international prices and the vast quantities of natural gas supplies in the U.S. that can are now viable for export, and the stock is an attractive buy here. It seems that SAC Capital would be in agreement with this thesis, given that they scooped up shares near $8 lows near the end of last month.
Cobalt International Energy (NYSE:CIE): CIE is engaged in the exploration and production of oil primarily in the deepwater of the U.S. Gulf of Mexico, and in offshore Angola and Gabon in West Africa. The stock was among the big movers last week, up 17.7%, as it has been almost every week recently since mid-December when it started reporting positive major developments in its activities in West Africa. First, in mid-December, Diamond Offshore (NYSE:DO) disclosed in its 8-K that CIE had extended a $360,000/day lease for DO's Confidence oil rig, indicating that the rig was being used to search for crude oil in Angolan waters. And then less than a week later, CIE reported signing a deal with Angola's government to explore for oil off its coast, which was followed by even more positive news when Goldman added CIE to its "Americas Buy" list and raised its price target of $21 from $14, well above where it traded at that time. Last week, on Tuesday, Morgan Stanley joined in the parade, dramatically doubling its price target on the stock to $38 from $19, well above the $16 where it traded at the time. While the Angolan pre-salt block oil reserves opportunity here is formidable as the new price targets imply, the stock is now very extended, having more than doubled in the last month and jumped above its prior all-time highs. As such, the stock is ripe for technical consolidation, however brief, before it can continue its march upward.
RAM Energy Resources (RAM): RAM is an independent oil and natural gas company engaged in the acquisition, development, exploitation, exploration, and production of oil and natural gas properties in TX, OK, and LA. The stock has been in a giant rally ever since announcing on December 22nd that it had reached a $550 million recapitalization agreement with Halcon Resources, LLC, a newly-formed company led by Floyd C. Wilson, former Chairman and CEO of Petrohawk Energy. It was up another 18.8% last week, now having tripled in the last 15 trading days. We believe that the optimism is well-founded given that Mr. Wilson has a stellar track record of successfully growing small-cap oil & gas exploration & production companies, as he demonstrated earlier by his recent sale of Petrohawk in July of last year to BHP Billiton Ltd. (NYSE:BHP) for $15 billion, and also given that the capital infusion should help RAM make strategic acquisitions. However, the stock has already tripled since when the news came out, and is now approaching long-term supply in the $4 range soon. Further, recent rallies, especially the one last week has been on much lower volumes. Hence, we believe that the stock is ready for at least a temporary breather, if not a long-term consolidation, as it approaches $4.
In addition to the above three, Petroleo Brasileiro SA (NYSE:PBR), a Brazilian integrated oil & gas company also moved sharply to the upside last week, up 9.8%, on no company-specific news; however, the company does have operations, like in the case of CIE above, off of Angola's southern coast, and is reportedly on schedule to start drilling for oil there soon.
Also, last week, the stocks of a number of companies focused on the natural gas space moved heavily to the downside, in tandem with the sharp drop in natural gas prices last week to within striking range of multi-year lows. These included Southwestern Energy Co. (NYSE:SWN), involved primarily in natural gas exploration and production, was down 11.4%; Quicksilver Resources (NYSE:KWK), a leader in the development and production of unconventional resources, including coal bed methane, shale gas, and tight sand gas in North America, down 16.6%; QEP Resources Inc. (NYSE:QEP), an independent natural gas and oil exploration and production company, but with approximately 85% of its current production being natural gas, down 12.7%; and Ultra Petroleum Corp. (UPL), an independent, exploration and production company focused on developing its log life, tight-gas sand resource play in the Green River Basin in WY, was down 14.3%.
Table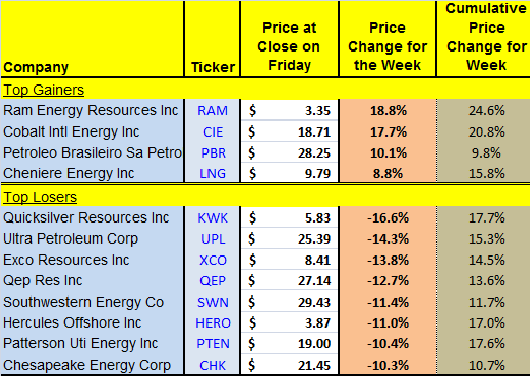 Click to enlarge
(Click to enlarge)
Please note that the cumulative price change referred to in the last column of the Table above is used here as a measure of volatility to determine big movers in the group. It equals the sum of the absolute value of the change in daily prices. So, for example, if a security had price moves of 2%, -3%, 4%, -6% and 1% during the five days of the week, the cumulative price change during the week would be the sum of the absolute values of the daily price changes, which in this case would be 16%.
Credit: Fundamental data in this article were based on SEC filings, I-Metrix® by Edgar Online®, Zacks Investment Research, Thomson Reuters and Briefing.com. The information and data is believed to be accurate, but no guarantees or representations are made.
Disclosure: I have no positions in any stocks mentioned, and no plans to initiate any positions within the next 72 hours.
Disclaimer: Material presented here is for informational purposes only. Nothing in this article should be taken as a solicitation to purchase or sell securities. Before buying or selling any stock you should do your own research and reach your own conclusion. Further, these are our 'opinions' and we may be wrong. We may have positions in securities mentioned in this article. You should take this into consideration before acting on any advice given in this article. If this makes you uncomfortable, then do not listen to our thoughts and opinions. The contents of this article do not take into consideration your individual investment objectives so consult with your own financial adviser before making an investment decision. Investing includes certain risks including loss of principal.