Google Inc. (NASDAQ:GOOG) is scheduled to release last fiscal quarter's results after the closing bell on January 19, 2012. Let's take a look at how Google has done in recent quarters.
Google Inc. maintains an index of Web sites and other online content for users, advertisers, and Google network members and other content providers. The company was founded in 1998 and is headquartered in Mountain View, California. GOOG trades an average of 2.6 million shares per day.
52 Week High: $670.25
52 Week Low: $473.02
Book Value: $169.36
Float Short: 1.57%
Analysts are expecting an improvement of $0.72 in earnings per share compared to last quarter's results of $9.72. The reporting quarter's estimated mean earnings are $10.44 per share.
The P/E ratio has trended lower, as the current trailing twelve months P/E ratio is 20.3, while the forward P/E ratio is now 16.35. A falling PE ratio may signal a bargain for astute investors, or maybe time to move on. I believe it's a bargain. Apple (NASDAQ:AAPL) may have been able to close ranks in the smartphone wars in the last half of 2011, but unless Apple is able to produce another major improvement in phones so, it would appear to me they are going to fall behind Google and the Android system.
Google is crushing Yahoo's (NASDAQ:YHOO) and Microsoft's (NASDAQ:MSFT) renewed attempts to play catch-up. Microsoft is also competing in the smartphone space and doing so very poorly. Look for Google to reneter China, and while small (as in Google will not be the largest search provider) to begin, expect Google to grow market share.
For the same fiscal period year-over-year, revenue has improved to $29.32 billion for 2010 vs. $23.65 billion for 2009. The bottom line has rising earnings year-over-year of $8.51 billion for 2010 vs. $6.52 billion for 2009.The company's earnings before interest and taxes are rising with an EBIT year-over-year of $10.38 billion for 2010 vs. $8.31 billion for 2009. Rising revenue along with rising earnings is a very good sign and what we want to see with our companies. Be sure to check the margins to make sure that the bottom line is keeping up with the top line.
Here is a look at the fiscal year revenue: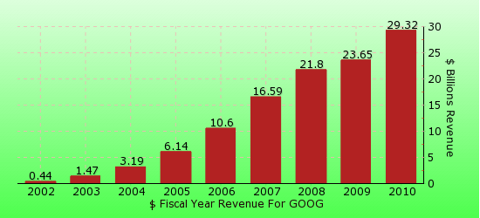 Gross reported revenue compared to the mean estimate (rounded):
| | | | | |
| --- | --- | --- | --- | --- |
| Fiscal Quarter Ending Month-Year | Revenue Estimates | Actual | $ Difference | Difference % |
| Sep-11 | $ 7.22 B | $ 7.51 B | $ 287.97 M | 3.99% |
| Jun-11 | $ 6.55 B | $ 6.92 B | $ 363.62 M | 5.55% |
| Mar-11 | $ 6.33 B | $ 6.54 B | $ 209.85 M | 3.32% |
| Dec-10 | $ 8.04 B | $ 8.44 B | $ 396.12 M | 4.92% |
| Sep-10 | $ 7.04 B | $ 7.29 B | $ 241.88 M | 3.43% |
M = millions, B = billions.
Differences are rounded.
Some one-time items are often excluded in reported EPS.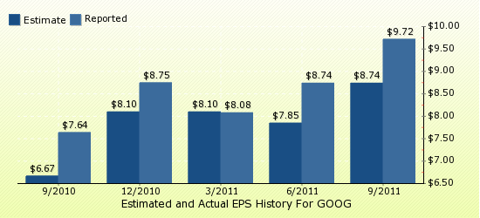 Reported earnings per share compared to the mean estimate. Differences are rounded.
The total short interest number of shares for GOOG:



The number of days to cover short interest, based on average daily trading volume for GOOG:

I use a proprietary blend of technical analysis, financial crowd behavior, and fundamentals in my short-term trades, and while not totally the same in longer swing trades to investments, the concepts used are similar. You may want to use this article as a starting point of your own research with your financial planner. I use Seeking Alpha, Edgar Online, and Yahoo Finance for most of my data. I use the confirmed symbols from earnings.com that I believe to be of the most interest.
Disclosure: I have no positions in any stocks mentioned, but may initiate a long position in MSFT, GOOG over the next 72 hours.