Why have a garage sale when you can get rid of all that unwanted stuff on eBay (NASDAQ:EBAY)? The website auctions or retails almost anything that isn't illegal or offensive and was the foundation of the company. However, eBay has many other businesses now. It runs a price comparison website, shopping.com, hosts ads at Rental.com and has a stable of other successful online sites and services.
At the October 20, 2011 Q3 conference call, current CEO John J. Donahoe said the quarter had been strong. He also said he saw significant global growth opportunities on the horizon, with good momentum from eBay company PayPal and exciting opportunities from eBay's recent acquisition GSI Commerce. Mobile phone and tablet sales on eBay and the other sites are also growing nicely, he said.
PayPal enables its customers to pay and get paid online. Affiliate credit and debit cards are also marketed to PayPal and eBay users. Though there are many other online money transfer systems, PayPal is global, reliable, and extremely popular.
Half.com, another eBay company, sells used books, movies, and video games. eBay gets a 5 to 15 percent commission on each sale, without providing storage, shipping, or handling. However, Amazon (NASDAQ:AMZN) sells used books and entertainment too, so the question is whether the market is big enough for both companies.
eBay's Stub Hub company markets tickets to concerts and other sold-out events. Again, eBay does little besides hosting, but takes a 10 percent commission from the buyer and 10 to15 percent from the seller. Craigslist also resells tickets, without commissions, but also without the eBay/StubHub guarantee. Live Nation Entertainment (NYSE:LYV) resells tickets too, through a subsidiary.
eBay has a virtual monopoly on English language online auctions. The site hosts sellers cleaning out their attics, as well as online stores selling antiques, crafts, electronics, and more. Among the name-brand stores on the eBay.com site are Dell (NASDAQ:DELL), Sony (NYSE:SNE), and Under Armour (NYSE:UA).
In June 2011, eBay finalized its acquisition of GSI Commerce, a company with expertise in online commerce and interactive marketing. The deal should strengthen eBay's position in ecommerce and help it compete with Amazon. Before the merger, GSI clients already included big names like Adidas, HP (NYSE:HPQ), and the National Football League (NFL).
Among eBay's auction competitors, Mercado Libre (NASDAQ:MELI) is a Latin American auction site. EBAY owns 18.37 percent of Mercado Libre (pdf), and considers it a partner. In China, Baidu (NASDAQ:BIDU) is serious competition for eBay, as it operates a popular ecommerce platform, and offers search and marketing.
eBay appears to have successfully transitioned away from its legacy auction format, as the company has put a new emphasis on fixed prices instead of auctions, which results in quickened sales.
eBay's stock price has been stuck in a trading range between $27 and $35 over the last year as shown below: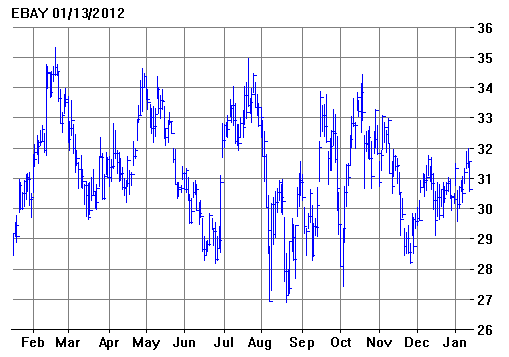 Click to enlarge
(Click to enlarge)
An investor might consider entering a Bull-Put Credit Spread for eBay with the short strike located at or below eBay's previous support level of $27. A Bull-Put Credit Spread is a neutral-to-bullish position and may be entered by selling a first put option and purchasing a second further out-of-the-money put option. If the put options expire worthless, then the initial credit is retained as profit.
Using PowerOptions tools, a Bull-Put Credit Spread was found with a potential return of 10.5% and a time frame for realizing the potential profit of 32 days. The specific put option to sell is the 2012 Feb 27 at $0.36 and the put option to purchase is the 2012 Feb 25 at $0.17. The position may be entered with a limit order and a net credit of $0.19. If eBay's stock price drops to around $28.50, an investor should consider exiting or rolling the position. The profit/loss graph for the Bull-Put Credit spread is shown below: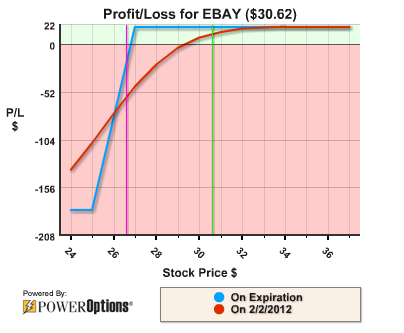 Large companies, like eBay, with their stock stuck in a trading range often provide opportunities for potentially generating profit via execution of spread trades.
Disclosure: I have no positions in any stocks mentioned, and no plans to initiate any positions within the next 72 hours.