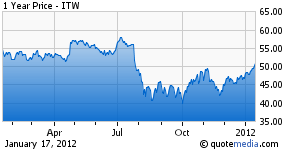 Illinois Toolworks (ITW) recently agreed to give activist investment firm Relational Investors a board seat, avoiding a potential proxy contest and opening the door for dialogue on a change of direction. This article reviews the personalities and issues involved, and concludes that the activist involvement is likely to increase share prices over a two to three year period.
Relational Investors
From the website:
Relational invests in and strives to create long-term growth in publicly traded, underperforming companies that it believes are undervalued in the marketplace. Through intense and focused research, Relational develops an engagement plan to unlock value in its portfolio companies. The Firm seeks to engage the management, board of directors, and shareholders of a portfolio company in a productive dialogue designed to build a consensus for positive change to improve shareholder value.
Formed in 1996 by Co-founders Ralph Whitworth and David Batchelder, who met while working for corporate raider T. Boone Pickens, the firm now manages $6 billion. Relational has been actively involved in turnarounds at Waste Management, Apria Healthcare, and Home Depot, among others.
My impression is that Whitworth and Batchelder are experienced, aggressive, and able to make things happen. Both would qualify as members of the 1%. Seth Hettena has done a good job critiquing Whitworth, whose biggest claim to fame is paying $1 million to have Paul McCartney sing at his wife's birthday party.
Illinois Toolworks
A diversified industrial, ITW has over 800 subsidiaries. The firm's management style is decentralized, with considerable latitude given to local management, while conforming to an 80/20 strategy. The company was selective in restructuring during the financial crisis and ensuing recession, an approach which management believes enabled them to get back up to speed quickly as the economy recovered.
On its website, the company describes its management team as follows:
At ITW, innovative approaches to corporate management-as well as homegrown experience-have always been the key to our success. Our management team is known for its ability to maximize operations within a global, decentralized and entrepreneurial culture. Comprised of experts in their fields of business, ITW's management team shares an average tenure of 20 years of company service.
It's not too difficult to imagine that management developed under this system will be relatively conservative and confident about present policies, resistant to the idea of fixing something that isn't broken.
The Issues
Bloomberg, citing a person familiar with the matter, says Relational is pressing ITW to reduce its segments from 8 to 4 or 5 and to centralize procurement and logistics.
As a serial acquirer, the company has a definite process for developing acquisitions, reshaping them to fit the mold, and divesting subsidiaries that no longer meet their criteria. Centralizing the suggested functions would reduce expenses, at the cost of some autonomy for local management.
Desirability of Activist Involvement
Ben Graham advocated an intelligent and energetic attitude by investors toward their managements. That was little in evidence during his day, although take-over artists provided some pressure from time to time. In recent years, activist investors have been relatively assertive, and mutual funds or pension funds sometimes call for change. This can be regarded as a positive development.
On the other hand, some activist investors are really shakedown artists. After identifying target company that has assets that can be sold for cash, or used as collateral for a loan, they force a special dividend or spinoff as a payday, and sell their stake as the shares pop on the dividend or the publicity.
Personal Experience
I was an owner of Motorola when Carl Icahn got involved. The situation at the time was that the company had surrendered a strong market position in handsets, by failing to produce a timely and well-designed sequel to the Razor. The management individuals involved were demonstrably flaky and the whole situation reeked of personalities run amok. While Icahn's involvement generated some headlines and helped me find an exit, I didn't regard it as long-term constructive.
I was an owner of Home Depot (HD) in 2006-2007 when Relational got involved, reaching an agreement with CEO Frank Blake, who replaced Ralph Nardelli at the helm. The underperforming wholesale HD Supply unit was divested. Blake correctly diagnosed the retail problem as one of customer service and took corrective action that has the company outperforming rival Lowe's (LOW), coming out of a severe recession. While I didn't stick around, I think Relational's involvement was a force for constructive change.
Why This Will Work
Over the past several decades, ITW has accumulated substantial assets in the form of a strong balance sheet, experienced and capable management with a deep bench, and businesses that have collectively earned a 10 year average ROE of 16.8%, while running with long term debt at an average 15.4% of equity. The past ten years have included two recessions, one of which was of above average severity.
3Q 2011 earnings met expectations, while guidance included slowing organic growth in Europe and the expectation of higher restructuring costs. Noting the cyclical nature of many of the businesses, it's not too surprising that market enthusiasm has dimmed as the euro crisis threatens the global economic recovery. In all likelihood, the company will navigate any economic turbulence capably, whether extraordinary measures are taken or not.
At a minimum, a careful look at all these assets will permit the release of some of this value, to benefit shareholders. A thoughtful approach to more fully integrating operations will actually create value, by reducing expenses and improving efficiency. Relational has demonstrated the ability and willingness to engage portfolio companies on an extended basis, dealing with messy and complex situations.
Judging by their resumes, Whitworth concerns himself more with operational issues, while Batchelder takes special interest in mergers and acquisitions. Since Batchelder is the one who has been offered a position on the board, it seems likely that the primary thrust will be in his preferred area of competence.
Management seems unlikely to acquiesce to a short-term shakedown, and Relational appears capable of something more constructive. The most likely outcome is that recovery from today's depressed share prices will be expedited, rather than delayed.
Valuation
My usual methods suggest a target of $57 by the end of the year, based on projected 5 year average earnings and historical P/E's on that metric. Multiples have been under compression recently, which is dragging down the average. If a leaner and faster growing company emerges from activist scrutiny, the creation and release of value could push prices up to $68, within the next two to three years.
Dividend
The company pays a dividend of $1.44 annualized, for a yield of 2.92% on Friday's closing price. Dividend Monk's recent article covers issues of concern to dividend investors.
Strategy and Tactics
ITW is suitable for buy and hold or dividend growth type investors, who can reasonably expect to receive an increasing flow of dividends and eventual share price appreciation buying or holding the stock at today's price and yield. Because a large part of the business is cyclical, picking an entry point depends on the investor's outlook for the macro situation. My outlook is optimistic.
In my October 2010 article on the company, I mentioned a covered strangle strategy, which would have had an 18% IRR if executed as described. The strategy is still workable here, as a means of getting additional income from a well-known dividend payer, while being paid to agree to buy low and sell high.
I've been playing this situation by means of diagonal call spreads, long June 2012 40.0 calls and short March 2012 52.5 calls. I plan to roll the March 52.5 calls up and out to the June 55.0 strike, for a small credit. With the stock closing Friday at $49.37, I would like to leave some room for a run based on the expectation that Relational's involvement will be a positive for an underpriced stock.
Disclosure: I am long (ITW).