Sometimes in investing, a stock's price becomes too high, and no amount of great fundamentals can serve to overcome it. Is Apple a good buy at $2,000 a share? Most investors would probably say no. We believe that, at least in the short-run, shares of Chipotle (NYSE:CMG), have now somewhat diverged from their fundamentals. While we in no way recommend investors short Chipotle, we think that at these price levels investors should wait for a pullback before buying any more shares of Chipotle.
While we still have a position in Chipotle, we have been paring it in the past week, taking profits on an investment that has generated a return of over 45% for us. As Jim Cramer says, "bulls make money, bears make money, and pigs get slaughtered." We have been bullish on Chipotle for some time, but not taking profits would be greedy, and greed is a recipe for disaster. Investors who have not yet invested in Chipotle should wait for a more appropriate price to invest. The position we have left is a speculative bet on another better than expected quarter, and should the quarter fail to live up to expectations, and the stock drop, we will add to our position on a pullback.
Chipotle ended last week at yet another all time high, in terms of both stock price and valuation.
click images to enlarge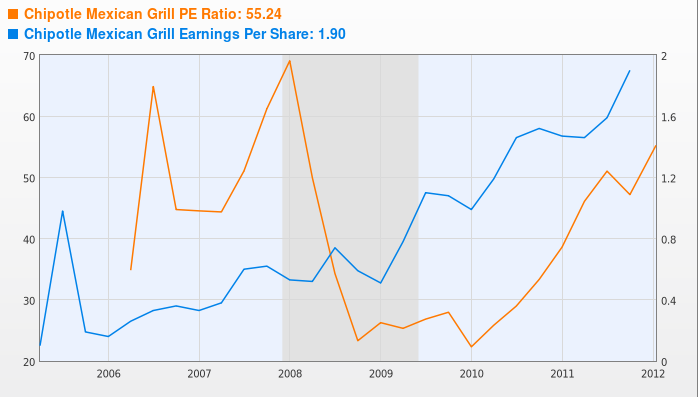 Click to enlarge
At over 55 times trailing earnings, and nearly 52 times forward earnings, Chipotle is priced for perfection. While Chipotle has so far delivered quarter after quarter of consistent growth and great execution, there is no guarantee that the next quarter will be more of the same. And as Chipotle's multiple has consistently expanded, the risks that the quarter will fail to live up to the Street's "whisper numbers" increases.
Chipotle reports its fourth quarter and full 2011 results on February 1, and the quarter is set to be just as great as before. While this quarter may not be an all time record for Chipotle, it is important to know how seasonality affects the company. Just as the fourth quarter is the most profitable one for retailers, the third quarter is the most profitable for Chipotle (driven by waves of students returning to school). Still, the fourth quarter is set to be a record non-back to school quarter. Consensus estimates call for Chipotle to earn $1.81 per share on revenues of $589 million. Any miss could be the catalyst for a drop in share price, and we would use that pullback to add to a position in Chipotle.
Chipotle bears have spent years arguing that the stock is too expensive to continue rising. Chipotle has been expensive when it was a $100 stock, when it was a $200 stock, and when it was a $300 stock. But simply avoiding a stock because it is expensive is not an investment strategy. Chipotle may have been expensive, but its strong fundamentals were more than enough to overcome that. But now, at a price of more than $350, Chipotle stock has reached a point where we can no longer recommend investors buy the stock simply because of its fundamentals. To do so, a pullback must occur. We agree, for the moment, with Chipotle critics who contend the stock is expensive. However, when Chipotle shares see a pullback, we would be buyers, for the fundamentals of the company are as strong as ever, and we profile them below.
The Brand & The Product
One of the main arguments Chipotle bears use to argue against the stock is the fact that Chipotle faces competition that it cannot beat. Bears argue that competitors such as Qdoba (NASDAQ:JACK), Baja Fresh, and Rubios will all deflate the growth of Chipotle, and in the end, cause its stock price to plunge. While it is true that Chipotle is not the only Mexican food chain, arguing that competition will beat Chipotle makes no sense. It is natural for retailers to have competition. Overcoming that competition is what differentiates the best retailers from the rest of the pack. Chipotle has been successful because its product appeals to a specific demographic: upscale urban youth and professionals. As such, they are willing to pay for up for a premium product. Chipotle's brand image, of a food company unwilling to compromise in quality and ethics has built a huge and loyal following. The company has built up massive amounts of brand equity, which will not be easy for a competitor to devalue. Taco Bell (NYSE:YUM) may be planning to make its menu more like that of Chipotle, but it still has the problem of being Taco Bell. How many people associate Taco Bell with quality food?
As for the product, there too Chipotle has far more resilience than its detractors seem to believe. While Chipotle is certainly not the only food company to offer burritos, that is by no means a weakness. Retail is not about the product. It is about the service. Arguing that Chipotle cannot succeed because it sells something so many others sell is like arguing that Procter & Gamble (NYSE:PG) cannot succeed because generic versions of its household goods exist. You can find detergent a that is a lot cheaper than Tide and does the exact same thing. Yet few people would argue that Procter & Gamble is a poor investment. Tide and P&G's other product lines have an enormous amount of brand equity, and that is something that is difficult to overcome, even by competing on price. In this respect, Chipotle is similar to a blue-chip company like Procter & Gamble. Chipotle has a great deal of brand equity, which it has earned by differentiating itself with quality ingredients and ethics. That is the essence of retail, differentiation, and it is something Chipotle has certainly done. Few companies have customers as loyal as Chipotle, and that is an asset the bears seem to always ignore.
The Economy & The Price Premium
Critics of Chipotle argue without end that a weak economy will deflate earnings, and thus the stock price. But the critics are ignoring one fundamental fact: unemployment is no longer that relevant. It is a sad reality that the economy can function just fine with unemployment of between 8 and 9%. GDP is growing, albeit slower than many would like, even with such unemployment. Company after company is posting record profits and offering bullish commentary about the state of their businesses. Our previous article on Chipotle addressed exactly this issue. Credit Suisse (NYSE:CS) did a detailed look at Chipotle sales growth relative to unemployment rates across Chipotle's markets and found that the company can do just fine with unemployment rates in the 8-9% range. People simply seem unwilling to accept the fact that unemployment no longer means that much to the broader economy. In addition, it is important to know who buys Chipotle's products. Chipotle's products are, on average, purchased by upscale urban youth and professionals. For them, the unemployment rate does not mean that much. A look at where Chipotle stores are located in the United States shows that Chipotle concentrates its stores in states with higher median incomes.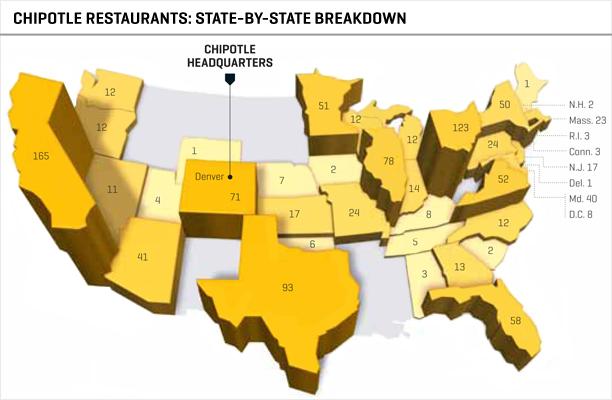 Click to enlarge
Government data shows that over 27% of Chipotle's 1,163 stores are located in the 10 states with the highest median incomes. For Chipotle's target customer, the state of the broader national economy does not matter that much, a fact that most upscale retailers experience. Starbucks (NASDAQ:SBUX) is a prime example of this. The company has posted quarter after quarter of record profits, even as it too sells a premium priced product that has a good deal of competition. People gravitate to Starbucks because of the experience the company offers. That experience is worth a premium to Starbucks' customers, and Chipotle is the same. People are willing to pay up for quality.
The irony of all this is that Chipotle's food is not that much more expensive than at other restaurants. Credit Suisse's survey of Chipotle's pricing compared to Qdoba's (its most direct competitor), shows that Chipotle's products are priced almost equally with Qdoba.

Click to enlarge
And when you factor in the fact that Chipotle uses better ingredients, Chipotle is in fact underpricing its products relative to its competitors. The economy has become increasingly bifurcated, with high-end and low-end retail outperforming. As a high-end company, Chipotle has outperformed the broader restaurant industry for years, and should continue to do so.
The Future
Chipotle critics contend that even if the company has been successful, its best days are behind it. Simply put, that is nowhere near the case. ShopHouse, Chipotle's new Asian food concept store, is performing brilliantly, according to Co-CEO Steve Ells. There are lines out the door each and every day. At the ICR conference, Chipotle's top executives spoke very positively of the concept, and announced plans to open a second ShopHouse, in Washington, D.C. Since it will be nearly identical to the first one, we think this means the present layout is working well.
Chipotle plans to open between 155 and 165 new restaurants in 2012, a record. Around a quarter of those restaurants will be in new markets, such as Vancouver and Nashville. Chipotle bears argue that the company's markets have become saturated, yet that is not the case. Chipotle management and Wall Street estimates indicate that domestically, around 4,000 stores can be supported, to say nothing of growth in its international markets, or the ShopHouse concept.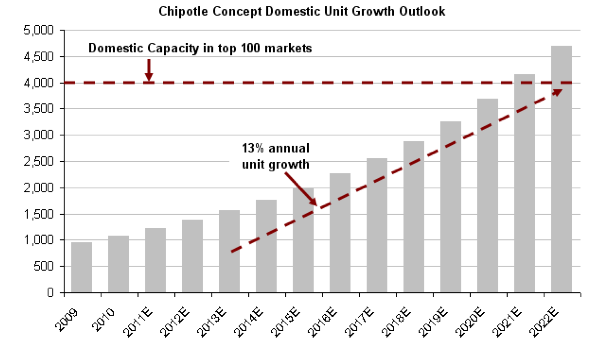 Click to enlarge
Assuming Chipotle does nothing to expand its market, there is still a decade of growth left in the concept. And internationally, Chipotle's prospects are promising. The company has plans to open 2 more restaurants in London, and the company's brand and culture should prove to be a big hit. Chipotle is also planning to expand into France, Germany, and further into Canada. The same dynamics that make Chipotle successful here in the United States should work abroad. The company offers a premium product to an upscale demographic that believes in Chipotle's values and loyally supports the company.
Chipotle's plans to open more A-model units, which utilize less square footage will also drive increases in profitability. 30% of Chipotle's openings in 2012 will be A-model stores, which have a proven track record of driving increased returns on invested capital.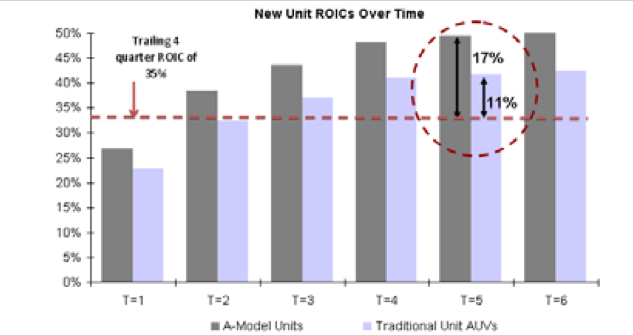 Click to enlarge
Chipotle can dramatically increase its ROIC by opening up more A-model units, which are significantly accretive to ROIC by their second year. The fact that all of Chipotle's stores are company owned and funded with internal cash flow makes the company even better positioned to take advantage of real estate opportunities that its competitors may not be in a position to take advantage of.
Conclusions
It is clear that Chipotle's business is poised for great success. And we are fully confident that in the long run, Chipotle's stock price will be much higher than where it is today. But in the short run, Chipotle's shares have run up too far, too fast. We recommend investors wait for a pullback to add to or initiate positions in the stock. Chipotle is trading above the Reuters average price target of $348, and we would like to see shares trade under it before we buy more shares of Chipotle. Chipotle has thrived in the past several years, and will thrive in the years to come. But its stock has thrived even more than the company, and the two need to re-align for us to become more constructive on the stock. Investors who have not yet taken profits on their investment in Chipotle should do so. And whether or not you have a position in Chipotle, you should wait for a pullback to buy the stock. There is a saying that "price is truth." And the truth is that at these levels, even a company as fundamentally sound as Chipotle has become a bit too expensive. There will come a time to buy Chipotle stock. But it is not now. Let some headline about Europe or one-off "poor" quarter knock the stock down. When that happens, investors will have an opportunity to buy shares in a company that is poised for great success at a more reasonable price.
Disclosure: I am long CMG, SBUX, PG.
Additional disclosure: We are long PG via the SPDR Dow Jones Industrial Average ETF