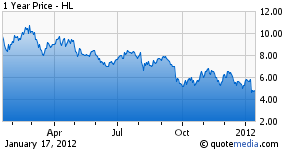 The stock price of Hecla Mining (NYSE:HL) took a more than 20% dive when it was announced on January 11th that the Lucky Friday mine would be closed for a year. Hecla's production this year is now expected to be 7 million vs. 9.5 million ounces before the announcement. However, while the market apparently is discouraged by the closure, the shutdown is actually a good thing for the company! Here's why:
1) Hecla's average sale price per ounce over the past year has ranged in the mid-thirties. If Hecla restores full production in one year with a silver sale price of $45, it will more than cover its losses from performing maintenance operations. However, should the price of silver further to $60/oz, Hecla will be printing cash. After all, the silver's still going to be there in the ground, so it's not lost – only the production has been lost (this year).
2) By reducing its supply at a time when the market is already fairly tight (the Lucky Star mine closure represents about 0.3% of annual world supply), Hecla is contributing to the conditions that can reveal a market shortage of silver. Once this shortage is finally revealed, a massive increase – at least double current prices – is very likely. For example, if we look at rhodium's performance over 10 years, we can see the price went up 20x from start to finish before falling back down due to fundamentals. However, silver's movement can be even more extreme.
3) By doing its maintenance now, as compared to in a couple of years, Hecla should be able to maintain peak production and maximum output when the prices of silver really start to rise – potentially enabling it to expand operations and mine even more silver when it counts.
4) The company should be using this time to ensure that no further mining mishaps mar its long safety record. It is simply the right thing to do to ensure that workers are safe and that further shutdowns (which impact the workers more than anyone else, as their paychecks are affected) are prevented.
In other words, the longer Hecla waits, the more profitable the company will eventually be (assuming a rising silver price). From a short-term perspective, the company's prospects have deteriorated, but from a long-term view, they shouldn't be selling silver at a discount anyway (which they would be doing today if not for the shutdown). The company is being severely punished for the mine shutdown, but this is a temporary aberration and undeserved. Long-term shareholders should use this opportunity to buy as much as possible, given that the stock is below the institutional threshold now.
Disclosure: I have no positions in any stocks mentioned, and no plans to initiate any positions within the next 72 hours.