On Tuesday, January 17, 2012, Citigroup (NYSE:C) and Wells Fargo (NYSE:WFC) both reported their Q4 2011 results. Citigroup's earnings were below expectations, while Wells Fargo reported slightly better than expected results. The diverging performance is largely based upon Citigroup's broader diversification of financial services, many of which showed revenue and/or income declines.
Citigroup reported that fourth-quarter profit fell 11 percent, compared to consensus expectations for a profit increase. Net income fell to $1.17 billion, or 38 cents a share, from $1.31 billion, or 43 cents, for the same quarter in 2010. The street was broadly expecting income to come in around 50 cents. For the full year, though, Citigroup's earnings rose 6.4 percent to $11.3 billion.
See C's recent performance chart, below: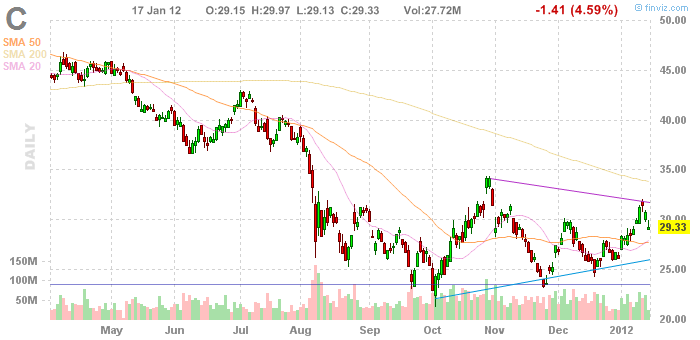 Click to enlarge
(Click to enlarge)
Wells Fargo, conversely, reported a Q4 profit of 73 cents per share, a 20 percent increase compared to a year earlier and at or above consensus expectations. Wells Fargo also reported a Revenue decline of four percent, to $20.61 billion. Wells Fargo's comparatively superior quarterly performance was primarily due to its lack of considerable investment banking and trading exposure.
See WFC's recent performance chart, below: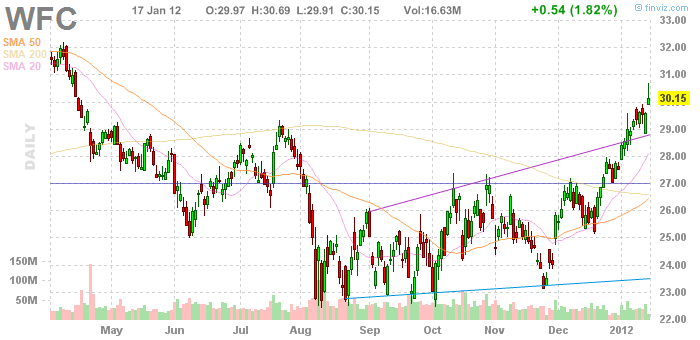 Click to enlarge
(Click to enlarge)
Citigroup's revenue fell seven percent from a year and sat at $17.2 billion. This was the lowest quarterly revenue for the bank since Q4 of 2009, in the midst of the initial financial crisis. The bank's total revenue declined due to reductions to stock and fixed-income related revenues, as well as the continued sale of bank assets.
The bank has been selling assets to both raise its cash levels and to reorganize the structure of the enormous institution. Despite these sales, which should be expected to leave a more streamlined remaining entity, Citigroup reported that expenses increased four percent to $12.9. At least some of these added expenses were related to continued emerging-market investments.
Citigroup losses on bad loans fell 40 percent to $4.11 billion from the same period a year earlier, as fewer customers missed their payments. This could bode well for certain hybrid mREITs, such as Chimera Investment Management (NYSE:CIM), MFA Financial (NYSE:MFA) and Invesco Mortgage Capital (NYSE:IVR), who have exposure to non-agency RMBSs. Citigroup also reduced its provision for losses on future loans by $1.47 billion, compared with $2.25 billion a year earlier.
Goldman Sachs (NYSE:GS) is set to report results on Wednesday morning, while both Bank of America (NYSE:BAC) and Morgan Stanley (NYSE:MS) are due to report on Thursday.
Disclosure: I am long C, BAC, CIM.
Disclaimer: This article is intended to be informative and should not be construed as personalized advice as it does not take into account your specific situation or objectives.