Last year I wrote a two-part series leveraging the work of Jeremy Grantham to develop a strategy for profiting from a crash in commodity prices (see "Profiting from Physical Assets in a Resource-Constrained World - Rules and Picks.") Since then, commodity-related stocks have dipped several times and in many cases triggered buying opportunities by erasing their QE2-inspired gains. Yet, no crash has occurred, and I am increasingly thinking no crash is imminent. However, there is one commodity that seems to have crossed the crash threshold: natural gas.
In his paper, Grantham assigned a 1:2 probability that natural gas remains stuck in its secular downtrend. In other words, natural gas is one of the most likely commodities on the list to stay in a downtrend. The chart below shows prices once again reaching the lows of 2009, which in turn had not been seen since the last recession in 2001.
(Click charts to expand)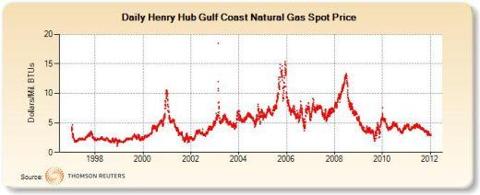 Henry Hub Gulf Coast Natural Gas Spot Price (Dollars/Mil. BTUs)
Source: U.S. Energy Information Administration
Given my desire to buy into commodities on the cheap, it certainly seems time to expand my exposure in natural gas. I consulted with a friend of mine on this; with his permission, I am reprinting his insights below (with some editing):
I don't see the fundamentals for natural gas changing any time soon, except that eventually demand will increase more rapidly as various uses of coal and oil that can be converted to gas become compelling as the time to recover conversion costs falls.

I know of three underlying factors at work with regard to that:

Since the price of gas is dropping, utilities that deliver it have a relatively weak incentive to market it to new customers, since new customers have initiation costs to run underground pipes. They market broadly, but they only respond positively to requests from potential customers who are close to existing mains - the situation in most rural areas - and only slowly extend the mains.
The gas wells created by fracking have shorter lifetimes than energy sources created in the heyday of oil well drilling, and the low-hanging fruit is currently rapidly being picked.
The fracking technology being developed here is also finding its way to foreign gas resources, so globally gas supplies are rising.

I would expect these factors to play out so as to allow gas prices to drift slowly lower over the next few years. At some point when the low-hanging fruit is gone and/or significant water poisoning and other problems start forcing fracking costs higher, the price will reverse, but then it will go higher only slowly until we reach peak gas which is probably still a decade away.

If you start reading of gas-liquification plants being built near U.S. ports to allow export of domestic gas resources, or that attempts to build de-liquification plants near U.S. ports are being resuscitated (they are unpopular because of potential for devastating explosions), it will be time to buy stocks that benefit from higher gas prices (or, finally, what is left of the United States Natural Gas Fund UNG). Such plants will imply that either the global supply has peaked or the domestic supply has peaked, respectively."
Given that reasoning, dipping into UNG remains off the table. I suppose the only reason why traders and investors continue to try their hand fighting the death march in UNG is that natural gas prices have experienced four parabolic moves in just the last 11 years as shown in the above chart. This volatile history generates the prospect for tremendous gains for buying into natural gas at low prices. However, the wait until the next spike is killing anyone trying to hang on through UNG: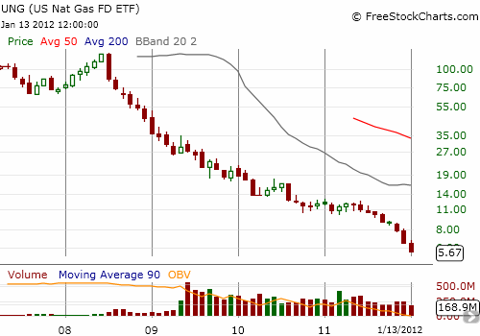 UNG has provided almost nothing but downside since its inception
I previously listed San Juan Basin Royalty Trust Co (NYSE:SJT) and Guggenheim Canadian Energy Inc (NYSEARCA:ENY) as preferable plays on natural gas. SJT is a limited partnership based in Fort Worth, Texas, with oil and gas leasehold and royalty interests located in the San Juan Basin in northwestern New Mexico. These limited partnerships present a more attractive investment in natural gas as they offer relatively high payments while waiting out depressed pricing conditions. SJT now trades at fat 8.6% dividend yield. There are of course many other limited partnerships with natural gas interests that pay high yields. I just happened to pick SJT from a list many years ago as an LP that looked particularly undervalued with a particularly attractive yield. I have now grown comfortable trading and investing in it.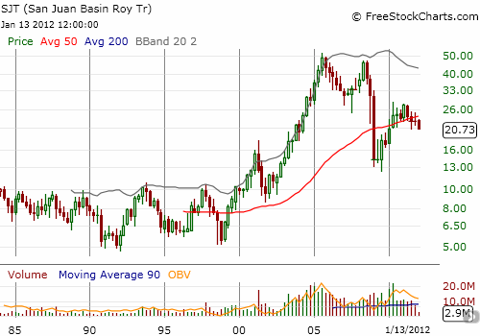 San Juan Trust is well off its highs from the prior bull market but is still holding its breakout from a 15+ year consolidation
ENY is a fund that tracks the market-timing Sustainable Canadian Energy Income Index. This index allocates funds between oil sands companies and high yield energy stocks. Specifically:
The Index allocates between the oil sands and Canadian high yield energy equities constituents according to the current price trend of crude oil. If the current quarter's closing price is above the four quarter moving average price, crude oil is determined to be in a bull phase. If it is at or below the moving average price, crude oil is determined to be in a bear phase.
I asked my friend whether it is time for me to finally buy some ENY even though the weighting in oil makes it a much less desirable play on natural gas. He told me he is waiting to buy more when the situation in Iran "blows over." Presumably, traders and investors will apply massive selling pressure to stocks like ENY once the latest Persian Gulf noise ends. Since I do not yet have a core position, I am still biased to buy soon. I missed last year's opportunity to buy upon the erasure of ENY's QE2-inspired gains because I was focused on other commodity-related opportunities. Moreover, ENY fits nicely with my thesis to start buying Canadian this year.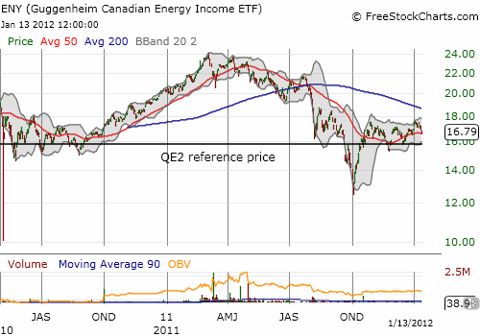 Since plunging to its lows in 2011, ENY has firmly held the QE2 reference price as support
Source for charts: FreeStockCharts.com
In the meantime, I am holding onto SJT although it has dropped 11% from where I bought it last year. I will be adding to the position on any steeper sell-off, and then will purchase ENY at what I will consider to be a very attractive entry point. There is no rush to act for anyone already exposed to natural gas; for others, it probably makes sense to initiate a small position at current levels.
Be careful out there!
Disclosure: I am long SJT.