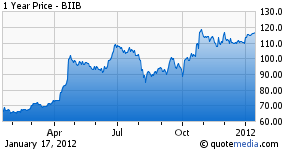 A lot of drug companies have struggled to find their identity as competition and costs collide with profits. One of the best known biotech companies reinventing itself is Biogen Idec Inc. (NASDAQ:BIIB), a $28 billion company highly leveraged to multiple sclerosis ("MS") through its Avonex and Tysabri drugs.
Two years ago, the company was riddled with uncertainty as Carl Icahn rattled the Board's cage in an attempt to jumpstart the company's flailing stock price. But, with Icahn gone and the company's restructuring complete, uncertainty is being replaced with optimism surrounding Biogen's oral BG-12 MS drug and its hemophilia A & B and ALS phase III trials.
The difficult decisions made, the company is refocused on growth.
In a move which helped reduce R&D spending by 5.5% year over year last quarter, the company's early stage pipeline was depleted as it restructured, with 17 programs shuttered across cardiovascular and oncology.
Instead of developing candidates internally, Biogen is focused instead on rebuilding through profit-friendly collaborations. Last week, it inked a deal to develop ISIS-SMN for muscular atrophy, which affects 9000 people in America. In December, it partnered with Samsung on a new biosimilars venture. And, in October, a $553 million deal with Portola gave it access to early stage autoimmune drugs targeting Rheumatoid arthritis and Lupus.
Meanwhile, Biogen remains an unmistakable Multiple Sclerosis play.
In Q3, global Avonex sales rose 5.9% to $681.7 million, of which $410.7 million came from the United States. Despite competition from new drugs, price increases offset a 6% drop in U.S. unit volume, resulting in U.S. Avonex sales growth of 6.1% in Q3 and 9% in the first 9 months of last year. Outside the U.S., sales were up 5.6% and 2.6% in the same periods. Volume outside America increased 6% in Q3 and 7% in the first nine months.
Even as Avonex has matured, growth for Tysabri, which has been stunted by some patients developing a rare brain disorder, has been strong. In the U.S., Tysabri sales increased 40.6% in Q3 and 30.8% over the first nine months, while rest of world sales rose 20%. Demand boosted U.S. volume 15% and 12% for the quarter and year-to-date periods, while volume in the rest of world segment increased 18% and 19%, respectively.
Alongside Avonex and Tysabri, Biogen also sells Famprya, which targets walking ability in MS patients. In Q3, the EU approved the drug, which is now treating 7000 patients in Germany. In 2012, Biogen plans to expand the drug through Europe, with filings in 20 additional countries.
But, the real excitement is on the Phase III pipeline.
Biogen presented positive data for its oral MS drug BG-12 last fall and plans to file for approval in the U.S. this year. In Phase III trials, the drug showed a 44-51% cut in relapse rates. The strong showing suggests the drug could capture market share from Teva's (NYSE:TEVA) Copaxone, which had $1.02 billion in Q3 sales - up 26% year over year - and Novartis' (NYSE:NVS) Gilenya, which had 9 month sales of $291 million through Q3 2011. Both of these drugs price between $40-50,000; suggesting BG-12 will be a high priced drug too. With Avonex sales flattening and Tysabri risks remaining, BG-12 is an important drug, which could reignite sales and stabilize Biogen's MS market share.
But, BG-12 isn't the only late stage drug with upside. Later in 2012, we'll get updates on hemophilia factor VIII and factor IX treatments, which are in Phase III trials. And, we'll also get data on Dexpramipexole, in phase III for ALS treatment, later this year too. These treatments offer significant opportunity to expand the company's footprint, particularly in ALS where treatments are lacking and survival is limited to five years from diagnosis.
Biogen is using the substantial cash flow from Avonex and Tysabri to advance these late stage medicines, while rebuilding its early stage program. At the same time, it's returning cash to shareholders through its 20 million share buyback, approved last February. Unlike fledgling biotech plays, such as Pharmasset (VRUS) and Inhibitex Inc. (NASDAQ:INHX), both of which were recently acquired for robust premiums, Biogen's franchise is proven.
The stock remains reasonably priced at 18x next year estimates. And, the company has done a good job of coming in ahead of forecasts, beating analyst expectations in three of the past four quarters. Given its solid balance sheet, which includes $6.25 per share in cash, and the potential for positive news from these up and coming drugs this year, investors should use pullbacks to build positions.
Disclosure: I have no positions in any stocks mentioned, but may initiate a long position in (BIIB) over the next 72 hours.