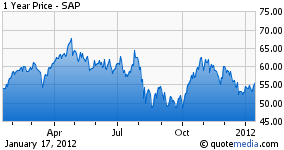 SAP AG (NYSE:SAP) has been trading in a range this whole year and now that it is closer to the bottom of its range, I wanted to take a closer look at the stock to see if it is attractive at these price levels. Here are five points I looked at while researching SAP:
Valuation: The trailing valuation metrics imply that SAP is cheap as it is trading in the lower end of its 5 year valuation metrics. SAP's current P/B ratio is 4.0 and it has ranged between 3.0 and 8.8 over the past 5 years. SAP's current P/S ratio is 3.3 and it has averaged 3.9 over the past 5 years with a high of 5.5 and low of 2.6. SAP's current P/E ratio is 17.2 and it has averaged 21.6 over the past 5 years with a high of 28.9 and low of 15.6.
Price Target: The consensus price target for the analysts who follow SAP is $61. That is upside of about 11% from where the stock is currently at. This suggests that SAP is fairly valued at these levels.
Forward Valuation: SAP is currently trading at 17 times FY12 EPS. SAP's closest comp is Oracle (NASDAQ:ORCL), which is trading 10 times next year's earnings. This is much higher than other tech giants trade at. Cisco (NASDAQ:CSCO) is trading at 10 times, Microsoft (NASDAQ:MSFT) is trading for 9 times, Intel (NASDAQ:INTC) is trading at 10 times, IBM (NYSE:IBM) is trading for 12 times, and Hewlett-Packard (NYSE:HPQ) is trading at 6 times. The average forward P/E ratio for the five tech stocks is 9. This suggests that SAP is overvalued at these levels.
Dividend: SAP pays an annual dividend and has paid one since 1988. Its last dividend was paid on May 23, 2011 and was 82.5 cents a share for a dividend yield of 1.5%. Translated into euros as SAP is based on Germany, the dividend was a 20% increase over the prior year.
Earnings Estimates: SAP beat earnings estimates its last two quarters after missing 1Q11's estimates. The 2Q11 earnings beat was 2 cents while the 3Q11 beat was 8 cents. If the company is able to report earnings with an 8 cent beat, that should provide a positive catalyst to the stock.
Price Action: SAP has had an up and down year. In the first part of last year, the stock rose over 26% to over $67 a share before it pulled back all the way to below $48 during late summer and late fall. Then the stock rallied again to the $63 level and then pulled back again, and is now trading at around the $55 level. The stock is now below its 50 day and 200 day moving averages. The 50 day moving average sits at just below $57 while the 200 day moving average sits just below $58 a share. On the upside, $55 should serve as a key resistance level followed by the $60 level. On the downside, $52 should serve as support followed by $48.
Conclusion: SAP looks overvalued here as it is trading at a significant premium to other tech giants and low upside from analysts' consensus target. It is probably better to take a closer look at Oracle or other tech giants to add to your portfolio.
Disclosure: I have no positions in any stocks mentioned, and no plans to initiate any positions within the next 72 hours.