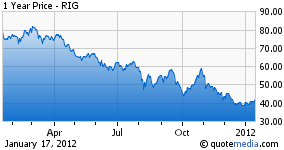 Transocean Ltd. (NYSE:RIG) provides offshore contract drilling services for oil and gas wells worldwide. It offers deepwater and harsh environment drilling, oil and gas drilling management, and drilling engineering and drilling project management services. The company also offers well and logistics services. In addition, it engages in oil and gas exploration, development and production activities worldwide.
As of October 17, 2011, per the company's 10-Q, Transocean owned or had partial ownership interests in and operated 135 mobile offshore drilling units. As of this date, their fleet consisted of 50 High-Specification Floaters (Ultra-Deepwater, Deepwater and Harsh Environment semisubmersibles and drillships), 25 Midwater Floaters, nine High-Specification Jackups, 50 Standard Jackups and one Other Rig. In addition, two Ultra-Deepwater drillships and four High-Specification Jackups are under construction. These numbers include the company's newest Acquisition of Aker Drilling for $1.43 BN (announced August 15, closed October 4) plus $800MM in debt.
Investment Rationale
The company suffered a loss in the 3Q of 22 cents, largely driven by lower fleet utilization due to increased shipyard time to meet new requirements around certifications and inspection of well control equipment as well as a $78 million expense (about 24 cents before tax) related to the settlement of a forward exchange contract as a result of the Aker purchase. The company expects these inspections to have been completed for a good part of its fleet by the end of 2011. For 2012, the company expects revenues to increase due to "fewer expected out of service and idle days, increased activity [due to the] Aker acquisition, and the commencement of operations of our newbuild units delivered in 2011 and to be delivered in 2012." However, the company notes that operating expenses will continue to trend higher as a result of the additional rigs, which we expect will be somewhat offset by a reduction in shipyard compliance costs.
Overall, day-rates continue to rise for the company's high-specification floaters, up from $403,900 to $478,900 year over year while rates in other segments have shown more softness. Overall, day-rates have increased from $271,700 to 290,200 year over year. The company's back-log continues to be strong, particularly for the high-specification segment, with $19.2BN as of 10/17/11, which is more than 3 years of continuous operations for this segment. The remaining segments have some backlog, which is at a level consistent with prior periods so we expect limited improvement for these other segments, where the high-specification segment should continue to show margin growth.
A significant component of revenue growth in the coming quarters will result from utilization improvements as the company's maintenance and certification program is completed. Revenue earning days in the 3Q were down 12% from the prior year as a result, resulting in an estimated $195MM decrease in revenues and an increase of $225MM in associated costs and expenses. While we expect these incremental costs to decline somewhat in 2012, we expect there to be a permanent rise in the company's cost structure as a result of the new requirements as well as the company's relatively older fleet relative to some of its peers. Revenues compared to prior year were down more modestly (6%) as the revenue earning days were offset by higher day-rates.
As a result, we expect modestly improved performance in Q4, largely driven by the fact that the $78MM forward loss in Q3 is non-recurring, as well as modestly increased revenue earning days (up 5%) as scheduled maintenance is completed. As a result, we expect the company to earn approximately $96MM in the 4Q (30 cents), improving substantially in 2012 to the $2.50 - 3.00 range. The 2012 estimate is driven by a 5% increase in revenue earning days relative to Q4 and a 10% increase in high-spec dayrates, with all other dayrates staying flat. We expect the company's overall costs to increase modestly as any reduction in maintenance and certification expenses will be offset by ongoing operating expenses relative to the 2011 newbuilds and the Aker acquisition drillships.
Key Risks
Risk number 1: A Questionable Acquisition - Transocean purchased Aker Drilling for $1.43 BN - which was 62% more than the market price of the stock in the 30 days prior to the tender offer. The company then essentially funded the acquisition by announcing a share offering of roughly $30MM shares, which represents approximately a 10% dilution. Given that management apparently lacked the funds to purchase Aker from key cash flow, and that Aker's 2 rigs (with 2 more being constructed for 2013 delivery), the price appears steep from a shareholder perspective - as evidenced by the decline in the equity from the 60s in July to approximately 40 today. (Note it is all the stranger given the continued quarterly payout of the four part 79 cent a quarter dividend) While we are personally not enthusiastic about this acquisition, for a new potential shareholder such as us, the risk has already been priced in.
Risk number 2: Rig Downtime - Only the company's deepwater drillships have been showing strength, which is 50 out of the company's 135 units. The company has been divesting underperforming units, but progress is slow. Additionally, redeployment of all units has been significantly slowed due to the certification requirements. We view this as a short-term (2011 to early 2012) issue and utilization rates will increase substantially over the next year.
Risk Number 3: Market Sentiment - Between drilling mishaps (Macondo, Brazil) and the impending dividend cut (the company has issued a four-part 79 cent dividend in 2011, which as an aside makes the equity raise to purchase Aker even stranger). While we expect the company to maintain a token dividend after the completion of the previously announced payouts, market reaction to the dividend cut and new level may increase the stock risk shall management not meet expectations. As for the drilling mishaps, we think the long-term impact of Macondo will be low due to the company's indemnification agreement with BP.
Recommendation
Transocean is an interesting company that is definitely cheap on a price to book level (about 0.63x) and other metrics (P/S, etc), but there are several concerns that give us pause before investing
Management's actions around the dividend, Aker Acquisition, and the subsequent stock offering.
The company's cost structure as increased since the Macondo incident, and we suspect it is permanent, potentially reducing longer term profitability.
Ability of the company to continue to drive value out of the non-deepwater portion of the fleet.
Overall, we expect the company to earn between $2.50 - $3.00 in 2012, with solid potential to earn double that by 2014 should the company's temporary costs decline and oil remain in excess of the $100 - $120 level.
While we think the shares are attractively valued (would expect $60-70 a share by year-end 2013), at the current time we have yet to open a position, but will continue to monitor the company's performance.
Other drilling companies to consider include Seadrill (NYSE:SDRL), Diamond Offshore (NYSE:DO), Noble (NYSE:NE), and Ensco (NYSE:ESV)
Disclosure: I have no positions in any stocks mentioned, but may initiate a long position in RIG over the next 72 hours.