The IEA is warning that energy is set to become "viciously more expensive" as global demand for energy is set to increase 40 percent by 2035. If we add to the equation the fact that several of the currently less expensive and more utilized energy sources are facing serious problems, there is a strong case to be made for renewable energy and efficiency. Nuclear power is not only facing enormous social and environmental pressure after the Fukushima accident, but its costs have been also rapidly escalating:
(Click chart to expand)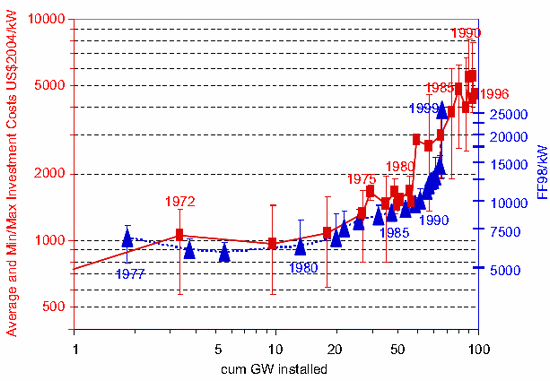 Click to enlarge
Source: thinkprogress.org
In the case of carbon we have to either significantly reduce its use to curb pollution and climate change, or make it significantly more expensive by adding carbon sequestration methods.
A similar picture is evolving in the transportation sector, where demand is rapidly rising (pdf) in emerging markets as more middle class consumers can afford to buy cars. At the same time supply is increasingly coming from politically unstable countries or significantly higher cost (economically and environmentally) sources like tar sands and deep water projects. This all adds up to create elevated energy prices, which are likely to continue getting more expensive over the next few years, especially as the global economy continuous to recover.
There are several possible strategies to position one's portfolio to profit from this trend. In this article we will focus on some interesting companies working on energy efficiency:
ABB Ltd (NYSE:ABB)
ABB is a company with many technologies that help in many ways to increase energy efficiency and to integrate renewable energy to the grid. For instance, ABB is the leader in High-Voltage Direct Current transmission lines, a technology that enables the transmission of electric energy over long distances with significantly lower losses. It has been disciplined with its acquisitions by not overpaying and making sure that they integrate well with existing businesses. Some significant recent acquisitions were Baldor that makes high-efficiency motors, and Ventyx, which develops software to manage electric energy infrastructure. The company has a very solid balance sheet, comes with a current dividend yield of approximately 3.5%, has good growth prospects, and a P/E of around 15.
Emerson Electric Co. (NYSE:EMR)
Emerson is another diversified industrial company that is increasingly focusing on making energy efficient devices: from motors and climate control devices to wind turbine parts and mass transit cooling systems. An amazing feat from this company is that it has delivered 55 years of dividend hikes. The dividend yield is also around 3.5%, the company has very little debt, and it is also returning cash to shareholders in the form of share repurchases.
New Flyer Industries Inc (OTC:NFYEF)
New Flyer is a Canadian company that is the largest manufacturer of heavy transit buses in North America. It has been named one of Canada's greenest employers. Besides manufacturing traditional buses, it is gradually growing the alternative propulsion technologies: electric, hybrid, hydrogen and natural gas. Previously the investment came in the form of an IDS, which was a unit consisting of a bond paying a 14% interest rate together with one common stock. It recently offered shareholders a chance to exchange the bond part for more shares in order to have more money available for investments in growth (it previously paid almost all free cash flow to shareholders). Despite the change the new shares still offer a very attractive yield of close to 10%.
Tesla Motors Inc (NASDAQ:TSLA)
Tesla offers an exciting opportunity to invest in the transition of gasoline cars to electric cars. It is regarded as an innovative and classy company that builds beautiful cars that run entirely on electricity. It started with expensive luxury models, which sold relatively well, and is now aiming for much higher volumes with a more affordable car called the "Model S" whose release is expected in 2012. The technology has attracted the interest of companies like Daimler (OTCPK:DDAIF); it even received a Letter of Intent from Daimler for a full electric Powertrain program for a Mercedes vehicle. Tesla has also sold battery packs to Toyota (NYSE:TM) for its RAV4. We recommend having Tesla on a watch list, as we are not yet convinced its valuation offers an adequate margin of safety.