Bank of America (NYSE:BAC) has been at the center of controversy for quite some time now. It is no secret the biggest bank (at the time) would be hit hardest once the housing bubble burst. Bank of America is now the second-largest bank by assets and still "trimming the fat." The current share price is $6.73, which is up nearly 20% since I last mentioned the stock in my article here. The one-year analyst price target is $9.02. This represents another 34.03% upside potential. I feel that this analyst target is very modest and expect the stock to double to $12 by year's end. I understand and realize this is a bold statement, but not farfetched for the fourth-largest bank in the U.S. by market cap. Also in 2010, Forbes listed Bank of America as the 3rd-biggest company in the world (Forbes Global 2000 is based on a mix of four metrix; sales, profit, assets, and market value). With this being said I think it is foolish to think this stock will "continue to drop." Bank of America is down, but not out; look for it to double.
I understand that if I were to say this company is fundamentally sound I would be crazy because it is far from it. However, the bank has taken desperate measures to stay afloat. In fact, Warren Buffett thinks so himself, commenting: "Bank of America is a strong, well-led company" and "I am impressed with the profit-generating abilities of this franchise." In August Buffett made a $5 billion investment in the banking giant that helped to stop shares from sliding. This was a good move for BAC because it helps to calm market fears about the bank being unsafe. Buffett's investment in General Electric (NYSE:GE) and Goldman Sachs (NYSE:GS) did the same thing for those companies during the financial crisis of 2008.
BAC's current quarter consensus estimate has increased notably over the past 90 days from 0.16 to 0.21, a gain of 27.8%. This improvement is significantly greater than its Industry. BAC's 7.1 forward P/E is at the low end of its 5-year range (lowest 5.3 to highest 100.0). BAC was able to boost earnings by taking a loan loss provision of only 67% of third quarter net charge-offs. Analysts expect 2011 loan loss provisions of $13.8 billion, down from $28.4 billion in 2010. For 2012, provisions are expected to fall to $13.0 billion. Furthermore, an earnings per share total of $1.14 is expected for 2012 per S&P.
The fact that loan-loss provisions have been cut more than half and Buffett's $5B injection are not the only reasons this stock is poised to double. The housing market seems to have simmered down as well, and the court lawsuits/settlements (due in part to Countrywide) are expected to have tapered off. This allows the bank to do what it does best, make money. It seems the days of "financial distress" are not far from gone, but I believe we have seen the bottom and might stay there for quite some time. With this being said the beauty of capitalism is the ability for companies to adapt to the changing environment. I believe that Bank of America has reached its bottom and is beginning to adapt to its current markets. This allows for a great buy opportunity and huge turnaround.
Moving Average Convergence/Divergence (MACD) indicates a Bullish Trend. Also, the 10- and 21-day moving averages are signaling a quick turnaround. The moving averages are $5.67 and $5.52 respectively.
(Click charts to expand)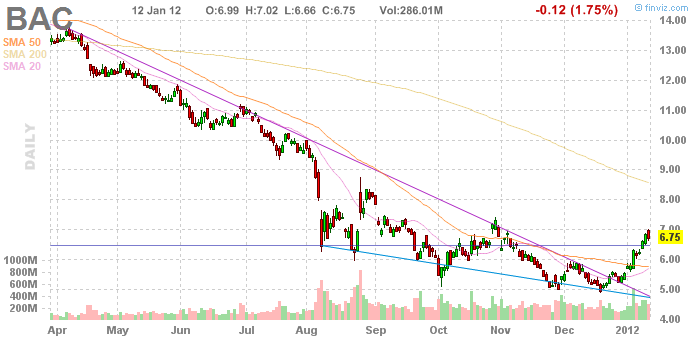 Source: finviz.com
From being the worst performing sector, financials have turned around to being one of the top performing sectors for the year. I believe this is a sign of what's to come for 2012 and beyond. Obviously the entire financial sector will not be delisting, so naturally after such a huge sell-off financials are ripe for a rally, especially Bank of America.
Disclosure: I am long BAC.