By Stephen D. Simpson, CFA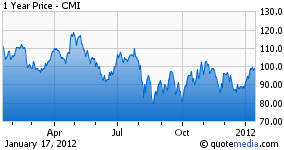 Sometimes a company executes its plan so well that you almost forget that it still operates in a cyclical industry outside of its control. Such seems to be the case with diesel engine and power generator manufacturer Cummins (NYSE:CMI). Although Cummins management has done a great job of emphasizing free cash flow growth and economic returns, to say nothing of international exposure that many companies dream of, the fact remains that several major markets are looking shaky or at best long in the tooth.
A Tale Of Three Fleets?
For the most part, major North American commercial truck builders like Navistar (NYSE:NAV), PACCAR (NASDAQ:PCAR) and Daimler have been pretty optimistic on the market conditions for new truck builds in 2012. Credit is pretty cheap and even if the trucking industry isn't going gangbusters, it still needs to update fleets.
The rest of the world may be more problematic. Certainly Europe is a major risk at this point, and investors are only waiting to see confirmation of bad news from the likes of Volvo, MAN and Scania. With most European industrial companies calling for a weak first half and a rebound later, Cummins' numbers could be vulnerable early in the year.
The emerging market could likewise be ripe to disappoint. China is trying to find that magic growth number that keeps the peace without driving inflation and major construction machinery companies like Hitachi and Komatsu (OTCPK:KMTUY) (a customer of Cummins) have been reporting shakier order numbers lately. Elsewhere (India, Brazil, etc.), there is still the risk that industrial demand is being driven by unsustainable credit growth that could fade with little warning.
A Complicated Food Chain
Cummins is the world leader in diesel engines larger than 3 liters and has been building an under-appreciated parts/components business in markets like turbochargers and emissions control. That does not mean that the company isn't vulnerable to losing still more customers.
Both Navistar and PACCAR used to be major Cummins customers, but both have chosen to internally develop and produce engines. There's a long-term trend of this with Cummins, as other customers like Daimler have done so in the past, and MAN recently elected to go with its own engines in Brazil.
The catch here is that the substitutions are not always (or even often) complete. Cummins will often retain business in certain sizes or geographies, as they have with PACCAR and Volvo. At the same time, others like Tata (NYSE:TTM) have been increasing their usage of Cummins engines. Last and not least, given the travails that some companies (notably Navistar) have seen in switching to their own engines, it may be that some companies reconsider whether the risks are worth the economic returns.
And then there's the parts business. Cummins continues to sell parts or components like turbochargers and emissions control to customers even after they go to internally-developed engines. Now BorgWarner (NYSE:BWA), Honeywell (NYSE:HON) and Tenneco (NYSE:TEN) certainly want that business for themselves, but Cummins is no lightweight when it comes to R&D and and few match its international exposure.
Reaping The Benefits Of Moving First
Cummins gets almost two-thirds of its revenue outside the U.S. and is one of the strongest Western industrial companies in India and China - stronger even than Caterpillar (NYSE:CAT) in many respects. A lot of this is due to culture and timing. Cummins went there first (in the 1970s) and willingly formed joint ventures with local companies - and it's hard to displace.
So while Caterpillar clearly has targeted the on- and off-road heavy vehicle markets as major growth opportunities in the emerging markets, don't underestimate the deep roots that Cummins has established. That's particularly true as many of these countries would like to see so-called "national champions" hold their own against Western companies.
The Bottom Line
Cummins was an overheated Wall Street darling not all that long ago and those fears about European and emerging market slowdowns have sapped some of the momentum. So much so, in fact, that Cummins could be something of a bargain right now.
There's little chance that it will happen in a smooth line, but if Cummins can generate about 10% compound free cash flow growth over the next decade, the shares are cheap enough to buy. Looking at the valuation from the opposite angle, today's price demands about a 7% growth over that same decade to justify the price. That doesn't seem too demanding for an established industry leader with excellent exposure in growth markets, and Cummins certainly has demonstrated the ability to outperform.
Disclosure: I have no positions in any stocks mentioned, and no plans to initiate any positions within the next 72 hours.