A Seeking Alpha contributor I wish we would hear from more frequently, Modernist, sent me a 5-1/2 year old blog post written by Zynga (NASDAQ:ZNGA) Founder and CEO Mark Pincus. He actually posted the link as a comment to an article I wrote lauding Amazon.com (NASDAQ:AMZN) and its visionary Jeff Bezos:

In the post, Pincus stops short of suggesting "a paired trade," but somewhat strongly advocated being long AMZN and short eBay (NASDAQ:EBAY). If you followed Pincus' conviction, you've done quite well:
AMZN closed at $33.41, the day of Pincus's blog post, June 6, 2006. It finished this past Friday's session at $178.42 (a 434% gain). At its 52-week high of $246.71, AMZN returned 638% from June 6, 2006.
EBAY closed at $31.59 on June 6, 2006. It ended this past Friday's session at $30.62 (a 3.1% decline). In the immediate aftermath of Pincus' call, you would have done well shorting EBAY. The stock popped throughout 2007, dove with the rest of the market in 2008/early 2009 and regained ground during the rest of 2009 and 2010, only to stagnate for most of 2011.
This type of performance more than qualifies Pincus to fill in for Cramer on Mad Money. Obviously, he decided to take a different route. In 2007, he founded Zynga and took the company public at the end of 2011.
Modernist's comment and Pincus' blog inspired the type of big picture thinking I often employ when deciding if a company makes for a proper investment. Not only did it prompt me to rethink my initial bearish view of things at Zynga, but it made me consider the meaning and importance of relationships between established CEOs and relative newcomers like Pincus.
And, of course, that got to me thinking about Springsteen (!).
Bruce turned 62 this past September. He's one of the few remaining musicians at or around his age who remains relevant today. Reunions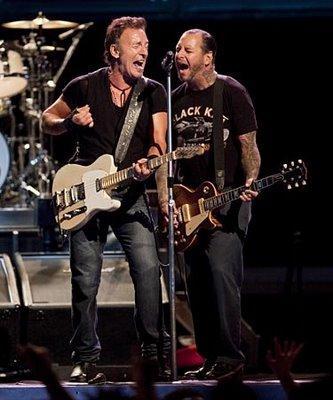 by bands such as the Rolling Stones border on comically absurd. I love seeing these collaborations with younger artists validate Springsteen and the E Street Band's relevance.
I had the pleasure of seeing Springsteen bring Mike Ness of Social Distortion and Tom Morello of Rage Against The Machine on stage. He has also performed recently with the even more spry Arcade Fire, Gaslight Anthem and Dropkick Murphys.
More than simply being an excellent treat for fans and verifying Springsteen's relevancy, these hook-ups energize young artists and help move an entire industry along. Fans of Social D, Rage, Arcade Fire, Gaslight and the Dropkick Murphys get introduced to an artist they might have never heard of, while, presumably, older Springsteen fans gain exposure to bands that may never have hit their radars.
Investors, and obviously the CEOs and their companies, can benefit by watching, or taking part in, these types of relationships in tech and social media.
As Modernist implied in his comment, Pincus appears to have had not only an admiration for Bezos, but a solid big-picture view of Amazon.com. Before doing so was cool, Pincus wrote the following in Twitter-like fashion:
I can see how I will still be doing my ecommerce on Amazon in five years as they are the Wal-Mart of online retailing. They're the fastest place for me to buy my gifts for Father's Day, new babies, I even go to them to buy flowers for Mother's Day. It's just more convenient and always seems like a good deal.

ebay is in a tougher spot. As the broker of person to person ecommerce transactions, they are always at risk of buyers and sellers finding each other through other means, like Google. I don't see Google replacing Amazon. I guess they could. Google could let you input a credit card. They could "host" the transaction like Amazon and then get your ratings like ebay and AMZN.
So very spot-on, especially the part about Amazon. While eBay certainly has not been a failure, Pincus' analysis, and most definitely his call on the stock, still holds.
Fast forward just over four years from the above-cited blog post and a October 2010 Tech Crunch blurb of an article sums things up in so many relevant ways for investors:
Today at Facebook's headquarters in Palo Alto, CA, venture capital firm Kleiner Perkins unveiled a new $250 million fund for investing in social applications, called "sFund." Joining Kleiner Perkins in this venture are some Internet heavyweights: Facebook, Zynga and Amazon. And CEOs Mark Zuckerberg, Mark Pincus and Jeff Bezos took the stage today to talk a bit about the future of social.

Of them, it was Pincus who probably had the most interesting thing to say. "In five years, everybody will always be connected to each other, instead of the web," he noted. He said that he often thinks of today's social companies as "dial tones." That is, they're merely entry points for these social connections.

He noted that Facebook is the big overall dial tone for this social experience. But also singled out others as sub-dial tones, Pandora, for example, is the music dial tone, he said. He also said he hopes that his company, Zynga, will be the gaming dial tone ...

Obviously, this $250 million sFund speaks to the laying of a foundation for something greater.
I have to wonder if former Apple (NASDAQ:AAPL) CEO Steve Jobs' health situation was different, would he have been on that stage as well?
In any event, once again, Pincus comes with a strong handle on the future. And he's got me asking a new question as I consider companies inside and outside of social media - is the company a "dial tone" that paves the way for "social connections?" I'm not saying that my favorable impression of Pincus makes me want to go long ZNGA just yet. There's no doubt, however, that the guy not only gets it, but he's likely the next one in a relatively short line of visionaries led by Jobs, Bezos and Zuckerberg. With Pincus in charge, ZNGA looks much more attractive than it might otherwise.
Disclosure: I am long AAPL.