National Fuel Gas (NYSE:NFG) is a mid-cap New York-based regulated gas utility with many fingers in the natural gas pie. For natural gas investors, NFG offers exposure to the three most important natural gas sectors. The firm is divided into operating segments of gas utility, gas transportation & midstream assets, and exploration and development.
The Utility operations, National Gas Fuel Distribution, represents 48% of revenues and 29% of recurring net income for FY Sept 2011. NGFD is a regulated utility servicing 730,000 customers in western NY and northwestern Pennsylvania and includes the services territory of Buffalo, Niagara Falls, and Erie.
The Pipeline and Storage operations represent 12% of revenues and 17% of FY2011 net income. Natural Fuel Gas Supply operates 2,350 miles of pipelines and 27 underground storage facilities and Empire State Pipeline operates a 157-mile pipeline from the Canadian border around Buffalo to Syracuse. In addition, the company is a participant in joint ventures operating four additional storage facilities and various smaller gathering pipelines.
Exploration and Development represents 29% of revenues and 51% of net income. Seneca Resources Corp drills for oil and gas in California, along the Gulf coast in Texas, Louisiana, and Alabama, and in Appalachia. Energy Marketing makes up the balance with 11% of revenues and 4% of net income.
Revenue in FY2011 was $1.7 billion and the firm generated $252 million in net income. With 83 million shares outstanding, earnings were $2.71 per share, up from $2.65 in FY2010. NFG has a market cap of $4.0 billion and carries $1.05 billion in long-term debt.
NFG's big potential comes from its Marcellus shale acreage of about 745,000 acres, of which only 125,000 acres have been currently booked as having reserves. EOG (NYSE:EOG) is the operator on 168,000 acres. Total reserves increased by 35% in FY2011 to 931 bcfe, but are a fraction of the potential of 8 to 15 tcfe the company estimates may be available. Reserve replacement to FY2011 production was a very comfortable 448%. At current production rates, reserves equates to a 14-year reserve life.
NFG produced 67.6 bcfe in FY 2011 and anticipates producing between 90 and 102 bcfe in FY2012, for production growth of around 40%. However, the impact on earnings could be muted based on the extremely depressed natural gas market, with 12-month strip pricing not breaking $4.00. As of FY 2011, the company estimated its two-year average cost of production is about $2.09 per mcfe. Oil production from California and the Gulf is expect to be flat to slightly trending upwards at about 8 mboe/d. The company has stated a goal of production between 160 and 200 bcfe by year-end FY2014.
The company is also expanding its New York and Pennsylvania storage and pipeline network to better service the anticipated overall expansion in the Marcellus region.
While NFG has the ability to pump a lot of gas, the capital expenditure budget needed to drill over 120 wells a year is quite large. Projected out to FY 2014, capital expenditures are expected to total around $3.4 billion. Included in the cap ex is development of an East-West pipeline in upstate NY, at a cost of about $290 million, to be completed in 2014.
Investors were hoping for joint ventures with deep-pocket majors to fund this expansion, but those hopes were put to rest this past summer when management announced they were no longer considering such a move. While a slower development approach would equate to higher long-term rewards for NFG and their shareholders, the operational and financial risks have also increased. Investors should expect increasing amounts of long-term debt as operating cash flow would fall short by as much as $200 to $500 million a year. Management anticipates the stepped up drilling program will become self-funded by 2015.
Earnings per share in FY 2011 were $2.71. Consensus estimates are $2.94 in FY2012, $3.50 in FY 2013, and $4.05 in FY2014, led by NFG's exploration and production segment. Long-term eps growth rates are expected to be in the 6% range. However, most estimates are based on a price deck of $95 oil/$4.50 gas, which may prove to be optimistic.
While the company has about 47% of 2012 production hedged at $5.89, with large projected production increases slated for the next two years, this percentage drops to 21% in 2013 and just 3% in 2014. As these hedges roll off and are added to new production, NFG increases its advantage to a rising gas market in 2013 and beyond.
NFG has paid an uninterrupted dividend since 1902 and has increased dividends every year for the past 41 years. 30-yr average annual increase has been 5.0%. Payout ratio is a comfortable 45% to 50% at its current $1.42 annual rate. At its current price of $49, share prices offer a 2.9% yield, or about average for a gas utility.
Money manager Mario Gabelli is a big supporter of NFG, and represents the largest holding in his Gabelli Utility Fund (GABUX). Last quarter, GABUX increased its holding by an additional 15%, and the Gabelli fund family now owns about 8% of outstanding shares. Institutional ownership is a relatively low 56%. Gabelli wrote in his latest quarterly fund review:
National Fuel Gas Co. is a diversified natural gas company. NFG owns a regulated gas utility serving the region around Buffalo, NY, gas pipelines that move gas from the Midwest and Canada down to New York City and to New England, and an oil and gas exploration and production business. NFG's ownership of 800,000 acres in the Marcellus Shale, including 745,000 acres in the shale fairway of Pennsylvania, holds enormous natural gas reserve potential that was made recoverable by recent advances in drilling technology. We expect significant earnings and cash flow growth from gas production and believe the position could be worth well over $4 billion based on recent comparable transactions. NFG's August 2011 decision not to sell an ownership position or joint venture that could have accelerated shareholder value creation was disappointing, but we remain excited about the company's unrecognized value. The company has increased its dividend for forty consecutive years.
Gabelli also offers an Private Market Value on NFG of around $86, broken down as $18 for the utility, $14 for pipeline and storage assets, $25 for oil/gas reserves, $47 for acreage at $5200/acre, and ($18) for debt.
Latest investor presentation from Jan 2012 is here (pdf).
3-yr Price Chart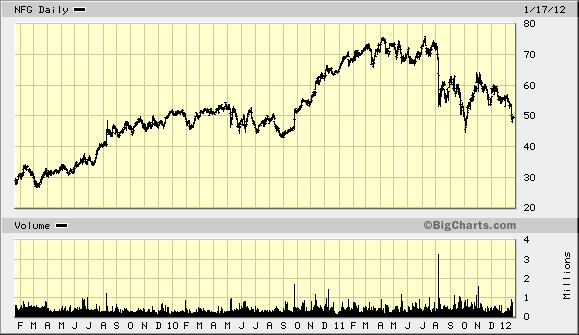 From the summer of 2010 to the summer of 2011, share prices rose from the mid-$40s to over $70 as the value of their Marcellus holdings became clearer, along with speculation that development would be hastened based on forming joint ventures. In the summer of 2011, management decided not to speed up development, and shares prices fell off accordingly.
Most price targets peg NFG at about $70 to $75, compared to current market price of $49. However, the current price could be considered fully valued at a forward PE of 16, with large unfunded capital expenditures ahead, and an average dividend yield.
For investors seeking a post-2012 unhedged position in Marcellus shale gas, NFG should be a strongly considered for further research. Supporting its substantial gas production expansion is the steady cash flow of a regulated utility along with pipeline assets.
As always, investors should conduct their own due diligence, should develop their own understanding of these potential opportunities, and should determine how it may fit their current financial situation. This commentary does not constitute individual investment advice and is not a personalized recommendation to buy, sell or hold securities. Past performance is no guarantee of future returns.
Disclosure: I have no positions in any stocks mentioned, and no plans to initiate any positions within the next 72 hours.