McDonalds (NYSE:MCD) report its 4Q11 on January 24th. The Street expects the company to earn $1.29 per share on $6.78 billion in revenue. Investors can expect another strong quarter due to product innovation in food and, most importantly, beverage items and promotional events, such as the Monopoly Game. For 2012, the company will continue to invest in store expansion, with 2/3 of new openings in Asia, and broaden its beverage menu to capitalize on the $150 billion domestic beverage market.
Details
In Q3, McDonalds reported strong results despite the macro headwind:
Revenue: $7.16 billion (+14% y/y)
EPS: $1.45 (+12% y/y)
Global comp sales: 5%

US: +4.4%, driven by expanded menu options such as the new Mango Pineapple Smoothie, Chicken McNuggets, and breakfast items.
Europe: +4.9%, driven by promotional food events that attracted store traffic.
Asia/Pacific, Middle East, Africa: +3.4%, driven by continued shift toward convenient lifestyle and adoption of fast-foods.
Heading into the earnings, investors can expect strong Q4 result due to strong October and November comps of 5.5% and 7.4%, respectively. The strong comps were driven by mostly new product introduction such as the McRib and McCafe beverages. The annual Monopoly Game also helped to drive traffic and sales. Because of the strong holiday figures, I estimate Q4 comps to be at 6%.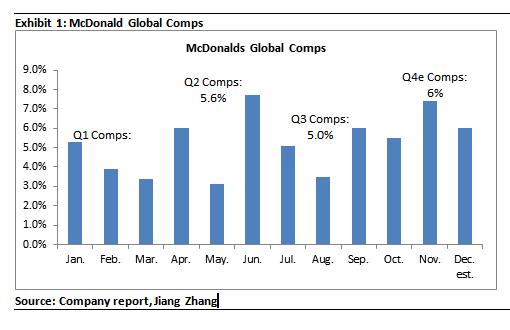 For the remainder of the year, investors can expect the company to: (1) continue to optimize and expand menu items, (2) modernize store experience, and (3) broaden accessibility in all major geographical regions.
Management set a long term goal of 3-5% revenue growth, 6-7% operating income growth.
New store openings will be 1,300+, with 2/3 of the new stores will be in Asia, and 2,400+ stores around the globe will be remodeled.
The company will place greater focus on expanding beverage items to capture a greater share of the $150 billion domestic market.
Most importantly, sales in Europe are unlikely to slow, thanks to continued remodeling of stores and product innovation that attract patrons and drive sales.
With a clear path of 10%+ EPS growth in the next several years and 3% dividend yield, McDonald's shares have an upside bias and I believe that downward risk is limited.
Disclosure: I have no positions in any stocks mentioned, and no plans to initiate any positions within the next 72 hours.