Navios Maritime Partners (NYSE:
NMM
) offers investors a tempting 10.9% distribution yield in a shipping sector ravaged by the economy and an excess supply of ships. The company has successfully established long term charter contracts in the dry bulk sector. My goals are to avoid losing money and earning income. In this article I will discuss the rationale of
not
owning Navios Maritime Partners as a dividend stock for your portfolio.
Navios General Partner LLC
The Navios Group is composed of Navios Maritime Holdings, Navios Maritime Partners, and Navios Acquisition (NYSE:
NNA
). The Navios Group owns the General Partnership.
Navios Maritime Holdings receives incentive distributions through the Navios General Partner, LLC. Navios Maritime Partners focuses upon long term charter businesses in the dry bulk sector. Navios General Partner, LLC receives a 2% General Partner interest incentive distribution rights from Navios Maritime Partners.
Navios Maritime Partners offers a 10.90% dividend yield. The partnership has not reduced its dividend since its inception in 2008. The company has increased the dividend most recently in August 2011.
Navios Maritime Holdings (NM)
Navios Maritime Holdings is a seaborne shipping and logistics company based out of Greece. The core focus is upon delivering dry bulk commodities. These include coal, iron ore, fertilizers, and grains. The company has paid a quarterly six cents per share dividend since March 2009. This currently provides a 6.4% annual yield. The company was recognized as the Dry Cargo Company of the Year by
Lloyd's List
.
Business Model
Navios Maritime Partners is a publicly traded shipping partnership that operates dry cargo vessels based in Paraeus, Greece.
Navios Maritime Partners owns and operates dry cargo vessels internationally. The company engages in the seaborne transportation services of a range of dry bulk commodities, including iron ore, coal, grains, and fertilizers, as well as chartering of its vessels under medium to long-term agreements.
Management
Much of the success of Navios Maritime Partners is attributed to having strong counter parties that charter their vessels on long term contracts that average 4 years. 62% of these contracts are for a period of six to ten years.
All of the charter contracts are insured by a European Union governmental agency. Some of the counter parties who provide Navios Partners most of its revenues are Cosco, Samsun Logix, STX Pan Ocean, and Hanjin.
The strength of Navios Maritime Partners is in their strong leadership. Leading the company is Angeliki Franguo, Chairman and CEO. Ms. Frangou has been in the shipping industry for 19 years and founded two other shipping companies in the past.
Navios Maritime Partners' Fleet
Navios Maritime Partners operates a fleet of 18 dry cargo vessels. The average age of their vessels is 5.4 years, which is young when compared to the industry's fleet age of 12.3 years. Navios has 1 Ultra Handymax vessel; 11 Panamax vessels capable of carrying a variety of dry commodities such as iron ore, coal, grain, and fertilizer; and 6 cape size vessels that are primarily used for carrying iron ore and coal.
Dividend Payout
Navios Partners has been paying dividends to unit holders for a period of 3 years now. Dividends have been steadily increasing from $0.35 per unit in 2008 to the last dividend payout of $0.44 per unit on November 11, 2011. Navios Partners has paid a total of $1.76 to unit holders for the year 2011. The dividend yield of Navios Partners is excellent at 10.88%.
The growth of Navios Maritime Partners is being sustained by focusing on dry bulk cargo vessels that are directly correlated with the emerging economies. Navios Partners , in its recent participation at the "Wells Fargo Pipeline, MLP, and E&P, Services and Utility Conference" on December 6, 2011,
focused
on the emerging markets as the reason for the company's success. Emerging countries are clearly the end market where the long term contractual dry bulk contracts are essential.
Emerging economies, as Navios Maritime Partners presented, grow at a rate of 6.4%, which is 4 times higher than that of advanced economies. The movement of iron ore, oil, grain, coal and other commodities is greater between the emerging economies than those of advanced economies. Most of the movement of these commodities are caused by expanding economies, China and India as they invest overseas to secure the supply of raw materials.
The rate that dry cargo is transported is measured by the Baltic Dry Index. Currently the index shows that dry bulk shipping companies are capable of making more than twice than their operating costs. The rates for dry bulk shipping are known to have a lot of volatility. Navios Partners' move on chartering 100% of its shipping capacity to counter parties that are rated AA by the European Union governmental agency, has taken out much of the risk caused by volatility.
Peer Group
DryShips Inc. (NASDAQ:DRYS)
DryShips owns and operates of dry bulk carriers and drilling rigs that operate worldwide. Its dry bulk fleet principally carries various dry bulk commodities, including bulk items comprising coal, iron ore, and grains; and minor bulk items, such as bauxite, phosphate, fertilizers, and steel products.
DryShips provides a daily Baltic Dry Index summary. This index is a key measure to determine the pricing power for dry bulk shippers. DryShips' dividends ceased in 2008.
Frontline Ltd. Ordinary Shares (FRO)
Frontline's business model is the ownership and operation of oil tankers and oil/bulk/ore (OBO) carriers. The company transports crude oil, and raw materials such as coal. The strategy leaves a lot to be desired with a 77% debt to capitalization ratio. On the positive side, Frontline successfully restructured its debt on January 2nd, 2012. Frontline has not paid a dividend since September 2011.
Diana Shipping Inc. (DSX)
Diana Shipping offers shipping transportation services. The company delivers dry bulk cargoes. The dry bulk cargo includes coal, iron, and grains on a global basis. The company ceased paying dividend in 2009.
Safe Bulkers, Inc Common Stock (SB)
Safe Bulkers offers marine dry bulk transportation services. Key products also include the dry bulk cargoes including coal, grains, and iron ore. Safe Bulkers has a young fleet to offer 3rd party customers. The company continues to pay quarterly 15 cent dividends. The company's success versus its peers is a sound contractual basis for its fleet. The current dividend yield is 9.2%, which is a terrific yield assuming the dividend can continue.
Genco Shipping & Trading (NYSE:GNK)
Genco's business model is the ocean transportation of drybulk cargoes. The company owns and operates drybulk carrier vessels. Transported items include coal, grain and other dry bulk products. The company has not paid a dividend since 2008.
Action
Navios Maritime Partners clearly is successful in a difficult sector. As noted above, a number of key peers stopped paying dividends as far back as 2008. Navios Maritime Partners, however, began paying dividends in 2008. The dividends have only increased or remained the same through the present day.
I prefer simplicity in my investments. I have to pass on owning Navios Maritime Partners due to the complex intertwined companies. I prefer to own the General Partner and not an entity that pays out incentive distribution rights. If the global economy was growing, I would clearly add Navios Maritime Partners for the high yield. In a weak economy, I will shelter myself from a weak sector. The risk versus return does not merit a position.
The company is successfully navigating a difficult economic cycle. The 10.9% yield is quite compelling. I did own Navios Maritime Partners at lower prices, but liquidated my position when the stock ran up. By all accounts, the company continues to excel when others are failing. Here is a one year Baltic Dry Index chart: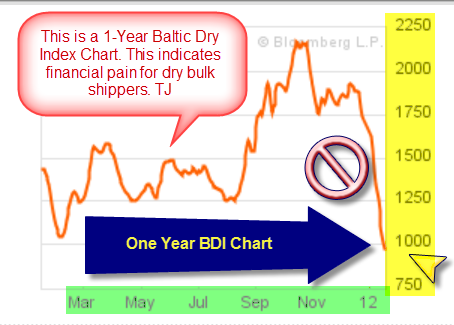 The risk versus return does not merit a position. I can say, without hesitation, that I research and recommend higher yielding stocks without the corporate complexity and the weak sector baggage.
Disclosure: I have no positions in any stocks mentioned, and no plans to initiate any positions within the next 72 hours.