I want to take a moment to revisit the short case for previous Cramer favorite Salesforce (NYSE:CRM) that I published in November. The stock is down some 10% since that article, going smartly against a market that has risen since then. I believe the tailwinds for this stock have increased and 2012 will be the year it goes the way of previous Cramer favorites like OpenTable (NASDAQ:OPEN), Netflix (NASDAQ:NFLX) and Green Mountain Coffee Roasters (NASDAQ:GMCR) and ends up being cut in half from its highs this summer by the time 2012 is over.
Negative Events since November for Salesforce:
1. Sanford Bernstein put an "Underperform" on Salesforce citing slowing growth and company's increasing reliance on acquisitions for increasing sales instead of organic growth.
2. The stock's chart is broken and CRM is trading substantially below its 200 day moving average (See Chart).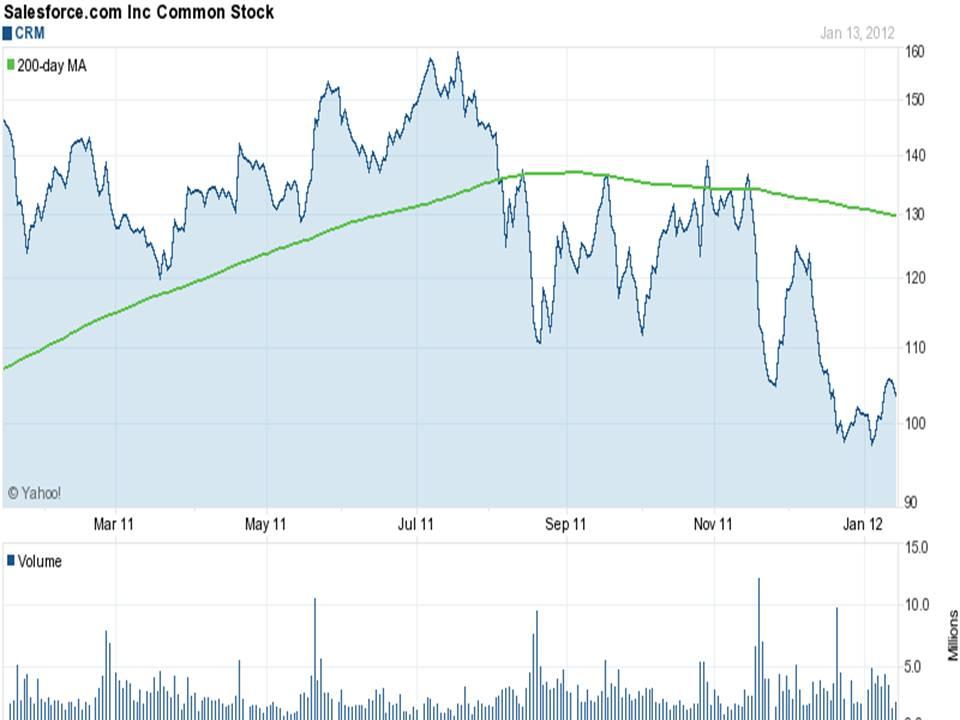 Click to enlarge
3. Oracle's (NASDAQ:ORCL) last quarterly report provided evidence of a significant slowdown on IT spending by corporations. In addition, Marc Faber used this spending slowdown to advocate shorting both IBM (NYSE:IBM) and Salesforce in the latest Barron's Roundtable edition.
Key value observations on CRM:
The company sells for a five year projected PEG of over 3 and almost 7 times sales.
Even after selling off more than 30% since its summer highs, CRM still sells near the top of its five year valuation range based on P/E, P/B and P/CF.
Increasing competition and aggressive pricing from Microsoft (NASDAQ:MSFT) and Oracle in their CRM offerings is likely to erode Salesforce's margins.
Insiders have sold millions of dollars of shares since the original article ran in November and consensus earnings estimates for FY2012 have declined significantly over the past two months.
Disclosure: I am long MSFT, ORCL.
Additional disclosure: Also short CRM through option strategy.