MLP Overview
MLPs generally offer stable yields that are typically higher than those of common stocks. In addition, MLP returns have traditionally had low correlations with stocks and bonds, making them good portfolio diversification assets (especially in times of economic uncertainty).
As highlighted in Standard & Poor's Guide to MLPs, MLPs offer investors three distinct positive characteristics:
Tax Treatment - Since MLPs are structured as partnerships they do not pay corporate income taxes. Taxes are only paid when distributions are received, thus avoiding the double taxation faced by investors in corporations.
Consistent Distributions - MLPs face stringent provisions including the requirement to pay minimum quarterly distributions to limited partners, by contract. Thus, the distributions of MLPs are very predictable.
Energy Infrastructure - The majority of MLPs operate in the energy sector, particularly in energy infrastructure industries such as pipelines, which provide stable income streams. The performance of companies in the energy infrastructure industry is not highly correlated with the price of oil and other types of energy, but rather with the demand for energy. The demand for energy is far less volatile than commodity energy prices and generally increases steadily over time, resulting in steady, predictable cash flows for companies in these industries.
Large Cap Diversified MLPs
Below is a list of the seven largest MLPs, which have an average dividend yield of 5.6% and average beta of 0.53. In general, companies with low betas will tend to be less volatile than the general market and will help dampen portfolio volatility.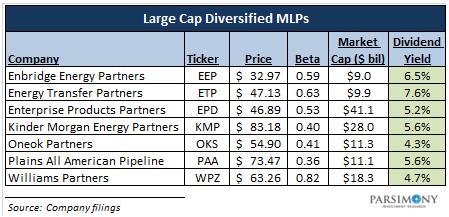 Stable and Predictable Dividends
Through thick and thin over the past 10 years, MLP dividends have been as stable as they come (see table below). Not one of these MLPs have cut their dividend in the last 10 years.
click to enlarge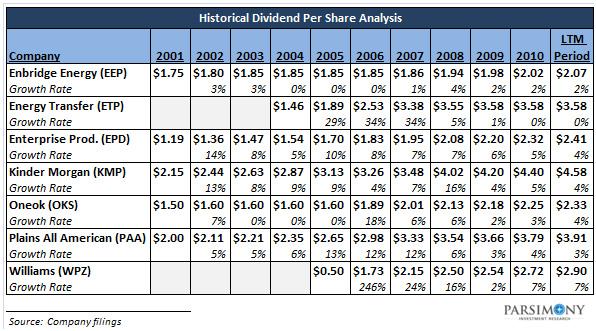 Click to enlarge
With the cloud of uncertainty currently hanging over the market and the economy, MLPs are one asset class that you can rely on for stable and consistent income. As such, we think that investors should consider buying these stocks on any meaningful pullback.
Tactical Trades and "Buy Zones"
As shown in the charts below, all of these MLPs are currently in very strong uptrends. We believe that these trends will remain strong into 2012 and we would be a buyer on any meaningful pullback (see our "buy zones" below).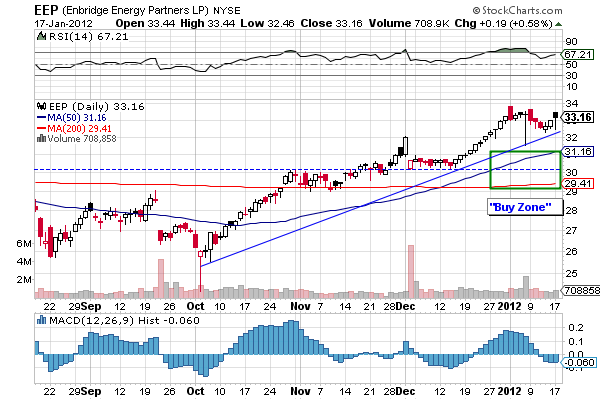 Click to enlarge
Enbridge Energy Partners (NYSE:EEP) "Buy Zone": $29.00-$31.00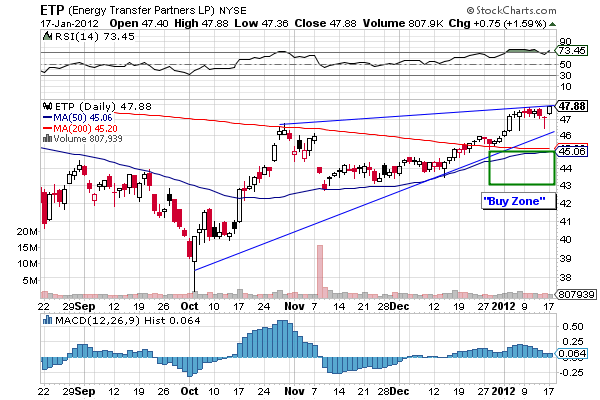 Energy Transfer Partners (NYSE:ETP) "Buy Zone": $43.00-$45.00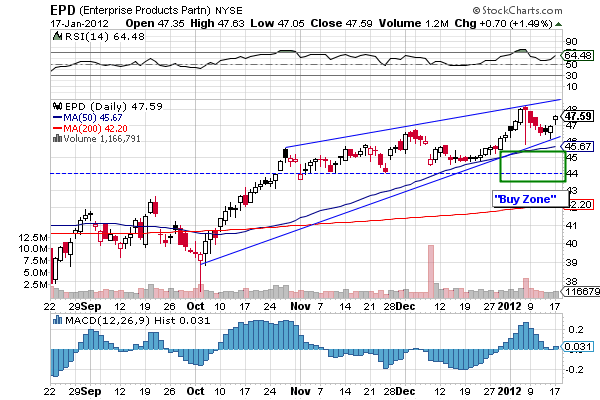 Enterprise Products Partners (NYSE:EPD) "Buy Zone": $43.50-$45.50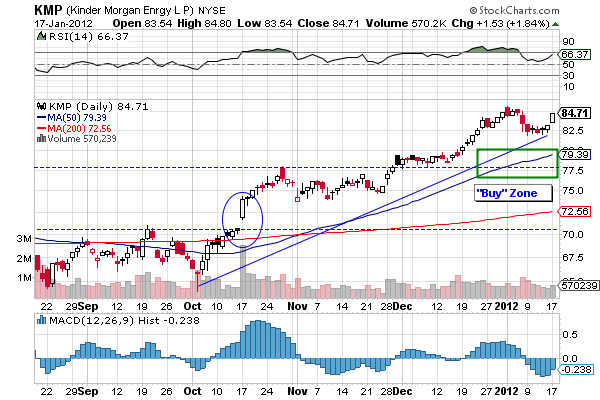 Kinder Morgan Energy Partners (NYSE:KMP) "Buy Zone": $77.00-$79.00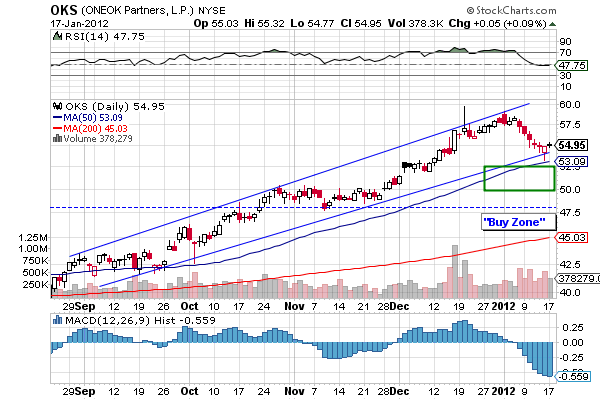 Oneok Partners (NYSE:OKS) "Buy Zone": $50.00-$52.00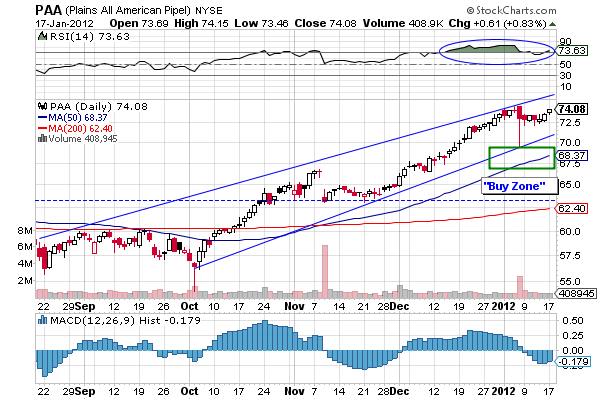 Plains All American Pipeline (NYSE:PAA) "Buy Zone": $67.00-$69.00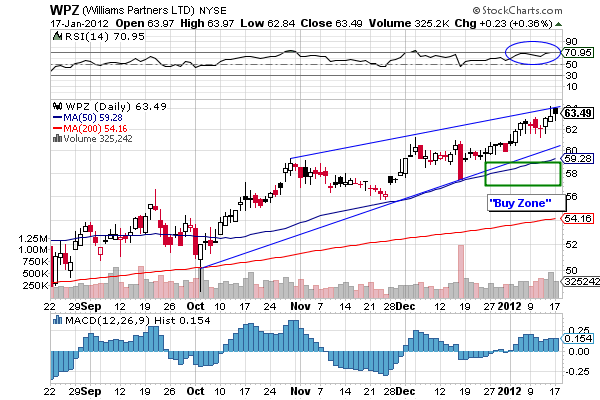 Williams Partners (NYSE:WPZ) "Buy Zone": $57.00-$59.00