Whole Foods (NASDAQ:WFM) has long been considered the premium, hot, and organic food retailer. Thirty years ago, Whole Foods took the typical grocery experience and turned it into something more fashionable. In many ways they revolutionized the business of grocery and set the tone for how the food industry would progress. Today, everyone is trying to emulate the magic of WFM, but only one other company has been able to capture some of WFM's enegy: The Fresh Market, Inc. (NASDAQ:TFM). Though WFM has been up nearly 40% this past year and TFM is flat (see chart below), there are three key reasons TFM could explode in 2012:
WFM has been on a winning streak as evidenced by its store growth. WFM has 304 stores currently, while TFM has only 100. This size difference poses an exceptional opportunity for TFM to expand into other regions in the same way WFM has been doing.
One of the major reasons that TFM has so much upside potential is the short interest held on the stock. TFM has roughly 34% short interest while WFM has only 5%. This indicates that Wall Street is betting against TFM. If TFM is able to buck its current trend, the stock will be pushed up substantially.
Due to TFM's small size and hot product, it has a relatively high chance of being bought out by a larger company like Kroger (NYSE:KR), Safeway (NYSE:SWY), or Tesco (NASDAQ:TESO). If a buyout were to occur, a high premium would be paid on the current stock price. This adds to the advantage a roughly $2 billion company [TFM] has over a $14 billion company [WFM].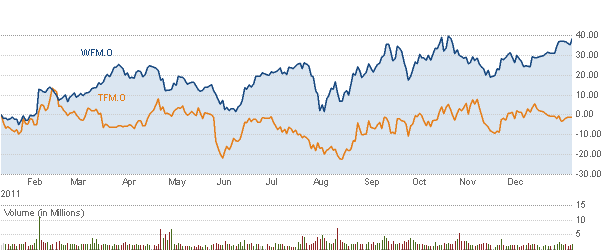 (NASDAQ:CNBC)
Conclusion: Although WFM is a strong company with a great deal of positive momentum, TFM provides a strong alternative that has an exceptional opportunity for growth. Though WFM may be slightly safer, The Fresh Market has tremendous upside due to its size, short interest, and potential position to be bought out.
Disclosure: I have no positions in any stocks mentioned, and no plans to initiate any positions within the next 72 hours.