Myrexis (NASDAQ:MYRX) is a biotechnology company focused on the development of small molecule therapeutics with novel chemical structures and distinct mechanisms of action. The company has generated a strong pipeline of differentiated product candidates in oncology and autoimmune diseases.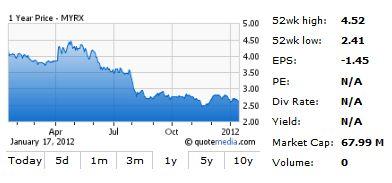 Reorganization
On November 18th 2011, Myrexis announced a corporate reorganization to realign the company's resources with its development strategy and clinical initiatives following the suspension of further development of Azixa.
The reorganization includes an immediate reduction in the company's workforce by 15 employees, or approximately 20%, and follows a 41% reduction earlier this year. As a result of the current reorganization, the company estimates it will generate annual expense savings of approximately $1.8 million.
Robert Lollini, President and Chief Executive Officer, stated,
As previously reported, we have been reviewing our internal resource requirements as a result of the suspension of our Azixa clinical program. Our first priority is to ensure the development objectives and timelines of our Hsp90, Nampt and IKKe programs remain on track and our employees remain fully engaged in meeting the pre-clinical, and clinical needs and objectives of each of these programs.
After taking into account November's reduction in force, the company has reduced its headcount by over 55% in the last twelve months and by over 67% since its emergence as a public company in July 2009.
Insider Transactions
After the reorganization announcement there have been several insider transactions, with two directors buying shares. One has been Jason Aryeh's JALAA Equities.
Jason Aryeh was appointed a member of the Myrexis Board of Directors on October 19, 2011. Mr. Aryeh is the founder and managing general partner of JALAA Equities, LP, a private hedge fund focused on the biotechnology and specialty pharmaceutical sector.
As of December 20th 2011 JALAA Equities held 483036 shares of MYRX. That equals to 483036 / 26,252,650 or 1.8 % of all shares outstanding. Most of the transactions occurred during the month of November 2011.
The other insider, Gerald Belle, was appointed chairman of the Myrexis board of directors on February 19, 2009. Gerald Belle added 40300 shares during November 2011.
Financials
As of September 30, 2011, the company had $109.1 million in cash, cash equivalents and marketable securities. The company believes it will have adequate funds to maintain its current and planned operations through at least June 30, 2014.
Annual Meeting
Myrexis held the annual meeting of stockholders at December 8th 2011. Before the meeting on November 30th p-Value Capital Management issued a notice to the fellow shareholders of Myrexis. P-Value believed that the management and Board of Myrexis had not done enough to earn the support or trust of the shareholders. P-Value believed it is critical that the shareholders of Myrexis take action to prevent the company from following the path of wasteful spending and shareholder value destruction that has been taken all too often by companies in similar situations. p-Value wanted prompt action to wind up operations of the company and return capital to the shareholders, rather than continue to endure future failures and spending that will inexorably drive the share price down further. If done soon, p-Value believes the cash return could significantly exceed the current share price.
After the meeting on December 15th 2011 p-Value issued an other statement. p-Value Capital Management commented on the results of the shareholder vote conducted at the annual meeting of stockholders held by Myrexis. The voting tallies were filed by Myrexis in an SEC Form 8k filed on December 14, 2011. The filing showed that over 22% of votes cast were withheld from the director nominees, more than three times the percentage withheld at the 2010 meeting.
Given the lack of organized opposition to the nominees, p-Value considers this a remarkable display of lack of faith in the company by a large number of owners.
p-Value's view is that Myrexis does not have a viable strategy for shareholder value creation, has shown no capability to develop programs successfully and is simply squandering its cash balance. p-Value believes that Myrexis should engage an investment bank to evaluate strategic options to recognize the value of its assets. In the interim, Myrexis should take much more aggressive action to cut costs and cash burn.
Conclusion
I would be buying Myrexis as long as it trades below its cash position of $3.83 per share. I think there is a very good chance of a buyout or other strategic partnership. I would continue to monitor the insider transactions going forward.
Disclosure: I am long MYRX.