By Joseph Hogue, CFA
Bank of America (NYSE:BAC) reports earnings before market open on the 19th with consensus estimates coming in at $0.23 per share, a 58.9% decrease from the prior quarter. Despite the decrease, it will be a welcome release compared to the company's $0.90 loss in the second quarter last year.
The release comes after Friday's report by JP Morgan (NYSE:JPM) where lower investment-banking and trading fees led a 23 percent drop in profits. While CEO Jamie Dimon did admit that fourth quarter results were disappointing, he attributed most of the blame on the general economy and the European debt crisis. Revenues from almost every segment were down over the quarter, from fixed-income and equity trading, to retail banking and credit cards. One of the few bright spots was lower write-offs, from 7.85% in the same quarter a year prior to 4.29%, and a lower effective tax rate paid by the company.
The regulatory environment is as much a risk to banks as the weak economy. A previous article detailed the uncertainties related to the Dodd-Frank bill and how coming elections may help support sentiment for the financials. While regulatory risk has limited gains across financials, it is especially relevant to Bank of America with its stronger focus on retail banking.
The company recently won a small victory in the dismissal of its case with Overstock.com (NASDAQ:OSTK) over short-sale manipulation. Overstock alleged that brokerage firms Goldman Sachs and Merrill Lynch, now owned by Bank of America, used naked shorting to artificially depress shares and earn fees. Naked shorting differs from normal short sales in that the seller does not borrow the shares before selling them. This creates additional shares on the market causing supply to increase and can affect price. The case was dismissed because Overstock could not prove that damages occurred in California, which sets the stage for another court battle in other states. The individual case is not necessarily material to either company but could set a precedent for other cases which would affect stock prices.
click to enlarge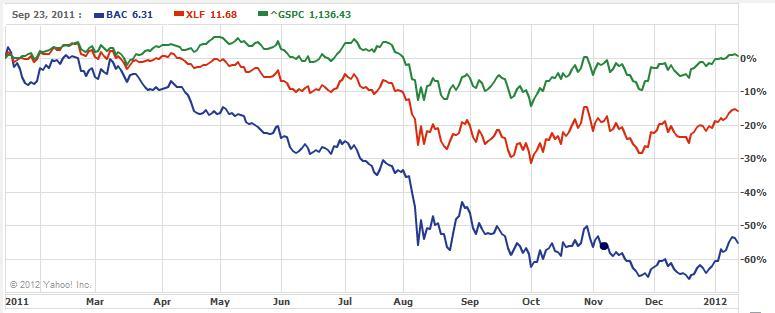 Bank of America underperformed the general market and the Select Sector Financial SPDR XLF by a wide margin last year. Shares are off their 52-week high of $15.16 by more than 56.4% and 34% above the year's low.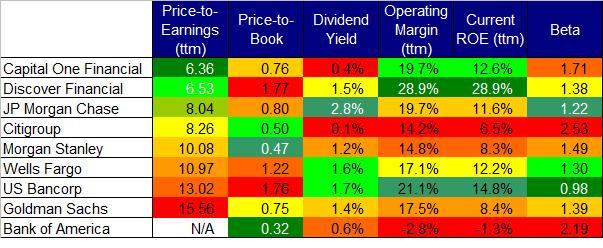 The heat map above shows fundamentals versus others in the financials sector. Fundamentals are abysmal relative to peers, reflected particularly in profitability measures like operating margin and return-on-equity. A beta over two means that the share price is more than twice as volatile as price swings in the general market. The company is not as focused on the retail segment as Wells Fargo (NYSE:WFC) but is not as heavily involved in brokerage and investment banking as Goldman Sachs (NYSE:GS). This should help the bank to diversify its revenues and better withstand weak economic cycles but management has not been able to turn this into an advantage.
Despite management's inability to perform relative to peers, the company receives the Low Concern ranking in all categories of corporate governance (shareholder rights, compensation, audit, and board) as measured by Institutional Shareholder Services.
Risk to investors is not necessarily of a Lehman-type event, the $67 billion bank is systemically important and does not have significant problems raising capital. The risk to investors is dilution through share issues and preferred share conversion. The company has said it would not issue more than 400 million additional shares or another $3 billion in senior notes to raise capital ratios. The potential share issue, of which approximately 185 million are already issued or convertible, represents about 4.0% of shares currently outstanding. The bank currently shows $79.5 million in goodwill and intangible assets. Even a significant write-down of this amount would not materially affect the stock price.
In fact, Bank of America trades closer to European peers than those in the United States. Because of ongoing concerns about credit exposure and sustainability, the 31 companies in the Euro Stoxx Bank Index trade for a price of just 0.39 times book value. The drastic discount to book value reflects investor sentiment that these banks may have to take significant write-downs of intangibles and raise additional capital through share issuances.
Caveat Investor
Investors may be tempted by the upside potential in a rebound of shares. Though upside exists, investors can find more suitable exposure to the sector through stronger banks and still profit from low valuation multiples. An underweight position is warranted due to high volatility and weak fundamentals.
A holding of Discover Financial Services (NYSE:DFS), JP Morgan , and Wells Fargo exposes investors to the spectrum of financial products. These three companies are relatively stronger versus direct competitors and should rebound with the general economy.
The sector fund allows for greater diversification though it may not rebound as strongly as any one company. Investors with a medium to long-term time horizon could overweight financials relative to other sectors. Investors with a shorter time horizon or those needing capital preservation should only consider financials in a hedged strategy using covered call options or portfolio insurance.
Disclosure: I am long XLF.