Not to just focus on dividends, a well diversified portfolio should also include a percentage of value stocks that have been dragged through the mud but have made it through the worst of times, and are poised to offer an opportunity for capital appreciation.
Real estate is eventually going to make a comeback. I believe it will be enormous. My crystal ball is no better than anyone else's so I cannot say when, but I believe that at some point some normalcy will return ... without the bubble! (Until the next one of course)
Building a basket of the best of the best could give us awesome returns.
Here are my choices:
Lennar (NYSE:LEN): Price: $22.03/share, Dividend Yield: .70%, ESS Rating: Bullish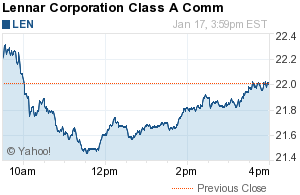 Lennar has plenty of available home sites to build upon, they are the largest home builder in the US, and they tend to price their homes modestly in basically every area they build. They also offer mortgage services which is important right now. When new home building comes back, LEN could offer wonderful capital appreciation. It hit is high of $67.27/share back in 2005 (but of course!) LEN had a very good quarter with a 10+% increase in revenues, as well as higher margins, and if there is an uptick in the economy and jobs, Lennar could break out even more than it has of late.
Read this report and note the section about LEN and their results.
Toll Brothers (NYSE:TOL): Price: $22.42/share, Dividend Yield: N/A, ESS Rating: Bullish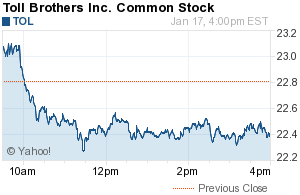 TOL has much the same going for it as Lennar but they tend to build homes in higher price ranges. That market has come back a bit faster in areas such as South Florida (I live here and see it) so TOL is poised to gain in my opinion.
TOL also hit their high back in 2005 ($55.42/share) and has basically traded in a tight range on the low end of the price line, since then. The 1st quarter results for them are due at the end of January which could tell the same story as LEN in my opinion. We shall see, but the price is right as an entry point prior to those results.
Here is another article to review: Read this
KB Homes (NYSE:KBH): Price: $9.01/share, Dividend Yield: 2.80%, ESS Rating: Neutral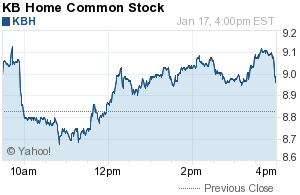 In 2005 KBH hit its high of $81.91/share so its drop to under $10.00 has been precipitous. It has been trading around its lows for quite some time now and the downside risk is less than the upside I would say.
KBH reported 4th quarter results in late December and they were not bad at all. Review the report here as it marked the 2nd quarter in a row of decent (not great) results.
I am attracted to this one for its dividend of 2.80% which is better than a sharp stick in the eye to wait for a recovery. Along with a very low entry point makes this a compelling stock to own outside of our core portfolio.
My Opinion
Let's face it; the home building sector of real estate has been obliterated. We are in a cycle which has changed the way people will buy homes, how families will live and move around, and how retired folks live their lives later in life.
The picture has not been pretty. We have all been affected in some way for the worse I am sure, but it also offers us some opportunities.
Opportunities to buy a home for less in an area we might have not been able to afford, a lower cost mortgage if we can get one, and also some investment opportunities if we choose the right stocks.
Time will tell I suppose if my choices are good ones, but I believe them to be.
Disclosure: I have no positions in any stocks mentioned, and no plans to initiate any positions within the next 72 hours.
Disclaimer: *Please be sure to do your own research prior to making any investment decisions. This article is not a recommendation to buy or sell any security and is strictly the author's opinion.