In The Intelligent Investor, by Ben Graham, the legendary author writes, "the defensive investor must confine himself to the shares of important companies with a long record of profitable operations and in strong financial condition." And Graham further explains the test of an intelligent operation as "one of the most persuasive tests of high-quality with an uninterrupted record of dividend payments going back over many years. Graham adds "that a record of continuous dividend payments for the last twenty years or more is an important plus factor in the company's quality rating."
Within every industry, there are leaders and laggards and the leaders are typically the companies that have demonstrated the highest level of differentiation. And these companies generally execute their strategies on a few vivid forms of differentiation. One such company that has a sharply differentiated strategy of dividend success is Washington Real Estate Investment Trust (NYSE:WRE). As the oldest publicly traded REIT in the United States, WRIT has the longest track record in the U.S. REIT industry - 50 consecutive years of paying equal or increasing dividends. The stalwart REIT is one of only eleven other equity stocks (in the entire publicly traded market) that have a longer record of dividend performance. As a leader in the REIT sector, WRIT has built an enviable five decade model around a sustainably well-balanced platform of compounded dividend performance.
Differentiated by Diversity
WRIT owns around 71 properties totaling approximately 9 million square feet of commercial space and 2,540 residential units, and land held for development. The 74 property portfolio consists of 26 office properties, 18 medical office properties, 16 retail centers and 11 multifamily properties. Because of the strategically balanced portfolio, WRIT provides for durable stability during market fluctuations in specific property types. This uniquely differentiated asset model provides investors with a highly sustainable revenue platform and a defensively 'sound margin-of-safety'. As Ben Graham wrote, "It is the consistency in the products that creates consistency in a company's profits…and consistency and durability are attributes for competitive advantage."
WRIT's differentiated revenue model is comprised of four property sectors and the overall occupancy rate is around 90.7% (as of 9/30/11). The office sector is comprised of around 4.8 million square feet, also the largest revenue provider. In the latest quarter (9-30-11) office revenues were $31.306 million - representing around 48.1% of WRIT's portfolio. The largest tenant (based on revenue) is World Bank representing around 4.96% of WRIT's revenue (and 210,354 sf) and other tenants include General Service Administration (3.04%), Advisory Board Company (2.86%), l-3 Services (2.32%), Booz Allen Hamilton, Inc. (2.27%), Patton Boggs LLP (2.03%), General Dynamics (NYSE:GD) (1.17%). The Retail Sector is the second largest revenue provider with around 2.4 million square feet of 19.7% of WRIT's overall portfolio. The Medical and Office Sectors are equally weighted with revenues of around 16.1% for each. Here is a snapshot of the Q3-11 NOI Contribution:
click to enlarge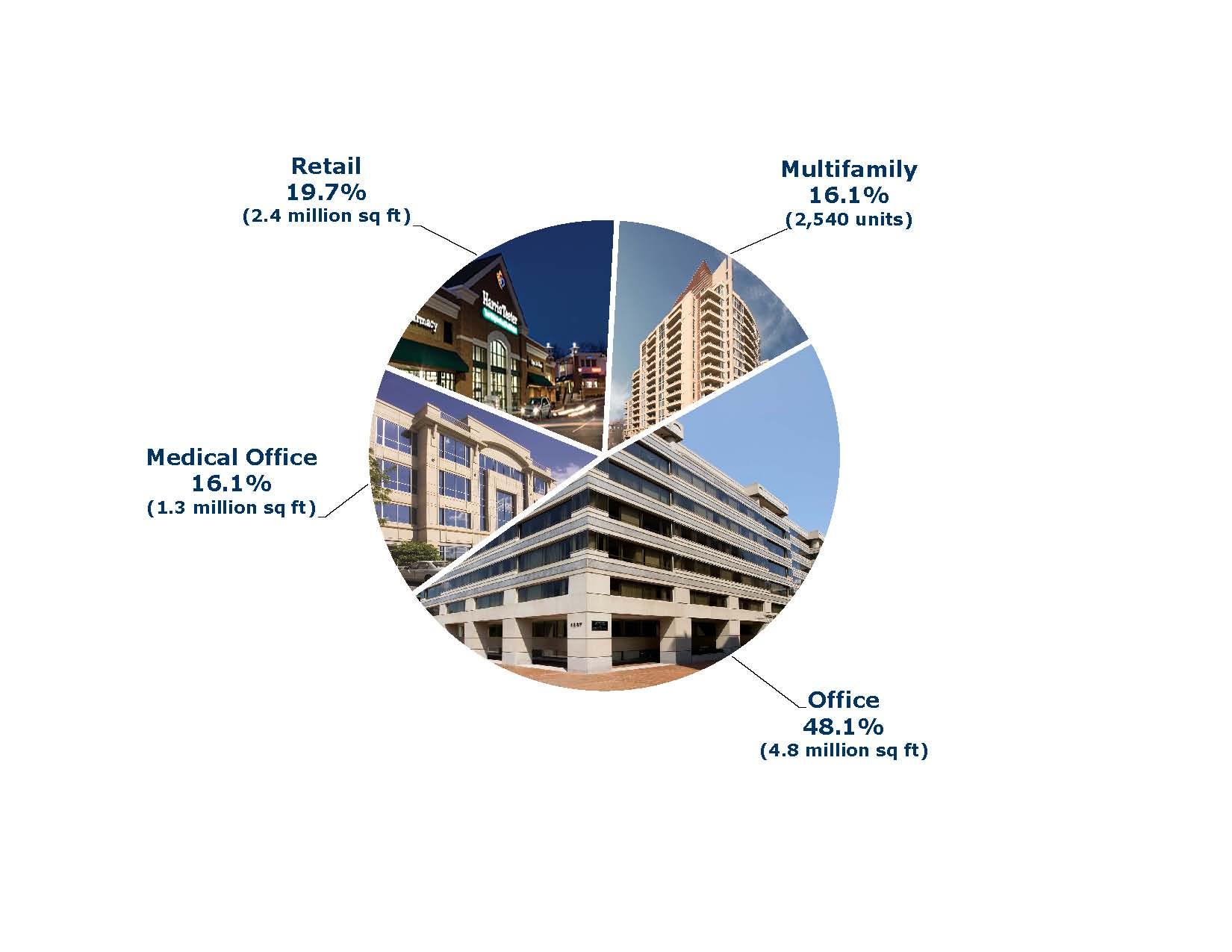 As mentioned above, WRIT has a diverse sector make-up and the four risk-aligned categories provide for a well-balanced model. The multi-family occupancy rate is 94%, the office rate is 88.1%, the medical office rate is 91.3% and the retail center occupancy rate is 91.8% (all as of 9-30-11). In 2011, WRIT sold off most of its non-core Industrial assets of around $350 million and an office property (Dulles Station West) for $59 million. As a result, the focused (4-sector) REIT has recycled equity towards several opportunistic acquisitions: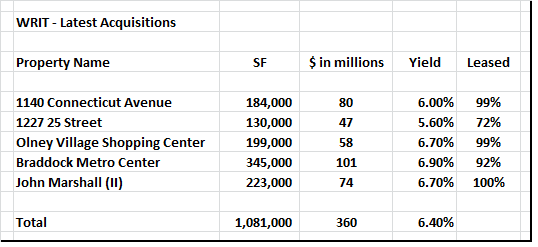 Differentiated by Capitalization
Arguably, conservative capitalization is a derivative of lasting differentiation and the key to WRIT's success has been the strength of its balance sheet. The stalwart REIT's disciplined approach to acquisitions and development has resulted in superior performance. As of the latest reportable quarter (9-30-11), WRIT's capital structure was comprised of $1.862 billion of common equity (58.9%), $657 million in unsecured fixed-rate debt (20.8%), $447 million in secured fixed-rate debt (14.2%), and $193 million in unsecured floating-rate debt (6.1%). This conservative (41% debt to market cap) philosophy has resulted in an exceptionally powerful risk-adjusted portfolio with an S&P rating of BBB+ and a Moody's rating of Baa1 (just 11 REITs with BBB+ or higher S&P ratings). Here is a snapshot of WRIT's Capital Structure: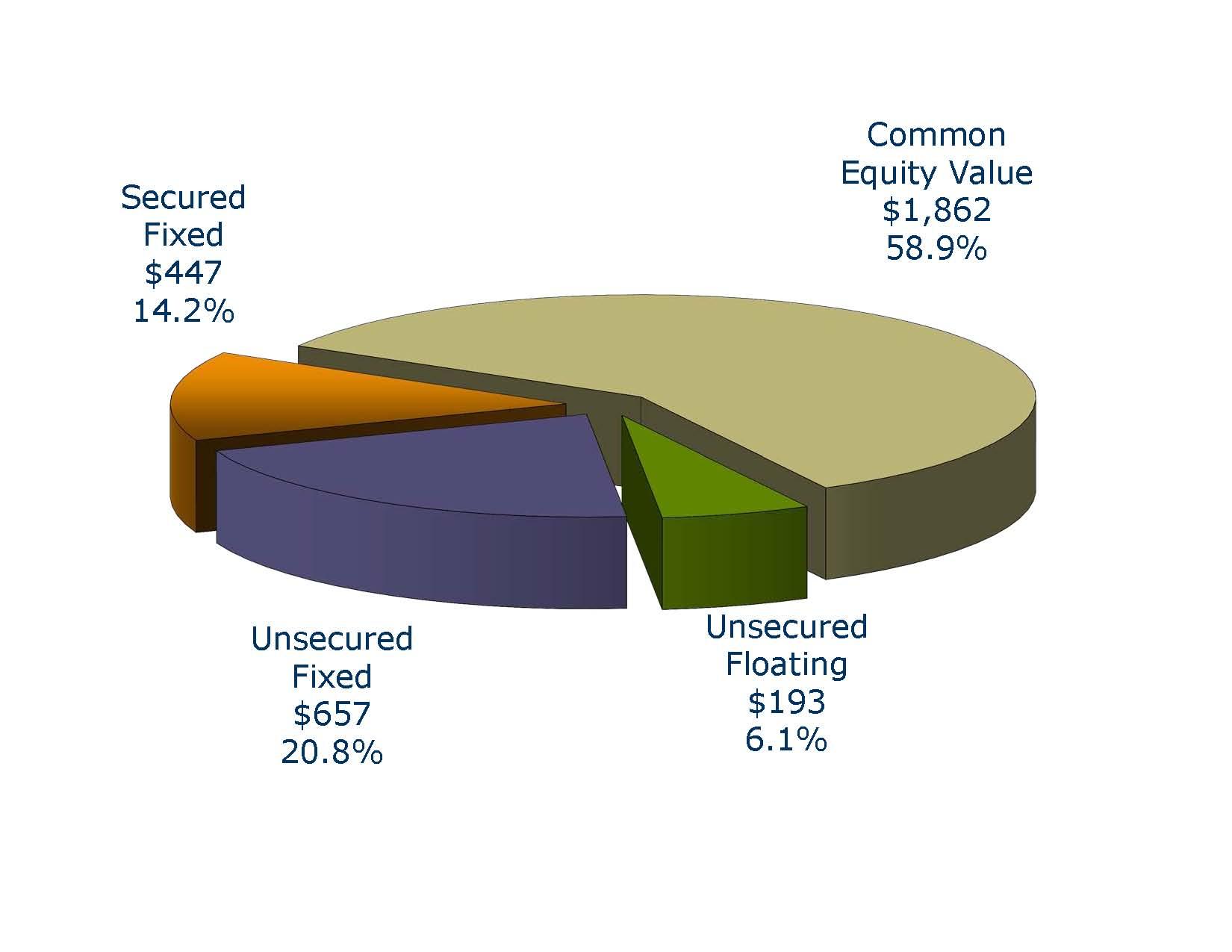 Differentiated by Market
Unlike the other equity REITs, WRIT has strategically focused on just one core market - the greater Washington Metro Region. This unique market selection criterion has enabled the 51-year old REIT to maintain a distinct competitive advantage to facilitate growth. While most REIT's operate in multi-state territories, WRIT is able to visit a property within a one-hour drive of the company's headquarters. In addition, the differentiated REIT has a "real time" advantage as the company can maintain close ties to competing properties and manage relationships with brokers and property experts. Of course the most important reason to invest in WRIT is the strength of the vibrant greater Washington region. This singular (market) approach to investing can be explained as follows:
Ø Washington, DC voted second best U.S. market and second best international market for real estate investment in 2011 by the Association of Foreign Investors in Real Estate (AFIRE)
Ø The Washington, DC metro region boats the second lowest unemployment rate (6.0% as of July 2011) of all major U.S. metros
Ø The Greater Washington Metro Region is No. 2 in median income (in the U.S) and also the 4th largest metro economy (CSA). The Region also enjoys a highly educated workforce (the top 5 most educated counties in the U.S. are in area (Arlington, Howard, Fairfax, Loudoun, and Alexandria City)
Here is a snapshot of WRIT's properties: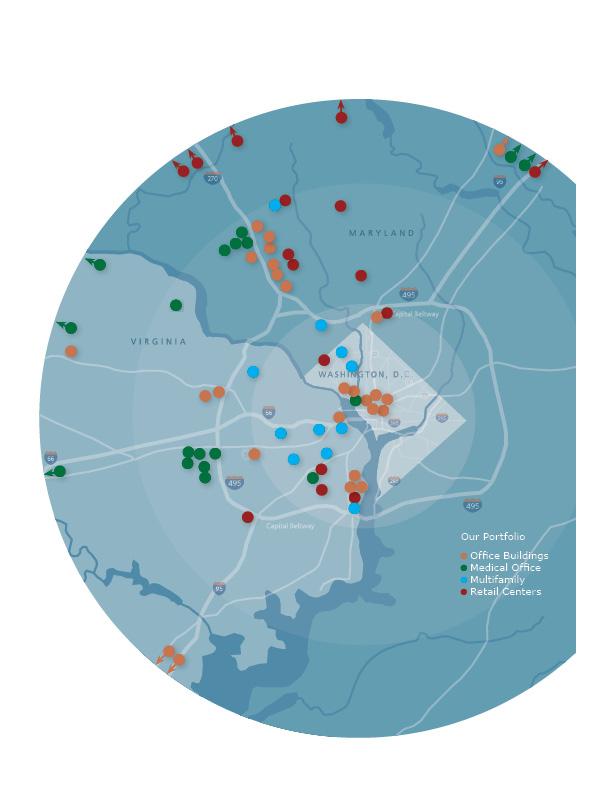 Differentiated by Dividends Paid
Of course the last differentiation metric is my favorite as it is the REIT's strongest source of risk-aligned differentiation. As explained by Chris Zook, contributing Harvard Review author of The Great Repeatable Business Model (hbr.org/product/the-great-repeatable-bus...;the power of a repeatable model lies in the way it turns the sources of differentiation into routines, behaviors, and activity systems…and the strongest source of differentiation are its crown jewels." Recently WRIT's President and CEO, George (Skip) McKenzie stated, "Last night we announced our 200th consecutive quarterly dividend. This is a proud milestone for our company and our board and we believe it shows our continued dedication to our shareholders during a difficult economic time." This "gem-stone" announcement (50 years of consistent dividend payments) is a remarkable record demonstrated by the "crown jewel" REIT's risk-aligned investment model. Here is a snapshot illustrating the compounding effect of a $10,000 investment (in WRIT) since December 31, 1971, with dividends reinvested - and worth $3,355,680 (as of December 31, 2010):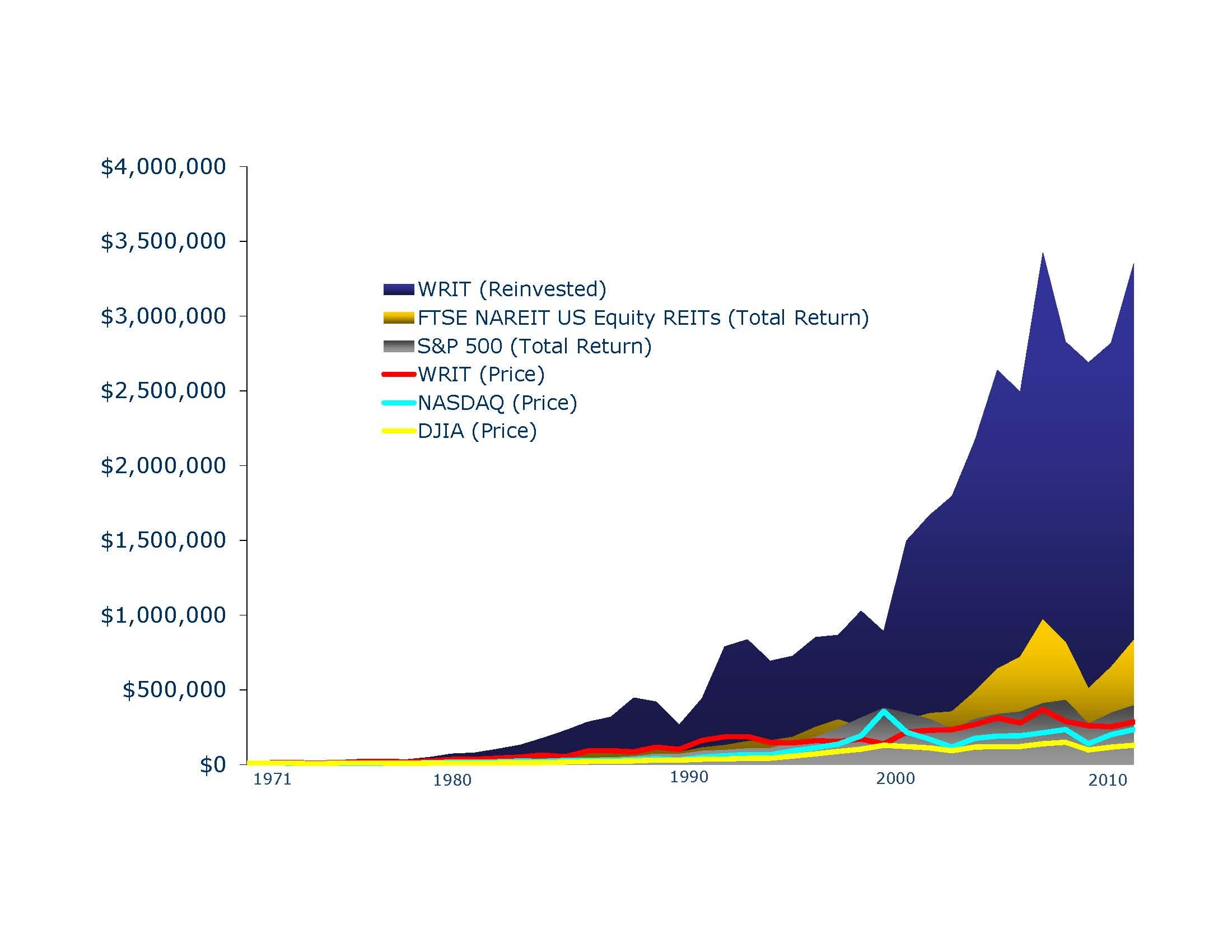 WRIT pays a current dividend of 6.45% and the "dividend champion" is one of just three REITs that have increased and maintained dividend payouts for 25 years or longer. David Fish, fellow Seeking Alpha writer (profile located here) and author of the "U.S. Dividend Champions" list (here) explains, "The extended streaks of distribution increases not only prove the strength of their business models, but also demonstrate the power of compounding that their shareholders have enjoyed over the past decades." This remarkable record based of five decades of dividend consistency is the mark of an intelligent investor and a sound strategy of risk-control. Conversely, the differentiated model of bearing risk for profit is what makes Washington REIT a distinctive "crown jewel" leader and a stalwart REIT that separates the best from the rest.
Disclosure: I have no positions in any stocks mentioned, and no plans to initiate any positions within the next 72 hours.