Given the unbelievably low interest rates available on the fixed income markets today, many investors are taking a renewed interest in dividend investing. However, this often means single stock investing, which can be both time consuming and risky.
Below is a list of 10 ETFs that offer great yield (>6%), reasonable expense ratio (<0.75%), cash flow yield greater than dividend yield, and no return of capital factored into the yield rate. Consider these unusual funds as sources of dividend income and diversification for your portfolio
NLR - Market Vectors Uranium+Nuclear Energy ETF
Tops on the high yield ETF screen is NLR, a narrowly focused ETF seeking to replicate the performance of the nuclear value chain. Note that the almost 13% yield is inflated by an ever shrinking denominator (price) as falling electricity prices and headline risk take a toll.
PBP - PowerShares S&P 500 BuyWrite
This ETF follows a classic "buy-write" strategy of holding core stock positions in blue chips such as Apple (NASDAQ:AAPL), Chevron (NYSE:CVX), and Microsoft (NASDAQ:MSFT)and then writing out of the money calls against them as a yield enhancement tactic. This works well in periods of high anxiety and relatively sideways markets. Clearly it has worked recently, with a healthy yield and stable price.
PCEF - PowerShares CEF Income Composite
An interesting and unique fund, PCEF is an ETF that invests in an odd species known as closed-end funds. With a greater than 8% yield, this is an interesting option for those who want the income generation and diversification of CEFs but lack the time to research them individually. Be warned though that closed-end funds are renowned for heavy use of return of capital, which may not be flowing through into RoC for this umbrella ETF.
SEA - Guggenheim Shipping
Another narrow thematic fund, SEA focuses on dividend rich stocks for companies in the maritime industry. With quarterly dividend payouts, this fund is an interesting way to get exposure to commodities and the global economy at a very reasonable 0.65% management fee.
AUSE - WisdomTree Australia Dividend
This Australia focused fund is an interesting play on the Aussie dollar and commodities. Holdings include more than 60 mostly large-cap Australian stocks with solid yields, leading to a respectable 6.4% TTM yield, albeit at the cost of some added volatility.
(Click chart to expand)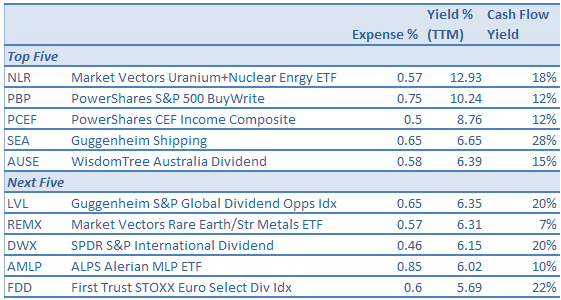 Disclosure: The author has no positions in any stocks mentioned, and no plans to initiate any positions within the next 72 hours. The author wrote this article themselves, and it expresses their own opinions. The author is not receiving compensation for it (other than from Seeking Alpha). The author has no business relationship with any company whose stock is mentioned in this article.