On Wednesday, January 18, 2012, Goldman Sachs Group (NYSE:GS) reported earnings for the fourth-quarter of 2011. The bank's Q4 net income fell to $1.01 billion, or $1.84 per share, from $2.39 billion, or $3.79 per share, for Q4 2010. Goldman also reported that full-year net income dropped 47 percent to $4.44 billion. Full-year revenue fell 26 percent to $28.8 billion and Q4 revenue fell 30 percent to $6.05 billion.
Wall Street earnings expectations were highly varied, ranging from well below a dollar to well over two dollars for the quarter. Nonetheless, the market appears to be taking the news as good, with shares in the bank up over five percent in early morning trading, exchanging hands above $103.
See a recent performance chart for GS, below:
click to enlarge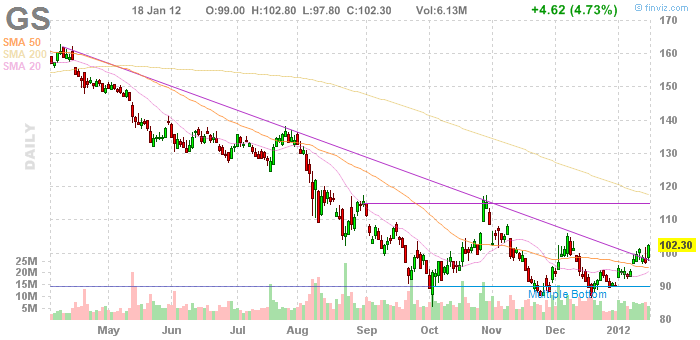 Click to enlarge
In response to weaker revenue, the bank, which is the fifth largest in the United States based on assets under management, also reported that it reduced employee compensation by 21 percent for the full year. Some of this reduction is based upon a lessening in the total number of employees and partners at the firm, but it is also due to lesser performance based compensation for its trading divisions, which are usually one of, if not the most, lucrative divisions for Goldman Sachs.
Similarly, Citigroup Inc. (NYSE:C), the third largest U.S. bank by assets, reported that its fourth-quarter net income dropped 11 percent. Like Goldman, Citigroup noted lower revenue from trading, as well as advising. Additionally, JPMorgan Chase (NYSE:JPM), the largest U.S. bank by assets and second largest based on market valuation, noted weak investment banking activity as a basis for a lackluster Q4. Goldman's assets under management increased to $828 billion at the end of Q4, from $821 billion at the end of Q3, but down from $840 billion at the end of 2010.
For the full year, Goldman reported that compensation totaled $12.2 billion, and $2.21 billion for the fourth quarter. Compensation totaled 42.4 percent of the bank's full year revenue. During 2011, the bank reduced its total number of employees by 2,400, from 35,700 at the start of 2011 to 33,300 at the end of the year.
Most divisions were down for the bank. Institutional client services, which handles client (or, as Goldman calls them, counter-party) sales and trading for, totaled $3.06 billion in revenue for the fourth quarter, a reduction of 16 percent compared to Q4 of 2010. The division's full-year revenue totaled $17.3 billion, down from $21.8 billion for 2010.
Fixed-income, currency and commodities trading generated $1.36 billion in revenue for Q4, down from $1.64 billion in Q4 of 2010. Full year revenue for this division totaled $9.02 billion, down from $13.7 billion for that full year. Equities trading generated $1.69 billion in Q4 revenue, down from $2 billion in Q4 of 2010, but full-year trading revenue came in at $8.26 billion, up from $8.1 billion for full-year 2010.
Goldman Sachs's investment-banking division, totaled $857 million in revenue for the Q4, down over 40 percent from $1.51 billion for Q4 of 2010. Full-year investment banking revenue totaled 4.36 billion, which amounts to a nine percent drop. Revenue from financial advisory, including mergers and acquisitions advisory services, decreased by about 25 percent in the fourth quarter to $470 million.
One positive division for Goldman was its investment in the Industrial & Commercial Bank of China, which is China's largest lender. Revenue from this endeavor increased to $388 million in Q4, over a seven-fold increase from the $55 million reported for Q4 of 2010. Nonetheless, Goldman reported a full-year loss of $517 million on the holding, compared to a $747 million gain in 2010.
Investment management generated $1.26 billion in Q4 revenue for 2011, compared to $1.51 billion for Q4 in 2010. Goldman also reported $5.03 billion in full year investment management revenue, an increase from $5.01 billion in 2010.
On Thursday, January 19, 2011, Bank of America (NYSE:BAC), BlackRock (NYSE:BLK) and Morgan Stanley (NYSE:MS) are due to report their Q4 and full-year numbers.
Disclaimer: This article is intended to be informative and should not be construed as personalized advice as it does not take into account your specific situation or objectives.