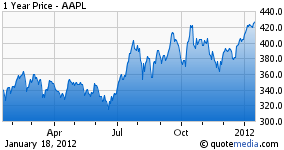 Fellow Toronto Maple Leafs fan Kim Klaiman (I'm not sure about that) burst onto the Seeking Alpha scene with excellent article after excellent article (I'm sure about that). Most recently, Klaiman helps answer one of the biggest questions confounding investors so far in 2012 - What to do with Apple (NASDAQ:AAPL) ahead of earnings?
While I agree with many of Klaiman's overarching themes, particularly mere mortals have no clue which direction the stock will move post-earnings, I do not back his use of relatively advanced options strategies to play the event. In fact, I don't even agree with "playing" the event to begin with.
As far as I am concerned, the reverse iron condor Klaiman says he will put on prior to Apple's report sounds like a gymnastics move. In my basic options strategies eBook, I urge investors, particularly relatively small ones, to stay away from these types of trades. To Klaiman's credit, he's not advocating anything all that risky. However, he proposes a far-too-complicated way to get from point A to point B.
I do comprehend that Klaiman makes this proposal, in part, to help small investors. Not everybody has the means to pour enough cash into Apple stock to make it worthwhile. Plus, making an aggressive directional options bet heading into earnings can wipe you out, even if the stock does what you think it will do. That said, Klaiman's options trade concerns itself with the one-day price movement in AAPL around earnings. That's tantamount to a day trade, even if it's less risky.
If the ultimate goal here is to make money, I'm not sure why you have to run the risk of getting lost taking the scenic route. Just do a straight shot on the QEW from Toronto to Niagara Falls and you'll be just fine (Klaiman lives in Canada, you see, and I am an honorary Canadian).
Buy The Stock*
If you're a big hockey fan, you put an asterisk next to the Montreal Canadians' 1993 Stanley Cup victory (Leafs fans know why). You should also put an asterisk next to any recommendation to buy a volatile stock such as AAPL ahead of earnings. You can only make this move under one condition: You strongly believe history will repeat itself and, over time, the stock's uptrend will remain intact. Yes, this sounds obvious, but it needs to be said. Past performance is not necessarily indicative of future results.
Consider how things would have worked out for the long-term investor if he/she would have just bought a little bit of AAPL the day of the company's earnings report over the last eight periods. I use the closing price on each day.
| | | | |
| --- | --- | --- | --- |
| Date | Previous Day's Close | Next Day's Close | Close, 1 Year Later (Unless otherwise noted) |
| Oct 18, 2011 | $422.24 | $398.62 | XXXX |
| Jul 19, 2011 | $376.85 | $386.90 | $382.21 (5 months later) |
| Apr 20, 2011 | $342.41 | $350.70 | $395.31 (6 months later) |
| Jan 18, 2011 | $340.65 | $338.84 | $424.70 (1/17/12 close) |
| Oct 18, 2010 | $318.00 | $309.49 | $398.62 |
| July 20, 2010 | $251.89 | $254.24 | $387.29 |
| Apr 20, 2010 | $244.59 | $259.22 | $350.70 |
| Jan 25, 2010 | $203.07 | $205.94 | $341.40 |
If you purchased 10 shares of AAPL at its closing price on the day of the company's last eight earnings reports, you would have spent $24,997 on 80 shares. As of Tuesday's close, those 80 shares carry a value of $33,976. That's a 36% pop.
If you think history continues to repeat itself, there's only one way to go ahead of Apple's earnings next week. Buy the stock.*
Disclosure: I am long AAPL.