The homebuilders have been on quite a run since October, driven by positive consensus forecasts for 2012. As shown in the chart below, the SPDR S&P Homebuilders Index (NYSEARCA:XHB) is up almost 50% in the past 3 months.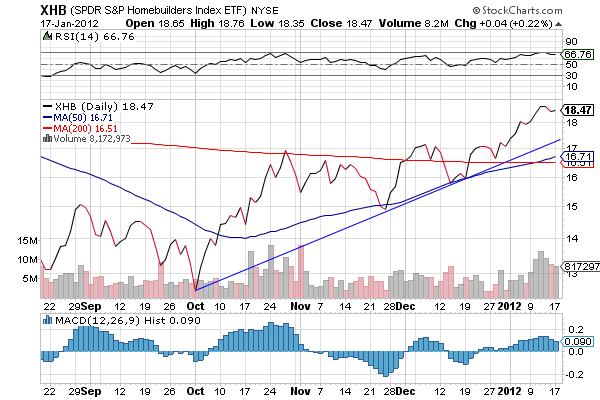 However, many analysts think the sector is now priced for perfection. If spring orders turn out weaker than expected, the downside price risk to stocks in the sector could be significant.
The Macro Picture Remains Cloudy
The U.S. economy continues to face significant headwinds (e.g., high unemployment, European credit contagion, high debt levels, etc.), all of which will likely slow the recovery in housing in 2012.
Bottom line is that the global economy is being weighed down by a debt problem that took over two decades to create and we believe that it will take years to sort out, providing significant uncertainty and market volatility. The leverage that has been built up in the system will not unwind for years to come.
Put Selling Strategy
Given our belief that the housing recovery will likely derail in 2012, we think that the best way to profit from this uncertainty is to sell cash-secured puts on the stocks.
If you sell a put, you have an obligation to purchase the stock at a predetermined price (strike price) on or before the expiration date (if the buyer of the put option wants to sell you the stock). Clearly, the risk is that the stock drops significantly below the strike and you are forced to buy the stock at a price well above market.
Here are our two risk management rules of put selling:
Only sell put options on stocks that you want to own at the price you want to own them. With a put selling income strategy (focused on out-of-the-money puts), you get paid to wait for the price you want on a stock. If the price never drops to your strike, you get to keep the premium (income) as a consolation prize. Your downside is owning the stock at the strike price (keep that in mind as you analyze the ideas below).
Don't sell "naked." Just because options offer you leverage, it doesn't mean that you have to use the leverage. We recommend securing your short put position with cash (i.e., don't sell on margin). If you aren't willing to risk the cash to back it up, don't sell the put.
Tactical Trades
Below are details of the option trades that we recommend for each stock. Since we view this as a longer-term trade, we recommend selling options with a January 2013 maturity. On average the trades below have a yield of 10.3% and a margin of safety of 37.6%, which we believe is a phenomenal risk/reward profile.
DR Horton (NYSE:DHI)
Current Market Price: $13.75
Option: DHI Jan 2013 $10.00 Put
Current Premium: $0.87
Margin of Safety: 33.6%
Total Return (if option expires worthless): 9.5%
KB Home (NYSE:KBH)
Current Market Price: 9.01
Option: KBH Jan 2013 $5.00 Put
Current Premium : $0.51
Margin of Safety: 50.2%
Total Return (if option expires worthless): 11.4%
Lennar Corp. (NYSE:LEN)
Current Market Price: $22.03
Option: LEN Jan 2013 $15.00 Put
Current Premium : $1.21
Margin of Safety: 37.4%
Total Return (if option expires worthless): 8.8%
Pulte Group (NYSE:PHM)
Current Market Price: $7.50
Option: PHM Jan 2013 $5.00 Put
Current Premium : $0.56
Margin of Safety: 40.%
Total Return (if option expires worthless): 8.7%
Ryland Group (NYSE:RYL)
Current Market Price: $17.52
Option: RYL Jan 2013 $12.50 Put
Current Premium : $1.20
Margin of Safety: 35.5%
Total Return (if option expires worthless): 10.6%
Toll Brothers (NYSE:TOL)
Current Market Price: $22.42
Option: TOL Jan 2013 $17.50 Put
Current Premium : $1.40
Margin of Safety: 28.2%
Total Return (if option expires worthless): 8.7%