"Courage is fear holding on a minute longer." - George S. Patton
In my September 30th article here on Seeking Alpha titled "Germany, the U.S. and the Fall Melt-Up of 2011," I stated the following about the relative price ratio performance of the iShares Germany ETF (NYSEARCA:EWG) to the S&P 500 (NYSEARCA:IVV). As a reminder, a rising price ratio means the numerator/EWG is outperforming (up more/down less) the denominator/IVV.
"The main thing I want to point out here though is that there appears to be the early stages of a V-like snap back rally occurring in Germany's markets relative to the U.S. And while this is a relative move, we should consider that the panic in European equities sparked the decline in the U.S. The natural conclusion then is that any kind of an outperformance trend in Europe would happen in an upswing, pulling markets in the U.S. higher in the short-term."
Below is the chart updated.
Click to enlarge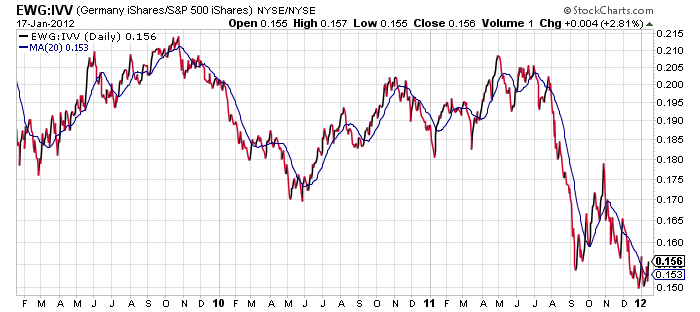 Click to enlarge
Notice the substantial move higher in what looked liked the "V-like" move in October, which was one of the best months for equity markets in decades. Also notice how severely the ratio fell apart as November began. This was right around the time Italy's 10-year yield spiked to over 7% and I got whipsawed in my analysis of the Fall Melt-Up continuing. The ratio ultimately headed lower as the U.S. continued to outperform.
We may be nearing the end of that trade as the Winter Resolution I've been writing about continues. The idea behind the Winter Resolution is that my analysis suggests the volatile sideways trend of last year is likely over, a trend (up) has asserted itself, and volatility/correlations will likely continue to fall. Now, under the same logic as the September 30th article, note that the ratio may be stabilizing and Germany could begin to outperform again. If it does, I argue the market will continue to climb an icy wall of worry.
Disclosure: I have no positions in any stocks mentioned, and no plans to initiate any positions within the next 72 hours.
Additional disclosure: The author, Pension Partners, LLC, and/or its clients may hold positions in securities mentioned in this article at time of writing. The commentary does not constitute individualized investment advice. The opinions offered herein are not personalized recommendations to buy, sell or hold securities.