The key question as stocks build steam into 2012 is whether the rally is sustainable. To answer this question, it is worthwhile to pinpoint dependable leading indicators for broader stock market performance.
Agriculture prices have provided a fairly reliable early warning signal for what to expect from the economy and investment markets since the advent of aggressive monetary stimulus programs from global central banks and since the outbreak of the financial crisis a few years ago. Overall, a change in the direction of prices for products such as wheat, corn and soybeans have led by roughly two to three months on average a change in direction for the stock market.
For example, while stocks peaked in April 2010 following the end of the Fed's QE1 stimulus program, agricultural prices had already crested three months earlier in January 2010. And while stocks declined through the summer before bottoming at the end of August 2010, agricultural prices had already bottomed by early June 2010 and had since turned sharply higher.
Click to enlarge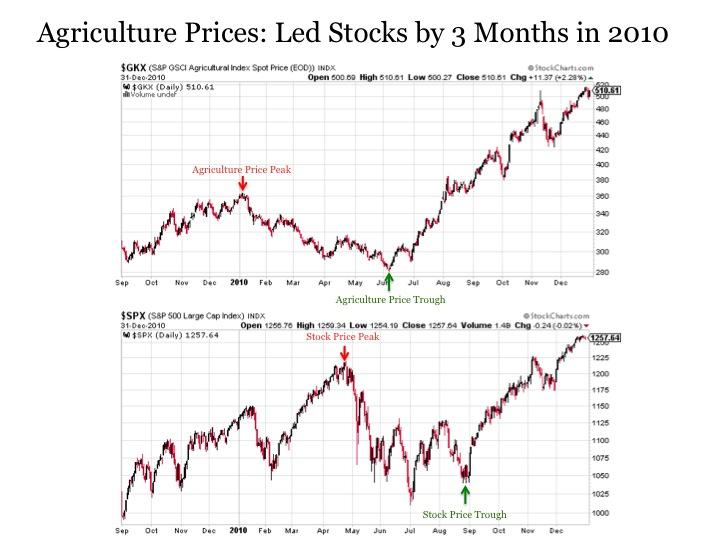 Lastly, agriculture prices peaked in early March 2011 roughly two months before the stock market peak in early May 2011.
Click to enlarge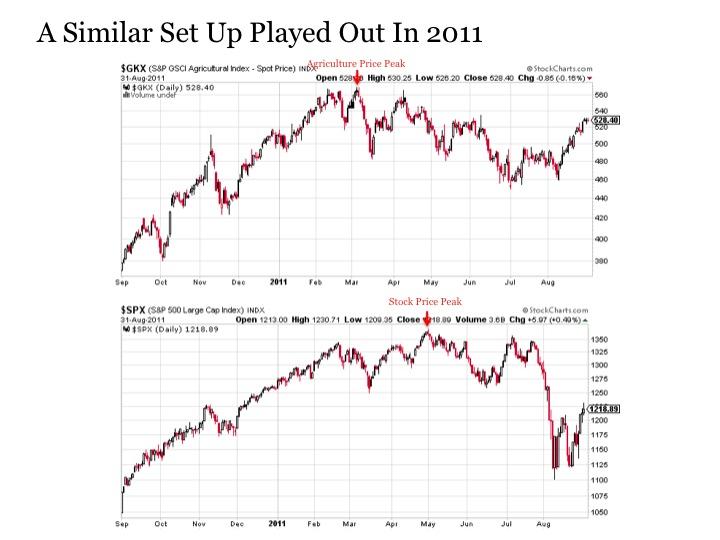 As a result, when evaluating the current stock market rally, it is worthwhile to consider whether we have seen a preceding turn in agricultural prices ahead of this stock advance. Unfortunately for the stock market, the answer here is a definitive no.
Click to enlarge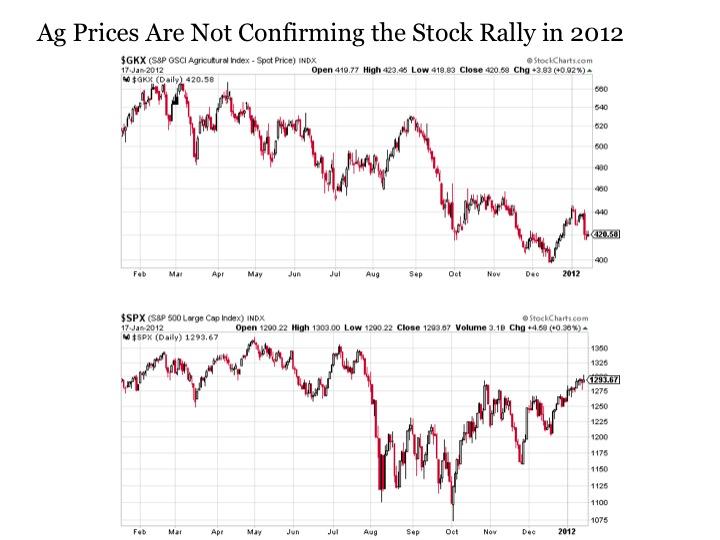 Agriculture prices remain locked in a definitive downtrend. And while we may eventually look back and mark the middle of December 2011 as the bottom for agriculture prices, the bounce since has been generally lifeless with no major resistance broken to this point. And even if mid December 2011 were the market bottom, we would not expect to see a rally in stocks to begin until February or March 2012 at the earliest if the past relationship were to hold.
Of course, we may have reached a juncture where stocks are ready to make a break on their own without the prior support of agriculture prices. However, this seems highly unlikely given that stocks are lacking virtually all other major confirmation signals as well. The euro currency (NYSEARCA:FXE) remains locked in a downward spiral, U.S. Treasury yields on both the 10-Year (NYSEARCA:IEF) and the 30-Year (NYSEARCA:TLT) continue to hover near historical lows and no other major stock market category outside of U.S. large caps including U.S. Mid-Caps (NYSEARCA:MDY), U.S. Small Caps (NYSEARCA:IWM), Developed International Stocks (NYSEARCA:EFA) or Emerging Market Stocks (NYSEARCA:EEM) have trailed all along the way. While MDY and IWM are continuing to show progress, both the EFA and EEM remain locked in downtrends. Thus, only a small group of stocks are currently grinding higher essentially on their own. And this may prove too much to overcome in the end even with the continued monetary generosity of global central banks.
So until we see a more definitive turn in agricultural prices to support the stock market, it remains worthwhile to move forward with caution on the recent stock rally.
This post is for information purposes only. There are risks involved with investing including loss of principal. Gerring Wealth Management (GWM) makes no explicit or implicit guarantee with respect to performance or the outcome of any investment or projections made by GWM. There is no guarantee that the goals of the strategies discussed by GWM will be met.
Disclosure: I am long TLT.