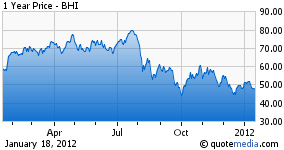 With Baker Hughes (NYSE:BHI) trading near 52 week lows, I decided to take a closer look into the company to see if it is an attractive opportunity. Here are six points I looked at while researching BHI:
Valuation: BHI's trailing 5 years valuation metrics suggest that the stock is undervalued as they are all trading in the lower end of the stock's 5 year averages. BHI's current P/S ratio is 1.1 and it has averaged 1.7 over the past 5 years with a high of 2.9 and low of 2.7. BHI's P/B ratio is 1.3 and it has averaged 2.4 over the past 5 years with a high of 4.7 and low of 1.3. BHI's P/E ratio is 11.8 and it has averaged 19.4 over the past 5 years with a high of 41.1 and low of 6.1. On a DCF basis, Baker Hughes' shares are worth $70 apiece using a 10% cost of equity. There is a significant margin of safety for its shares at present.
Price Target: The consensus price target for the analysts who follow BHI is $73. That is upside of 74% and suggests that the stock is significantly undervalued and has a lot to gain from these levels.
Forward Valuation: BHI is currently trading at $48 a share and analysts expect the company to report earnings of $5.52 next year for a forward P/E of 9. BHI's revenues are projected to grow 15%. Taking a look at what competitors trade at will provide a better idea of BHI's relative value. Halliburton (NYSE:HAL) is trading at $34 a share and has a forward P/E of 8 with revenues projected to grow 16%. National Oilwell Varco (NYSE:NOV) is trading at $73 a share and has a forward P/E of 12 with revenues projected to grow 21%. Schlumberger (NYSE:SLB) is trading at $68 a share and has a forward P/E of 14 with revenues projected to grow 16%. The mean of the 3 stocks is a P/E of about 11 so BHI is undervalued relative to other publically traded comps.
Earnings Estimates: BHI missed EPS estimates the last quarter but beat EPS estimates the previous 3 quarters it reported. The last 2 earnings reports were relatively close to consensus but the previous two had large earnings beats. If the company can report earnings beats closer to double digits in cents per share, which will provide support for the stock as analysts will be taken by surprise.
Dividend: BHI pays a dividend and has paid one since 1987. It currently pays 15 cents a quarter for an annual yield of 1.2%. The dividend last increased in 2008 from 13 to 15 cents a share.
Price Action: The stock was strong the first six months of the year, rising over 30% to over $80 a share. In July, the rally came to an abrupt end and the stock fell nearly 50% to $42 a share in October. Since then it had a slight recovery to $60 a share but has pulled back to its current level of $48. The stock is now below its 50 day and 200 day moving averages. The 50 day moving averages sits slightly higher than the stock at about $52 while the 200 day moving average is at $62. Resistance on the upside includes the 50 day moving average followed by $57. On the downside, the $45 and $42 levels should provide support.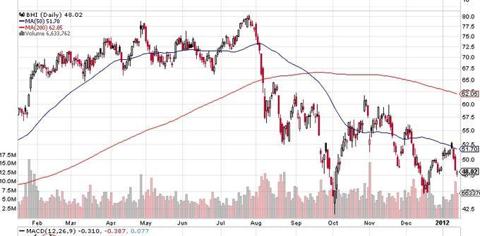 Click to enlarge
(Click to enlarge)
Conclusion: BHI looks undervalued here and deserves to be bought at these levels. The stock is undervalued on its trailing valuation metrics, relative valuation metrics, and by analysts. Tailwind for the industry is there as demand for oil equipment should increase as the economy continues to recover.
Disclosure: I have no positions in any stocks mentioned, and no plans to initiate any positions within the next 72 hours.